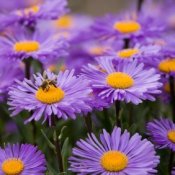 In autumn, when many garden perennials are winding down for the season, asters are just getting started. Prized by gardeners for their brilliant late season color, here are some tips for growing them.
An Ancient History
Native to North American, Asia, and parts of Europe, asters have a long history-one that dates back to ancient times. Early Greeks and Romans considered them sacred plants, using them for everything from warding off evil to curing disease. In modern times, asters didn't gain popularity until a few plants from North America were taken to Europe in the mid-1600s. They quickly became an autumn favorite there, and now some of our more popular North American varieties can trace their origins back to plant breeders in Europe.
Asters at a Glance
Botanical name:
Aster spps. (There are more than 250 varieties).
Bloom time:
Late summer through autumn; some varieties bloom earlier in the growing season.
Hardiness:
Zones 3 to 8, varies somewhat by species.
Flowers:
Daisy-like flowers in pink, purple, white, blue, and red-most with yellow centers.
Height:
Standard varieties range from 2 to 6 feet tall; dwarf varieties are as short as 6 inches.
Spread:
Up to 3 feet wide.
Light:
Full sun to partial shade.
Soil type:
Prefers moist, well-drained soil; tolerates poor soils.
Tips for Growing Asters
Planting: Only the spring-blooming alpine asters are easy to start from seed. Sow them indoors in February or March or outdoors in early spring. Leave the seeds uncovered as they need light to germinate. Other asters can be planted as bare-root perennials in the spring after danger of frost has passed. Container-grown asters can be planted anytime during the growing season. Plants should be spaced 18 to 24 inches apart with crowns set in even with the soil's surface. Although they prefer moist, well-drained soil, these perennial wildflowers are tolerant of poor soil and require little attention except for an occasional watering.
Cutting back: Cut plants back to 6 inches early in the summer to encourage compact growth and increase flower production. Some aster varieties self-sow. To prevent unwanted volunteer seedlings, pinch off the flower heads before they have the chance to set seed.
Staking and division: Keeping tall aster varieties looking neat can be challenging. You will need to provide them with supports (or tall neighbors)-especially in windy locations. To keep plants vigorous, divide them every two or three years (in spring or fall), or when clumps start to get woody and die out in the center.
Insects and disease: Asters are resistant to most insects and diseases. If over-crowded they can be susceptible to powdery mildew, so make sure they get plenty of air circulation. Water from the base of plants rather than overhead, as wet foliage can encourage disease.
Selecting varieties: Asters can extend fall color by as much as six weeks. Gardeners in northern climates should consider planting a mix of early and late-blooming varieties (or those recommended for northern climates) in the event that that winter weather arrives early.
Uses: Asters are incredibly versatile. They attract butterflies, but are virtually ignored by deer. Because many varieties freely self-sow, they are ideal choices for naturalized areas and cutting gardens. Use tall aster varieties in the middle to back of borders, and dwarf varieties in small beds, rock gardens, or near the front of borders. Asters also make splendid cut flowers-lasting up to two weeks in bouquets. Cut them when the majority of flowers on a stem are open as any unopened flowers will remain closed after cutting.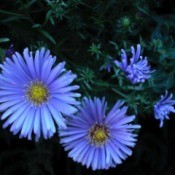 Botanical Name:
Callistephus Chinensis (Chinese Aster)
Life Cycle:
annual
Planting Time:
spring or summer
Height:
dwarf types 8" to 12"; full-sized plants 1 to 3 ft
Exposure:
full sun to partial shade
Soil:
rich well-drained soil, evenly moist; neutral to alkaline pH
Hardiness:
n/a
Bloom Time:
early summer until frost
Flower:
daisy-like blooms in a rainbow of colors
Foliage:
green
Propagation:
seeds; plant them in the spring after the last frost and every two weeks for continuous color
Suggested Use:
beds, borders, cut flowers, excellent for adding early color to mixed plantings
Growing Hints:
Chinese asters bloom for approximately one month and can be pulled up after blooming. Avoid planting them in the same location two years in a row to minimize fungal disease. Pinch back 6-8 inches once per summer for bushier plants that bloom into fall. Pinching back after mid-July will have opposite effect.