Landscaping Design Tips
Solutions
Share on ThriftyFunThis guide contains the following solutions. Have something to add? Please share your solution!
A beautiful yard is a treat to the eyes. Remember the four seasons and plant so each season has its own special design. Plants should have their own space in your yard.
The front yard will look bigger if you plant flower beds on a diagonal from the far corner of the house.
If you plant trees in front of the picture window your yard will look shortened.
If there are large areas full of mature junipers, you can do topiary work on them and leave a decorative border.
By planting broad-leaf evergreens and perennial beds, you will have all season decorative garden.
Plant bright colored plants near your home and soft colored plants at a distance so there will be depth in the yard.
Do not plant trees with huge root systems close to the house as it can cause a lot of damage to your home.
Make sure you keep your lawn well fertilized and use moss killer.
Source: My family landscaped for 20 years.
By Bev from Chilliwack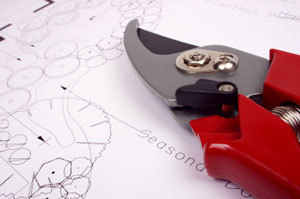 Landscaping around your home can seem like a daunting project-especially if you're starting with a blank canvas. Whether you're building a new house, cleaning up after a storm, or planning a complete renovation of your existing landscape, sometimes the hardest is part about creating a plan is knowing where to start.
Step 1: Make an Idea List
Any large project is easy to accomplish if you take it one step at a time. The first step in creating a beautiful landscape is to develop a base plan. Start by putting pen to paper and jotting down a simple list of your preferred outdoor features. Have you always wanted a curved walkway, a gazebo, or BBQ pit? Do you want a pond, need a place for the kids to play, or need to fence in your yard for the dog? Do you hope to have a vegetable garden or plant fruit trees? Develop your list keeping in mind those ideas that can be accomplished now or your plans for the near future. A good rule of thumb is to start out simple (in both labor and maintenance) and progress as your time and budget allows.
Step 2: Create Your Base Plan
To create a base plan, you need to draw out your home and property features on a piece of paper. Features should include the placement of your house, your garage and driveway, property lines, overhead utilities, existing trees and plants, and any other important topographical features. Make sure you indicate directions, so you can consider sun exposure, wind patterns, etc. You can use plain paper or graphing paper, but don't worry about this being exactly to scale.
Step 3: Create Your Major Landscape Areas Diagram
Most home landscapes consist of three major sections: a public area, a private area, and a service area. The public area is usually the area in the front of the house that is visible from the street. Ideally, this part of your landscaping will blend seamlessly in with other homes in your neighborhood. The private area is your outdoor living area. This is where you and your family are likely to spend most of your time. The service area is usually located on the side or rear of your property. This may be near an alley where your garbage cans are stored or storage sheds are located. Areas may overlap or have multiple uses. To create this diagram, lay a piece of tracing paper on top of your Base Plan and draw an outline around your three major landscape areas.
Step 4: Create Your Final Plan
Don't think of this as your final Final Plan, but rather your Final Plan that is subject to change as your desires and budget change. Use a second piece of tracing paper to lay on top of your Base Plan and Landscape Area diagrams. On this piece of paper, draw desired elements from your Idea List in the appropriate areas. At this stage, you may want to play around with several layouts. You may also find that some of the elements from your Idea List may not work after all. As you experiment, consider convenience, maintenance, and accessibility.
Step 5: Executing Your Plan
Once you have your final plan, it is time to execute it. If you plan to add trees, remember that shade trees take longer to mature so it's best to plant them before you worry about shrubs and perennials. Next, consider your public area. An attractive walkway and foundation plantings consisting of shrubs and perennial plants will bring a warm and inviting feeling to the entry of your home.
More Tips:
Framing your house with shade trees can also save you energy. Plant trees where they will be most effective in providing winter windbreaks and summer shade-usually the north or northeast (windbreak), or south or southwest (shade) corners of the house.
Avoid planting trees directly in front of your house. Frame it with trees, don't hide it. Remember, the front door is the focal point of your public area.
Factor in overhead power lines when planting trees or creating play areas for children.
Screens, fences, or hedges are a wonderful way to keep less attractive areas like the service area hidden.
Creating borders of plants will leave uninterrupted space in the lawn and make it easier to mow.
Select trees and plants for year-round interest.
Don't forget to plan for future occupants. Children, handicap accessibility and future property owners should all be taken into consideration.
July 9, 2012
0

found this helpful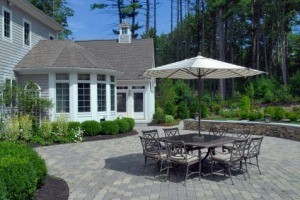 Patios are becoming essential elements for todays backyards. Here are some design tips for creating the perfect outdoor space to use for summer dining and entertaining.
Choosing a Location
When choosing a location for your patio, its wise to consider several factors. Among the most important of them is how you will be using the space. Most patios are located as close to the house as possible and are used as an outdoor extension of indoor space. This makes the patio convenient to power sources for lights and other equipment necessary for entertaining.
Exposure - Another factor to consider is exposure to sun and wind. A warm, sheltered patio will offer you use both earlier and later in the season. If your desired site is exposed to wind, you can provide shelter (and privacy) by planting tall shrubs around the edges of your patio, or erecting trellises or panels made of lattice and covering them with quick-growing vines. A pergola roof will help screen out too much sun, but think twice before locating your patio under large trees. Not only will they cast a lot of shade, but trees continue to drip long after it rains, falling leaves are messy, and the roots may eventually heave and dislodge paved surfaces.
Determining size - The size of your patio should be in proportion to the rest of your landscapetoo small and it may look trivial; too large it will overpower the entire yard. A general rule is to allow approximately 3 x 3 feet per person, plus any additional space needed for a barbeque, potted plants, extra furniture, a fireplace, water feature, etc.
Choosing Surface Materials
When choosing a surface material, consider wear and tear and whether or a material will be slippery when its wet. The choices for materials are nearly endless and include such things as concrete, natural stone, tiles, bricks and pavers, composite decking and wooden planks. Concrete and stone pavers tend have an edge in terms of durability and maintenance, but they are more difficult to install and have a greater up-front cost than wood.
Simple is best - Use restraint when selecting surface materials for the patio. A single, natural colorperhaps with one or two accent colorswill look best. Too many colors may end up looking busy and distracting. Also keep in mind that artificially-colored pavers may weather and fade over time.
Smother weeds - If you decide to use wooden planks as your surface material, install a permeable landscape fabric underneath them first. This will offer additional protection against weeds, but without trapping moisture against the planks.
Grade for drainage - Make sure the grade of the patio slopes away from the house so that water can drain freely. A gradual slope of 1 inch for every 6 feet is usually sufficient.
Landscaping with Plants
Plant vertical layers - For the floor level, use containers and flower boxes. At eye level, use hanging baskets or pots set on tables. For additional height, train vines and climbing plants up a trellis or wall.
Keep walkways clear - Keep container plants out of high-traffic areas and away from doors and other access points where they may be tripped on or knocked over.
Minimize maintenance - Keep messy trees and shrubs as far away from your patio as possible. Certain fruits trees, like cherry, mulberry, and crabapple, can leave permanent stains on fabrics and hard surfaces when blossoms and fruits fall. Large trees can deposit needles and seed pods that constantly need to be swept up.
March 26, 2012
0

found this helpful
Formulating a landscape design plan can be an overwhelming prospect. The goal is to develop an attractive, cohesive plan that fits your needs, without overwhelming (or under-whelming) your home. Here are some tips for getting started, broken down into six easy steps.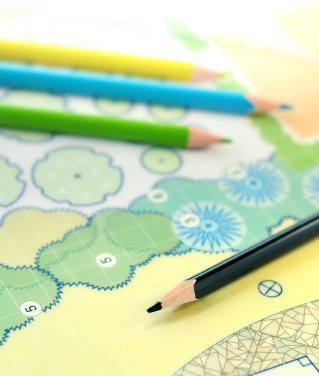 Read More...
October 13, 2004
0

found this helpful
I landscaped for twenty years. One thing I quickly learned is that soft scalloped edges in a flower bed are much more calming to the eye than squared off beds.
Read More...
When planting flower beds in your front yard, plant on a diagonal from your house. The yard will have more depth. Never plant trees in the center of the front yard as it shortens it but again plant them on a diagonal from your house.
Read More...
Questions
Ask a QuestionHere are the questions asked by community members. Read on to see the answers provided by the ThriftyFun community or ask a new question.
I have no trees in my yard yet I long for the lush, woodsy look. Any ideas of how I can achieve this? I'm 62 so I don't have time to wait on trees to grow!
By nonniebeth from Rome, GA
Answers
August 7, 2011
0

found this helpful
Call or stop in your local agricultural extension office and ask them to suggest plants that grow well in your area, and are legal and safe for your environment. There are some very fast growing things others, who live all over the world, might suggest but you want to be very careful...(think Kudzu, not all exotic species are a good idea....) Bamboos make a lush landscape, but can be extremely invasive and next-to-impossible to get rid of!
Meanwhile, structural elements, such as arbors, trellises, pergolas--planted with vines and hung with hanging baskets can help provide some shade and cooling. You need not spend a fortune to create some nice garden spaces. A simple frame made from found wood, can be webbed with twine and grown with annual vines. You can make a simple awning with a sheet, some simple grommets, four poles and some string. Google "landscape ideas" and browse, browse, browse for ideas that are within your budget and that you like.
August 7, 2011
1

found this helpful
Weeping willows grow fast, and if you plant a larger one, you will have a good sized tree in little time. They do take a lot of water to get them going real good. When we had one we watered a lot every week.
July 30, 2016
0

found this helpful
Just please call your water dept first to have them come out and mark where your water lines are. Otherwise the weeping willows' roots will destroy them fast!
Answer

this Question

...
I have just bought a new house with no landscaping. I would like some tips on planting some flowers and trees. I would like some colorful things throughout the seasons. Any ideas appreciated.
Hardiness Zone: 7a
By walt from Irvine, KY
Answers
January 24, 2010
0

found this helpful
Make a raised bed around the mail box,put down plastic or several layers of news paper,you can then put down brick or make a frame with post. Fill it with composted manure,you are ready to plant flower seed or bulbs. I have some day lilys & all kind of flower bulbs in mine & a morning glory vine. It grows up around the mail box. I keep it trimmed.bI did the same near the house with bricks,the plastic or paper keep weeds from growing in flower beds. we have some dogwood trees in the front yard. I planted azaleas around them. For the back yard we planted fruit trees & a grape vine & a raised bed for my veggie garden. We used cement blocks around the garden,it's 20 x 30 ft. I planted morning glories on our patio & fence. I have a blooming fence & patio all spring & summer. It is so pretty. I share flowers & veggies with friends & neighbors. Hope this helps you, good luck.
January 28, 2010
0

found this helpful
I live in a government house which I rent. I have planted Diosma"s you can get dwarf or the larger ones. They are pretty in the season most have pink, mauve or white flowers on them. I have them planted around my house and they are hardy, you don't need a lot of water. I have one planted around my letter box and a border of rocks. In the backyard I have 4 poles put up about 6 ft apart with wire on and have a lovely bell creeper growing on it.
Answer

this Question

...
Photos
Share on ThriftyFunCheck out these photos. Click at right to share your own photo in this guide.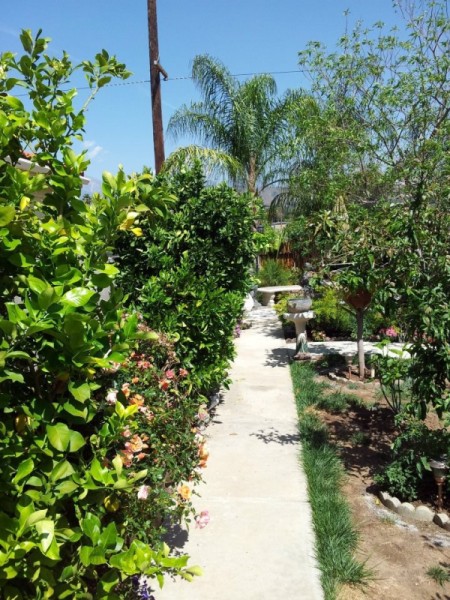 Photo Description
My mother's yard in Redlands, California comes complete with a long walk way, jungle style plants, fresh fruit, and a possum.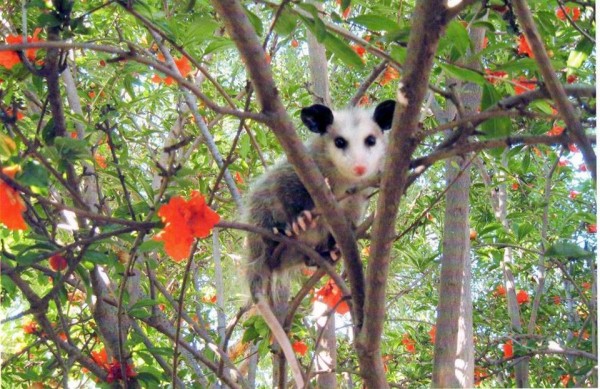 With over 20 years of work, she has developed a complete shaded back yard that she and all of the animals can enjoy.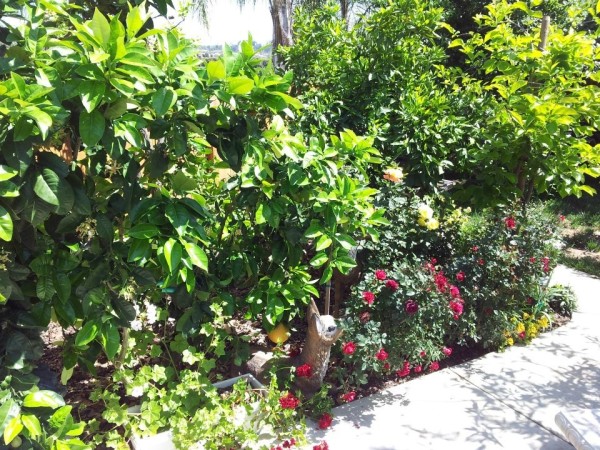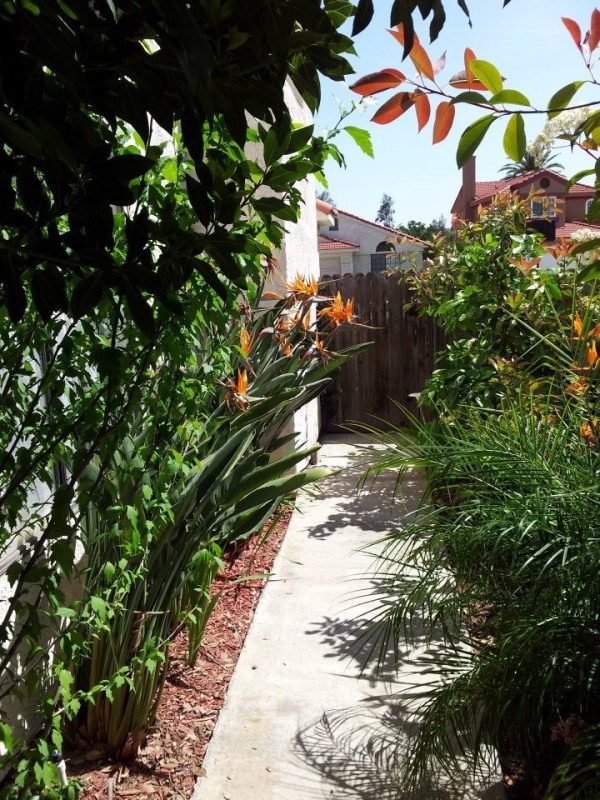 Fruits include Asian pears, jujube fruit, lemons, and oranges. She also has Chinese themed statues in the back yard with a stone bench.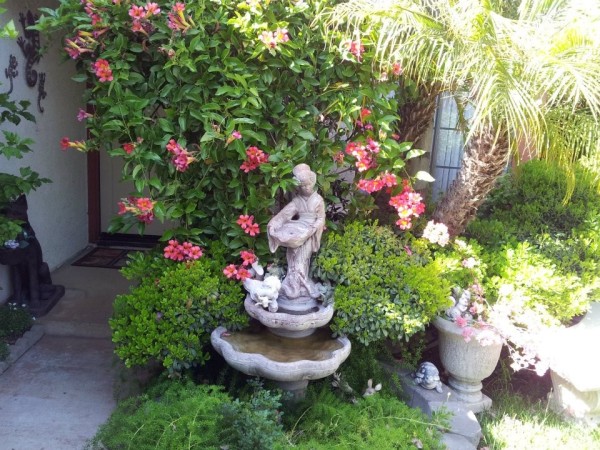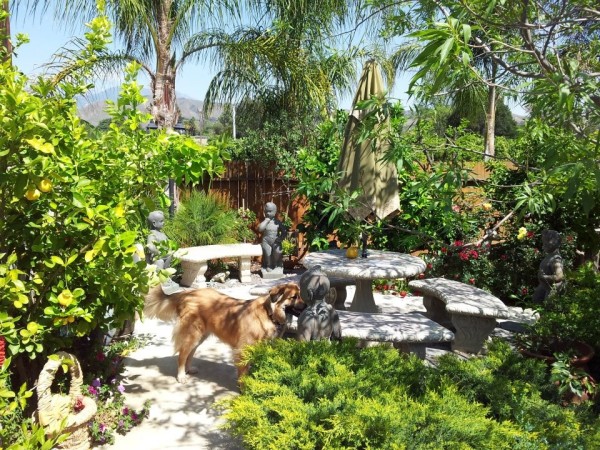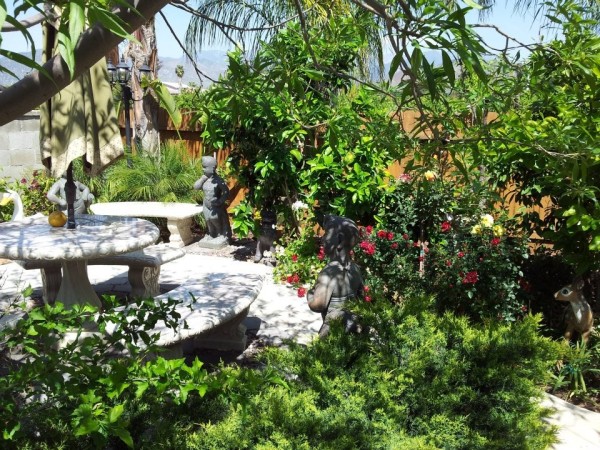 The front yard includes trees, bushes, and two stone water fountains.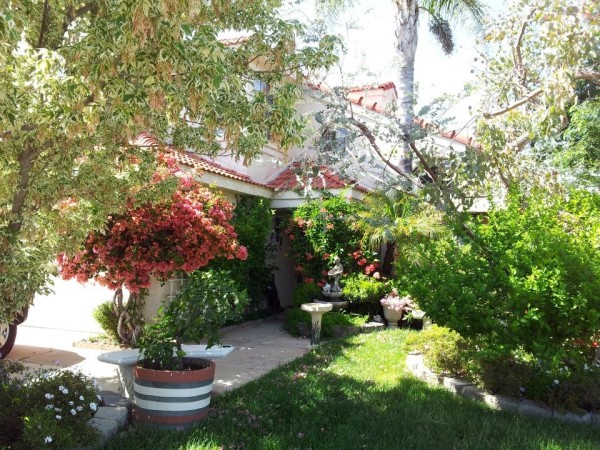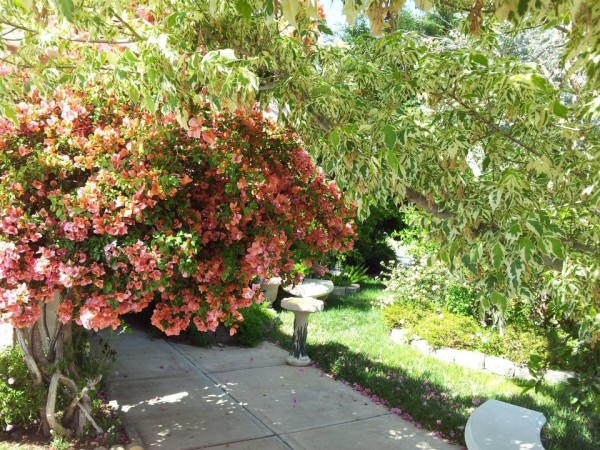 Along the sides stand a guard of palm trees inserted in a short stone wall.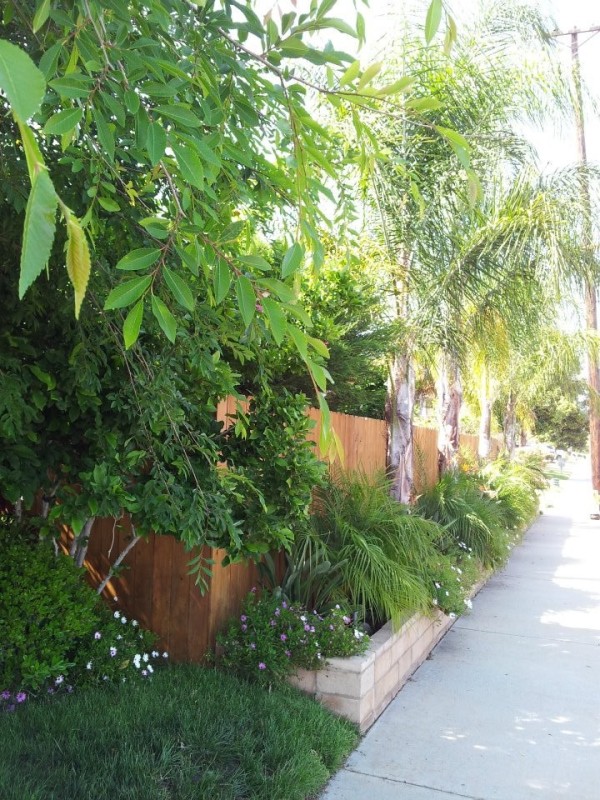 Photo Location
Redlands, California (USA)
Related Content