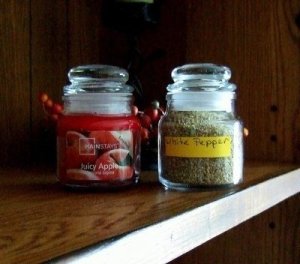 I was looking for spice jars in a popular department store the other day and could not find individual jars. So, I gave up and decided to do some browsing. While going down the candle aisle, it dawned on me that the smallest candle jars would be the perfect size for spice jars. They were a dollar apiece. Not only would I have a beautiful spice jar, but I could enjoy a nice scented candle in the process! They are large enough at the mouth to fit a tablespoon size measuring spoon and will look very nice once organized in my pantry.
I just melt the leftover wax in a pan of water and pour it out, then wipe clean with a paper towel and wash. I then take off the label and put my own spice label on it.
By Jean from Monticello, MN
Read More

Comments
I am trying to find out if I am able to reuse it as a glass cup? I am very concerned given the fact that I am pregnant, I wanted to make sure if it's OK to drink out of it. I love to recycle and this is one of my biggest concerns on how to reuse it. I cleaned it very well and re-cleaned it by placing them in the washer machine. The item I bought is called "Candle Lavender Vanilla and Comfort, 5.5-Ounces". Hope to hear from you soon and thank you.
By Rebeca Bap from El Paso, TX
Answers
July 23, 2012
0

found this helpful
If it was used for a candle then don't drink from it! Use it to make more candles, or as a vase, or to keep small soaps in, etc.
July 24, 2012
1

found this helpful
I looked it up on Google, and here is what I found.
householdproducts.nlm.nih.gov/.../brands?tbl=brands&id=16030026
It says no. I agree with the above poster, use it for change, put some pretty marbles in it and set them in the window, keep it in the laundry area (if you have one) for collecting all the stuff no one takes out of their pockets, etc.
I hope this helps keep you safe. Good luck.
July 24, 2012
0

found this helpful
No way on using this glass cup as the health of your unborn child is so important today. Always take your Pregnancy Vitamins, too. One of my friends did not & her child was born with a hole in the spine & the girl is now in a wheelchair with many problems.
July 24, 2012
0

found this helpful
You could use it to hold Q-tips, toothpicks, bobbypins, paper clips and lots of other little items. Or how about using it to hold pencils and pens or keys? I have one on my desk and it sure is handy to have for the above-mentions items.
July 25, 2012
0

found this helpful
You could use it as a votive for tealite candles. Wrap some pretty lace fabric around it & either spray glue it to the glass, or perhaps tie the lace onto the glass with a pretty ribbon. :-) The lace will give the light & the glow a pretty effect at night. :-)
July 26, 2012
0

found this helpful
I called the company directly quite a few months ago regarding the safety of using any glass candle holder (whether wax or the fluid type) for beverages and food. They said emphatically 'no' because the chemicals used to make the glass for candles are not food grade and could leach from the glass over time.
November 16, 2019
0

found this helpful
Spina bifida is a condition which both parents carry the gene for it to happen. The chances of it happening can be reduced by getting enough folic acid. The jars are glass and should not cause any problem
Answer

this Question