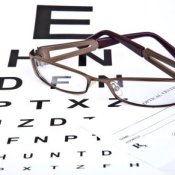 If you need glasses or someone in your family needs glasses, but you don't really need a new prescription, you can order glasses online for next to nothing compared to other places.
The nose pad on my glasses went bad. After failing to super glue it back on for any length of time, I started looking at options. When I took my mother to Sears Optical to get her eyes tested and possibly get new glasses, I asked the guy there if he could determine the prescription in my glasses. He said he could, but if the prescription was over 5 years old, he couldn't use it to get me glasses. I had to get an eye exam. While I was there, I also asked him if he could get my PD measurement (I'll explain in a moment). And he did.
Okay, at Zenni Optical, you have over 3000 frames to choose from and they can put any prescription in a pair of glasses you order from them. When I first went to their site, the question that threw me for a loop was the PD measurement. This is a measurement from pupil to pupil. My prescription was fine so with the info I acquired, I ordered a pair of glasses for $6.95 and paid four something for shipping. The total was under $12. I received the glasses in the mail last week and they are great.
It will probably cost a bit more for bifocals or any other "specialization". But for a plain pair of metal frame glasses, it is cheap.
The big task was getting them adjusted. Walmart didn't want to touch them because I didn't buy the glasses from them. So the task after getting them is to get them adjusted. You might be able to do that yourself.
Anyway, here is the URL. If you want a pair for sunglasses, a spare, or a replacement it is worth checking out.
By Suntydt from Tazewell, TN
Read More

Comments
When it's almost time to change my prescription eyeglasses, I start looking for specials so I can save money. Last time I got glasses, the special was 2 pair for $99.00 If the prescription changes slightly, just have the old pair turned into sunglasses.
Read More...