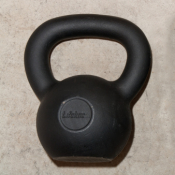 Kettlebells are showing up everywhere now. While kettlebell use is relatively new in the United States, they have quickly become the latest fitness craze. Every major sporting goods and department store chain carries them. I wouldn't be at all surprised to see a kettlebell keychain come rolling out of a box of Wheaties in the near future.
If you don't know what kettlebells are, they most resemble a cannonball with a handle welded to it. While they have been used for over 300 years in Russia and are ubiquitous amongst the Russian military, it seems they weren't invented there. Curlers have used curling rocks to do similar exercises for almost 500 years.
While the exact origin of the kettlebell is not known, it's not hard to imagine a young Slavic blacksmith seeing curlers doing their exercises to become better at their sport. He looks over at the large pile of cannon balls he has been making for the military, grabs one, quickly fashions a handle for it, and the rest is history. Of course that is all speculation on my part but it does make a certain amount of sense that their "modern" form came about in such a way.
I am getting ready to run the Warrior Dash this weekend and started a new workout routine about 8 weeks ago to get ready for it. As I was researching various exercises I kept seeing them pop up in recommended workouts. When I first noticed them in a sporting goods store a while back, I wondered why you wouldn't just get a couple of similar weight dumbbells. It didn't make sense from a financial standpoint either because, dollar per pound, the kettlebells were much more expensive. So, I did a lot research about them and became convinced that, while there was certainly a bunch of hype about them, there seemed to be a grain of truth buried somewhere in the exaggerated claims of some of their purveyors.
What I have discovered, since I recently purchased some 26lb. (12kg) kettlebells from Lifeline USA, is that the combination of aerobic and anaerobic exercise they provide is truly impressive for such a simple device. They are by no means as easy to lift as a dumbbell of the same weight but, then again, that's the point.
Simply put, a dumbbell balances the weight on either side of your arm. This allows you to isolate certain muscle groups (biceps, triceps, lats, etc.) and work them until they become big and strong. What's wrong with that, bigger is better, right? Well not necessarily.
It may be cliche, but a chain is only as strong as it's weakest link. The muscles of your body literally chain together and work as a unit when you perform pretty much any task. Therefore, your functional strength is only as great as your weakest muscle. This is where the design of the kettlebell helps you create a more functionally strong body.
With its center of gravity located directly below the handle, it forces you to engage your core and leg muscles when doing even the most basic of exercises with a kettlebell. As you swing the kettlebell, you have to constantly adjust which muscles are controlling its weight and momentum. It may not look like much, when you first see it done, but a simple kettlebell swing will have you breaking a sweat in no time. You can also easily use them as a modified push up bar to do extended range push ups.
One of the other things that occurred to me when I first saw a kettlebell used, was safety. It really seemed to me that it would be pretty easy to injure yourself using them. After using them for a while, I can say I was right to be cautious. Not that I have hurt myself, but I can see how using too much weight or allowing it to pull you around would be bad. So, don't let your ego get the best of you.
When researching what weight kettlebell to purchase, I saw the 35 lb. (16 kg) weight often recommended as a good place to start for men of my fitness level. After testing out some different weights at the store, I decided to go with the 26 lb. (12 kg) one and I am so glad I did. While I can lift and swing a 35lb. kettlebell, using two of them was nearly impossible and many kettlebell exercises use two kettlebells. If I had the money, I could have just gotten 2 smaller and 1 larger but I just didn't have the extra money.
That said, any exercise or fitness apparatus can cause injury if not used properly. Just ask anyone who has ever dropped a dumbbell on their foot, tried to bench press too much weight, or had a resistance band snap on them. People get injured exercising all the time. Just because you can lift a 50 lb. (28 kg.) kettlebell doesn't mean you can swing it around safely (let alone 2 of them!). Be smart, don't let the kettlebell control you, and learn how to do the exercises properly before you attempt them with a heavy weight.
By Jess from Hillsboro, OR
Read More

Comments
I've noticed that kettlebells are much more expensive than hand weights. Even Wal-Mart has high prices on them. Have you seen them being sold cheaper anywhere? I suppose a detergent bottle is an alternative!
By Liz
Answers
August 18, 2011
0

found this helpful
They are really expensive! I also know that a detergent bottle might not be ideal for some of the exercises, as the weight is not centered in the same way. I have found them less expensive on craigslist--if you keep checking, you may find a really good deal. However, if you go to youtube.com and search for "make your own kettlebells," there are some really ingenious solutions there! One guy made his own with an old ball, sand, and lots of duct tape. It is shaped just like a regular kettlebelll, handle and all. Not super attractive, but works! Good luck!
August 18, 2011
0

found this helpful
You could try Ocean State Job Lot if you have one in your area,or Best Buy.I've seen them at these stores including Walmart-but Job lot is cheapest!
August 21, 2011
0

found this helpful
I found mine,and in different sizes in the back of T J Max (9.99) this amazed me the pretty colors(pink,purple,blue) was nice ,too.They started at the 3lbs. up to 20lbs. when I first seen these was on the Biggest Loser love that show. Being a fanatic I had to know about them.Even the info commercials had them so high it was out of my range. Then I discovered them,they had great prices on so many workout things, I will be going back!I hope this helped, it shows they are out there. Maybe saling, what didn't sale for the higher prices.Now that they aren't the "newest,latest" thing you may check out a used shop that resales workout equipment also. I paid 10 cents a pound for my dumb bells. Good Luck!
Answer

this Question