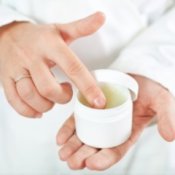 You can use metal tins, or moisturizer container will work as well. Size of your container will determine how much you make so ingredients are listed in parts.
Ingredients
2 parts coconut oil
1 part beeswax
eucalyptus essential oil (10 drops per oz.)
white camphor oil 5 (drops per oz.)
Directions
Melt oil and beeswax in pan, add essential oils. Pour into your container. The salve will harden in 10 to15 minutes. If too soft, re-melt and add more beeswax. If too hard, re-melt and add more oil.
By coville123 from Brockville, Ontario
Read More

Comments
Vicks Vaporub works great on sore muscles and dry skin. I used it for back pain. Also great on dry skin on feet, at night rub in and sleep with white cotton socks. Amazing how soft dry spots become. Be sure not to use on open sores.
By Peggy from Cortland, OH
Answers
September 23, 2008
0

found this helpful
Another use I have had for Vicks Vaporub and that was to put a very thin skim of it on the corner of my wooden couch arm that pup thought was great 'chewing material'. Have also used it to discourage dogs licking their feet til raw, and discourage the 'amorous' young pup who 'loves' an older female dog who could care less!!! A tiny speck [about the size of a regular pin head] on either side of female's tail workd wonders.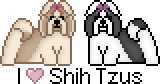 September 23, 2008
0

found this helpful
It also works really well for toe nail fungus! Takes a few weeks, but it will take care of it. Just rub it over toe nail nightly.
September 23, 2008
0

found this helpful
I cleared up a very bad case of Psoriasis of the scalp last year with Vicks. I avoided a trip to the dermatologist with this remedy. It was so bad that my hair was falling out. I just rubbed it into my scalp and covered it with a shower cap for several hours, then shampooed it out. Of course the regular vicks with petroleum base was very hard to get out of my hair. To solve that problem, I rubbed baby powder into my hair, and it removed the vicks. Then I discovered that Vicks now comes as a lotion in a tube, and if I have a small spot of psoriasis appear, I just rub the vicks lotion into it, wait a few hours and shampoo. It washes right out. This is surely a better solution than the steroids the dermatologist recommends.
Harlean from Arkansas
By Becky Brink (Guest Post)
September 24, 2008
0

found this helpful
My brothers swear they didn't get hair on their chests because of all the Vicks my mother rubbed on their chests when they were young. :)
By Southchippawa (Guest Post)
September 24, 2008
0

found this helpful
We have farmers all around us. Once a year you can count on someone spreading manure with the wind in the wrong direction! I put a little Vicks at the tip of my nose and then all I smell is the Vicks and not the manure!
By MaryBelle (Guest Post)
September 24, 2008
0

found this helpful
If you get poison ivy or other itching problems use Vick's Vapor Rub. Instant cool relief and no itching.
By Penny Foss (Guest Post)
September 25, 2008
0

found this helpful
I too have found alternative uses for Vicks Vaporub. Unfortunately I have Sjogrens Syndrome and it causes my nasal membranes to become very dry and brittle. When applied lightly to both nostrils with a Q-tip it allows my mucous membranes to stay most and comfortable and also leaves a pleasant smell. However, be careful to use sparingly and lightly so as to not inhale or taste the excess.
October 1, 2008
0

found this helpful
It's also great for a cough; used on your feet! Rub it on the bottoms of your feet at bedtime and cover with socks. I don't know why this works, but it completely stops a nighttime cough.
Read More

Answers