Date your installation! A hot water heater sits quietly in a closet, basement or garage. Forgotten until it breaks. Well, when our hot water heater needed to be replaced, I was left with water on my basement floor and in a panic to get a replacement. This could have been prevented if I knew when it was installed.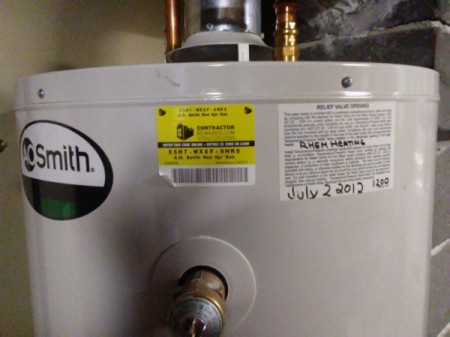 Read More...
When leaving a water heater inactive for a long term, such as months at a time, is it recommended to turn "off" the breaker to the heater to keep the sulfur buildup from making it smell like "rotten eggs"?
By Phil
Answers

December 23, 2012
0

found this helpful
If the water heater isn't being used you need to disconnect it from the electrical supply, turn off the breaker if it is not supplying electricity to any other outlet, and then drain the water heater.
Draining the water heater keeps mold and other ickys from forming in the unit, and protects an immersed element if your heater uses that type element.
The sulphur smell in the water is a chemical reaction to the build up of minerals on the element in contact with water-because you are smelling it, you must have an immersion element, so drain that heater.

December 26, 2012
0

found this helpful
The Environmental Protection Agency recommends turning off your hot water heater if you are away from home for 3 days or more. It saves energy.
I belong to the Grange, a fraternal non profit organization dedicated to community service and a better life for rural American's. We have a Grange Hall. Because we usually only use the hall once a month, we keep the water heater turned off the rest of the month. It doesn't take long for the water to be heated!
Save energy and save money!
Carol in PA
Answer

this Question