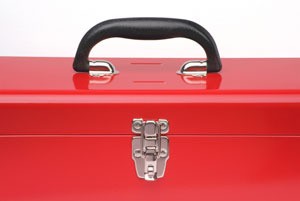 My Tool Box
Do you have your own tool box for in the house. Whenever I needed a tool, I had to go out to the garage and get one of my husband's. If I forgot to put it back, I heard about it. So, I went and bought myself an inexpensive tool box. Every so often, I would buy some basic tools to put in it. I keep the tool box in the house in the pantry. Now, hubby knows better then to touch "MY" tools.
By Aria Rogers
Mark "Your" Tools
I've heard that marking "your" tools somehow with something pink will help keep them separate from your husband's tools!
By MB in WY
Fishing Tackle Box
A small fishing tackle box does an excellent job of serving as a small in-house toolbox. I've had one for many years and love it. My husband knows that any tools in that box are strictly hands-off for him, unless I loan them to him.
By Pat Giles
Small Handy Tool Box
Put together a small tool box for making minor repairs around the house. Fill it with the essentials: hammer, screw drivers, a chisel, pliers, scissors, a small level, a tape measure and anything else you find yourself needing frequently. Keep it in a safe convenient place and make sure all the tools and the tool box is put away when it's done being used.