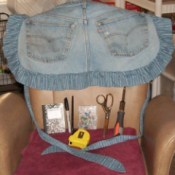 Swapping the rooms in my apartment has been a huge undertaking. I get up each day and put on my denim apron with all the stuff in it I need to do what needs to be done without walking all over the place. I thought this might help you if you are moving, have a large project you or someone you know is doing, etc.
I keep the following in the apron: Measuring tape, notepad and pen, marker, screwdriver, scissors and a little box of tacks and push pins. This keeps everything I might need with me and I save a lot of steps!
Source: Trying to work smarter not harder!
By Sandi/Poor But Proud from Salem, OR
January 2, 2007
3

found this helpful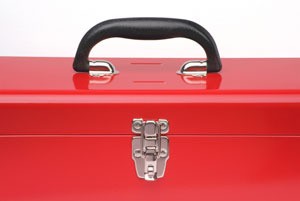 My Tool Box
Do you have your own tool box for in the house. Whenever I needed a tool, I had to go out to the garage and get one of my husband's. If I forgot to put it back, I heard about it. So, I went and bought myself an inexpensive tool box. Every so often, I would buy some basic tools to put in it. I keep the tool box in the house in the pantry. Now, hubby knows better then to touch "MY" tools.
By Aria Rogers
Mark "Your" Tools
I've heard that marking "your" tools somehow with something pink will help keep them separate from your husband's tools!
By MB in WY
Fishing Tackle Box
A small fishing tackle box does an excellent job of serving as a small in-house toolbox. I've had one for many years and love it. My husband knows that any tools in that box are strictly hands-off for him, unless I loan them to him.
By Pat Giles
Small Handy Tool Box
Put together a small tool box for making minor repairs around the house. Fill it with the essentials: hammer, screw drivers, a chisel, pliers, scissors, a small level, a tape measure and anything else you find yourself needing frequently. Keep it in a safe convenient place and make sure all the tools and the tool box is put away when it's done being used.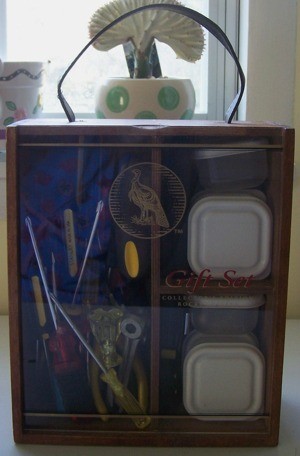 Ladies, did you ever have the necessity for your own tool box? Well, I did. I decided to have my own so I would know where "my" screwdrivers, hammer, etc. were.
I am always looking for items to be used in a different way. I absolutely love wooden boxes. If I can find them at an affordable price, to my house they go! I purchased this box for less than $2.00 at a thrift store. It's first life, I am assuming, was to house a bottle of Wild Turkey liquor and a couple of glasses. The slide-in plexiglass cover has the turkey logo on it still and the back has some advertising on it as well. With it having three different compartments and handle, I figured I could transform it to something useful.
I decided to make my own personal tool box out of it. I did not remove any of the logo but did purchase some tiny plastic containers with lids. There were 10 in a package from the Dollar Tree for $1.00. These now hold my various tacks, nails, picture hangers, etc. I also have my tape measure, numerous screwdrivers of various sizes, a case with metric screwdrivers, and needle nose pliers, and utility scissors. The only thing it will not hold is my hammer, but I put it right on top of my toolbox so I know where it is.
All I did to the box was dust it and use a little scratch cover and, voila, my own Nifty Thrifty Toolbox was born. Granted, my tools may not be the most expensive, but at least I know where they are and they serve my purposes. Funny thing is that my toolbox is inside the house and my husband's tools are in his toolhouse. Guess whose tools he grabs a lot of the time? You guessed it, MINE!
By Lee from Jesup, GA
Over the years, the house tools disappeared. So I said, "No more!" For the next several weekends, my teenage son accompanied "Mom" to the swap meet and shared his knowledge of good tools, worn tools, useful vs useless tools and fortunately, inexpensive used tools vs new.
Read More...