Organizing an Apartment
Solutions
Share on ThriftyFunThis page contains the following solutions. Have something to add? Please share your solution!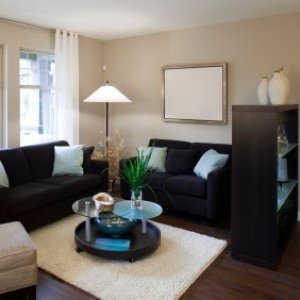 If you live in a small apartment, you might find that organizing it and keeping it free of clutter can be difficult. Where do you put all of your stuff when you don't have enough room to store it in? The following a list of rooms and 5 organization tips that can potentially keep the clutter from taking over in them.
Kitchen
Use a dinnerware organizer in your kitchen cabinets. These space savers can separate your plates from your bowls or coffee mugs and give you a place to keep them safe, without taking up a lot of room.
Bathroom
If you don't have a medicine cabinet or a closet then use baskets to keep your bathroom materials organized. Wash cloths can easily be rolled up and placed in a basket that you can either place on the floor, on the sink, or on the back of the toilet.
Bedroom
If you have a lot of shoes and nowhere to put them then a flat box, or one of those fabric shoe organizers, that can easily slide under the bed can be a great way to store your shoes and keep them organized so that when you need them you'll be able to find both feet.
Children's Room
Kids need lots of shelf space. For something a little different from a regular book shelf, consider using an old entertainment center. Take the door off (or not) and paint it a fun color. Use clear shoe boxes or other plastic tubs for loose toys, puzzles, stuffed animals, and balls.
Hallway or Entryway
If you have the tendency to kick off your shoes when you first walk in the door then place a large tote or bin near the door. As you and your family enter the apartment, take the shoes off and place them in the container. That way, you won't be searching around the house for them and they won't take up space in the middle of the floor.
Living Room
A flat basket in the living room works well for a lot of things. It can hold magazines or pieces of mail that are important.
Read More Comments
I have two pretty, sturdy tote bags hanging on decorative hooks on my bedroom wall. You'd be surprised how much they hold. I have wallets, extra pairs of glasses, etc. Things that I don't want to get rid of, but don't want taking up room elsewhere. I found one of the pretty totes at a thrift store for $2.70 after my senior discount.
By Betty from Lubbock, TX
Questions
Ask a QuestionHere are the questions asked by community members. Read on to see the answers provided by the ThriftyFun community or ask a new question.
When you have limited space where can you store the ironing board? I have a small apartment and we have to iron everyday. Now we leave the ironing board in the narrow hallway which is in the way of traffic. Do you have any suggestions?
By Onesummer
Answers
September 3, 2010
0

found this helpful
Best Answer
How about an over the door one, that could be stored on a closet door, or even a bedroom door? Wouldn't have to be down all the time, only when you need it!
September 3, 2010
0

found this helpful
Best Answer
There are hooks to hang an ironing board on the back of a door, available in home centers and hardware stores. You could also slide it under a bed.
September 4, 2010
0

found this helpful
Best Answer
I live in a one bedroom house. I store mine in a closet in the bathroom/dressing room. I iron my clothes once a week on Sunday usually.
Takes me about 45 minutes. Then I hang my clothes that I just ironed over the bathroom door so they don't get wrinkled in the closet. Why would you iron everyday? What a pain.
September 5, 2010
1

found this helpful
Best Answer
I bought an old fashioned "country looking" ironing board at an auction. I lean it against a wall in the livingroom so it looks like country decor.It is cute and it is available anytime, I can iron and watch tv or have a conversation all at the same time.
Answer

this Question

...
I have a large apartment. The problem is it is over cluttered, mostly with clothes. I want to declutter the whole apartment from top to bottom. Most of the things are brand new items from birthdays and Christmas. Any suggestions on how to start? I am overwhelmed as to where to put anything.
By Linda M. Gray from Fall River, MA
Answers
May 4, 2010
0

found this helpful
Best Answer
Move an extra dresser into one of your clothes closets to make for extra storage space.
Also de-clutter your life and donate clothing and household items that you won't use.
May 4, 2010
1

found this helpful
Best Answer
If everything is everywhere, you might need to get some bins for the various rooms (plus bins for donations and trash), and just start sorting. I have a handled basket-thing (like you might use to take things to the beach) that I use for my daughter. We toss in all her stuff that migrates into the living room, and she gets to take it back to her room (and hopefully put it away!).
Some people want to plow through the job until everything is done. Others get burned out and it's better for them to set aside some time every day to devote to completing a specific area or task. You're going to have to figure out what works best for you.
My problem is maintenance. I can get it nice looking, but it doesn't seem to last. I'm still working on that . . .
May 4, 2010
1

found this helpful
Best Answer
I have the rule when we get something new, we get rid of something. My developmentally disabled adult daughter is real good about going through her clothes and sorting out what has to go, etc. I then go through to make sure she isn't getting rid of something she shouldn't. When her dresser drawers or closet starts to get too full, she starts going through things.
May 5, 2010
1

found this helpful
Best Answer
The easiest way to not be overwhelmed with the task is to start by working one room at a time. Put everything "cluttering" that room in a large box or container. Do that in every room. Get each room set the way you want it to look and then gradually take things out of the clutter containers and slowly put it away. A really good place to first start organizing is your closet. Hanging shelves from Wal-Mart work really great for things that don't hang well and don't fit in the bureau and aren't too expensive. Over door shoe organizers can be used for tons of things from makeup to hair care to shoe/socks, etc. Take a little at a time - you'll be surprised how fast it all gets put away.
Answer

this Question

...
Anyone have an idea how to keep a small apartment organized? I have crafts everywhere, in containers, on the floor in Walmart bags, and I can't seem to keep it clean and up off the floor. Any suggestions please? I need this done by November (Thanksgiving).
By Kelly from Medina, OH
Answers
October 4, 2010
0

found this helpful
Best Answer
I bought bed risers (those plastic things that make your bed stand taller) and I store boxes of craft stuff under my bed. I use copy paper boxes from work, they are the perfect size and they are the same size. You do need to have a master list of what is in which box (label boxes "1", "2" or "A" "B" = Box 1: jewelry crafts, Box 2: knitting stuff, or Box A: Scrapbooking, etc.). It's not the best solution, in that it's not at your fingertips, but it's otherwise wasted space and you can have upwards of a dozen boxes under a bed. I have a bed skirt also, which hides the boxes.
October 7, 2010
1

found this helpful
Best Answer
Shelving is a solution I have used many years, along with making furniture and other objects do "double-duty", since I also have a small living space. For example, use a decorative basket for storing craft supplies. There are ottomans that have a storage compartment, as well as furniture that has that same option, so blankets could be stored, perhaps leaving needed shelf space free for other things. Think "outside the box" for storage needs. In my kitchen, I have a large metal display rack for my pots and pans, since I have very little cupboard or counter space.
A spice rack can be mounted on the wall and used to store small craft supplies. A wire bicycle basket can be mounted on the wall to store larger items. A three tiered wire basket hanger can be used for things like yarn or fabrics, as well as other bulky items like pine cones, silk flowers, etc. I hope this helps a bit. I am re-configuring space in our home at the moment, and I have some space challenges too!
October 9, 2010
0

found this helpful
Best Answer
Art is a messy business if you don't actually have a space devoted just to it! I would suggest Rubbermaid tubs and shelving. If you can't afford a bunch of tubs, you could get boxes that paper comes in from an office. If you can't afford the shelving, just stack the tubs/boxes in an out of the way corner. Label the boxes so you know what you have stowed in each.
Answer

this Question

...
I would like some tips for orgarizing for very small apartment.
By Joyce K. from Fall River, MA
Answers
December 2, 2016
1

found this helpful
Best Answer
I have lived in small units before and I found that hanging several wire shelving units really gave me places to store things in places where there was no room for regular shelving.
I bought coated wire units (like Closet Maid) at Walmart and Lowe's. These can be expensive but they can be moved and will last for many years.
There are units that hang over a door or units that that can be attached to walls and come in many sizes and shapes. I like the ones with 4 or 5 shelves that are about 26x20x5". These can hold anything from medicines, cosmetics, socks, underwear, gloves, etc. I also now use one in my kitchen for all sorts of things and you can hang hooks over the wire for holding another large assortment of items.
Take a look around your apartment and record measurements of any space (or door) that might accommodate a unit.
Check out the sizes available within your measurements and don't forget that if a door opens against a wall you will have to leave space for the door to open fully (that means you cannot put the shelf too close to the hinges of the door or the 5" shelf will keep the door from opening fully).
You may be able to hang shelves yourself or you may need a "helper". I am sure others will give you lots of useful suggestions.
Answer

this Question

...
My apt. got some new furniture (and a bed) which made the clutter look twice as bad. Now I want/need to get the knick-knacks onto surfaces, and I think shelves are great idea to use as "hanging" areas to put my cuter misc. items. Does that make sense?
By Stacy T.
Answers
September 24, 2014
0

found this helpful
It makes sense but limit the number of knick-knacks.
Answer

this Question

...
Photos
Share on ThriftyFunCheck out these photos. Click at right to share your own photo in this page.
With a small apartment and a bathroom you literally have to close the door before you (ahem) sit down, I needed more space. Cornelius needed some space, too. Since space is something we both needed, I decided to revamp the whole "hot water heater room".
The first thing I did was make a trash can bag a liner, using it cut down and elastic to keep it in place. The board in front is to keep the "kicking litter" inside the room and easy to vacuum.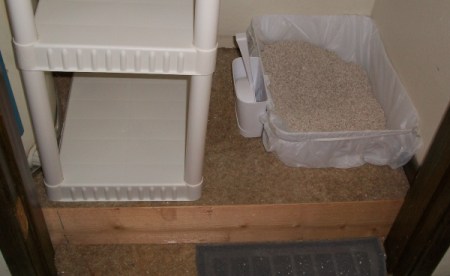 A storage unit was worth the $14.00 to store the things I didn't have room for: tools, towels, cleaning supplies, candles and matches, flashlights, batteries, and hardware.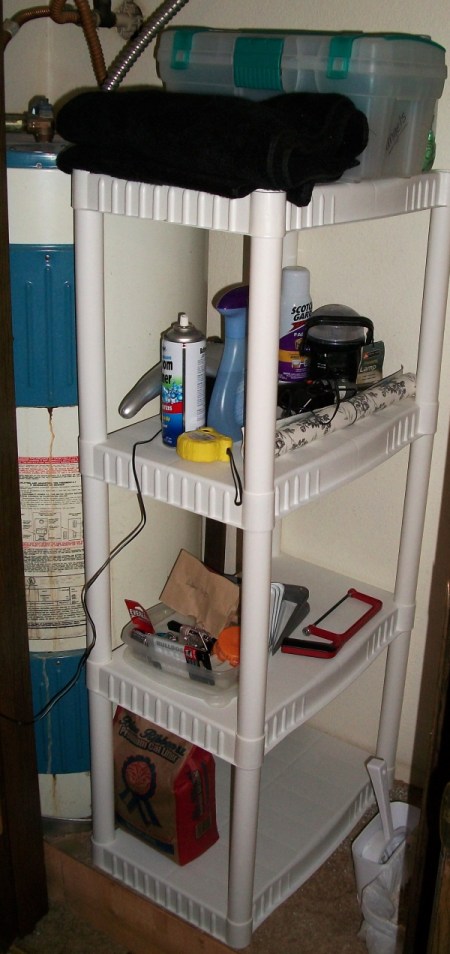 Finishing up the project was the lace curtain to cover it all up.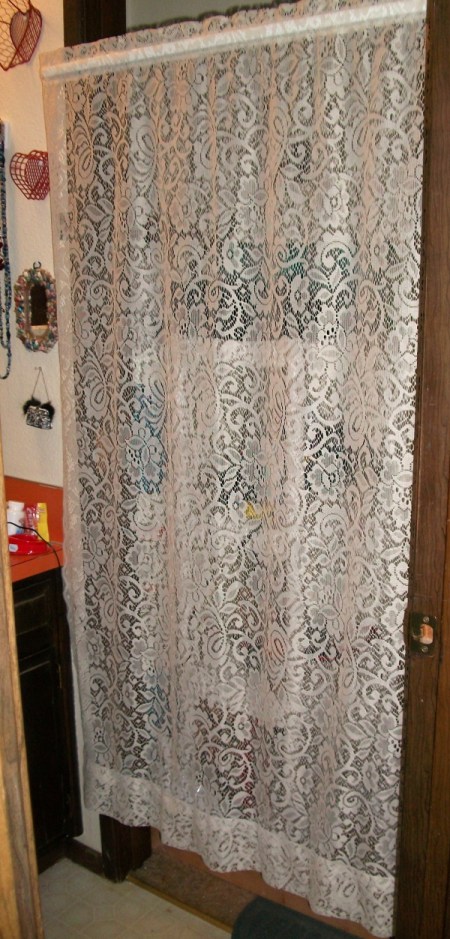 This is a real coup for me as I was trying to keep the things I needed in the house in cabinets, drawers, under the sink and even in the tub to take out when I need it. I think this is much better!
Hope this inspires someone to clean, organize or decorate for whatever need they have!
By Sandi/Poor But Proud from Salem, OR
Read More Comments
Archives
ThriftyFun is one of the longest running frugal living communities on the Internet. These are archives of older discussions.
I need some good tips for organizing. My husband, myself, our 2 kids, and our 14 week old puppy are currently living in my in-law's apartment attached to their garage. Needless to say, it's only one bedroom and that's where all 4 of us sleep. We are cramped with toys, mostly. Any suggestions? Please help.

By k.sowders
Answers:
Organizing a Crowded Apartment
Could you put some of the toys in plastic totes and store them in the garage and rotate them occasionally? Could you board the puppy until you have more room? Soon winter clothes can be stored the same way as the toys. That many people in a one bedroom apartment, it will be really hard to keep everything organized because you only have so much storage and floor or wall space. I know this from experience, because about 9 years ago my developmentally disabled daughter and I had my oldest daughter and her 4 kids move in with us for about 6 weeks.

That daughter slept on my couch and three of her kids slept on the living room floor. The youngest slept in a playpen in my daughter's bedroom. Nobody could sleep in my room with me, because my alarm clock was set for 5AM so I could get up and get ready for work. I was nasty during this period of time, I watched TV as late as I wanted, turned lights on in the kitchen which shone into the living room. I could have been more considerate, but my daughter got herself into that predicament and I didn't want them to get too comfortable in my two bedroom apartment.

I had blankets, etc. shoved into a corner, toys all over the place, no help with food or expenses, no privacy, no help with cleaning or cooking, so my piece of mind came from being rude and cranky. Lol. (04/22/2010)

By Joan
Organizing a Crowded Apartment
There are a lot of suggestions here so I don't know if I'm repeating, but take advantage of the trunk of your car. Don't store anything too heavy there, as you car will burn more gas, but you can store lighter things like blankets, out of season clothes, etc. I spread out blankets and quilts between my mattress and box springs when it's too hot to use them. You could also store other cloth items there. If you live in an area that has a half-price book store, you can sell unused books. I downsized to apt living a few years ago so I know what you mean. It's a work in progress and it was hard getting rid of sentimental things but I had to do it. Good Luck. (04/22/2010)

By Betty
Organizing a Crowded Apartment
I'd start first with the overload of toys. Tubs are necessary and all MUST be picked up except for what is being played with now. You can store the stuff you use in the same kinds of tubs with lids and label the outsides and just stack them. I don't know how old your children are but you and dad MUST have some privacy so I'd work out some kind of screen or curtain to give a bit of privacy in the bedroom. Most of us have lots more stuff than we need and this is a good time to pare down. (04/22/2010)

By Judi
Organizing a Crowded Apartment
The kids could also sleep on the living room floor. (04/22/2010)

By Joan
Organizing a Crowded Apartment
I learned from this site how to use plastic large trash containers to store things in, I store clothes in them. Some people will put table toppers on them, but I just use them as they are. You sit them next to each other. I also keep toys and such in them that are not being played with and switch them out regularly. I also go through things to put on freecycle.org in order to clear out the spaces that are not being uptimized. Hope this gives you some ideas! (04/22/2010)

By Robyn Fed
Organizing a Crowded Apartment
The ideas I've seen here are all good. I'd also say it's a good time to lighten your "stuff stash." FreeCycle.org can point you toward your local chapter if you want to give away. Or if you'd rather sell, there are several free ad sites. Kijiji is good, in my experience. Local consignment shops work, too. If there are items with sentimental value, do what you must to safeguard and store them.

For sleeping arrangements, please try finding alternatives to having the kids sleeping in your room. Walmart has decent air mattresses that aren't too expensive, or futons are available almost everywhere. Air mattresses can be deflated and stored in a closet or anywhere. Futons can be folded into other furniture, depending on the size.

The large garbage cans with "table toppers" could be workable, depending on just how small a place you're talking about. Large storage tubs are also a great idea, but don't forget your place has 3 dimensions. A large fishing net hung in a corner of the room with s-hooks can make an attractive, out-of-the-way storage area for a variety of items.

Use your imagination, and have fun. :D (04/23/2010)

Organizing a Crowded Apartment
Think "Little House on the Prairie." How did they do it? Make use of every nook and cranny. Prioritize what is most important to you right now. For privacy and or "stuff covering" -- make some curtain panels.

Screw plant hanging hooks into the ceiling, then place those inexpensive round curtain rods you can find at Walmart or Lowe's ( 1/2" round) onto the hooks. Slide your homemade or store bought curtain panels over the curtain rods and place on hooks for ceiling to floor privacy panel. (Resewing sheets into curtain panels is popular.) Just make sure you use a material that will compliment and not look like a sheet and end up feeling cheap. You want it to feel homey and cozy when you get done.

You can separate areas this way. You can have a pantry wall ceiling to floor that is covered with panels. You can have a toy corner covered by a panel. Make your furniture do double duty. There is storage under beds, sofa, coffee/end tables. Make use of the space all the way to the ceiling. Build shelves.

Be flexible during this time. Get rid of stuff that is more in the way than a blessing right now. Having a cozy, warm, inviting, smooth running, efficient home no matter the size is more important than toys. Having each other and being happy and content is more important than toys. (04/27/2010)

Picture a one-bedroom apartment, three dogs, one husband, and a frazzled newlywed wife.
Read More...
Advertisement
Published by ThriftyFun.
© 1997-2020 by Cumuli, Inc. All Rights Reserved.
https://www.thriftyfun.com/tf/Organizing/Advice/Organizing-an-Apartment.html