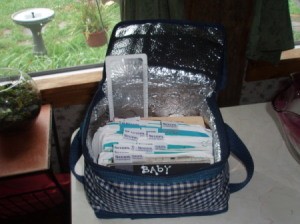 I have clipped coupons for over 36 years now and I have saved thousands of dollars in grocery costs! I fondly remember one shopping trip I took where the total was $300 before my coupons and $30 AFTER! It felt fantastic!
Start with a shoebox or other small box (I use an old cloth lunchbox pictured here) and cut out 2 cardboard squares for each category (or use 3x5 cards but I find them too weak). Make categories of the groceries that your family uses. My categories are (in alphabetical order to find easily):
baby
beverages (I choose to have one for HOT and one for COLD)
breakfasts (again, I like Hot and Cold)
baked goods
beauty
cat (pet)
cheese
chemicals
condiments
health (OTC medicines, razors, soaps, toothpaste and beauty)
hair (I do this separately for an easy find)
ice cream
meats
paper products
quick meals (any prepared foods)
snacks (I separate sweet and salted snacks and include nuts)
soups and sides
vegetable and fruits
vitamins
yogurt
Misc. (for those unique coupons that come along like water filters, magazines, etc.)
You can list the categories on the front of your card to remind you what is there. For example: my card for "sides" says noodles, rice, and pasta below the word sides. I also have a TODAY category card for shopping day and when I find a coupon that I will use I put that in that file to make sure I use it at the checkout!
I file the coupons under their category but I now include two cards of each category and use the first card for the coupons in that category that will be expiring within the next 30 days/month, then I can take a quick scan of them before shopping. I add a little tab to each 30 day category card just to find them easily in the store.
I also include my shopping list, paper, small scissors, pen, and a magnifying glass, since coupon lettering seems to be getting "much smaller lately. ;) I would also add an address label or at least your name and phone number taped to the inside of the lid. I have left behind my coupons on 2 occasions over the years and both times the store called me and I got them back safe and sound!
Note: There are many online coupon sites now too where you pick the coupons you want and use! Choose them, cut them out, and file them as you go. Some folks run an ad in the paper and exchange coupons (ThriftyFun has one on this site). It's great to get the coupons you need (like pet food) and to give others some they may desperately need (like diapers).
Keep an open mind about brands as well. Try new ones if you needed that product anyway or have a great high valued coupon for something you may not have ever used yet! If there is something new or a little more expensive than what you want to buy, check out the company's website! Many new items have coupons there. In my car I keep one of those smaller, wallet sized coupon holders with dividers and write the 12 months (plus a NO Expiration category) on those dividers and add my other coupons in that folder. Things likes: oil changes, tire coupon discounts, restaurant coupons, "free coupons" I may have gotten through refunds, and miscellaneous coupons in other stores. I make sure to check them out each month to remember what to use before they expire.
There are coupon clubs and now I see some libraries are even adding little shoebox/coupon boxes where volunteers and patrons throw in coupons they don't need and you can take what you want! If your library doesn't offer it, maybe you can mention it. Have fun saving at the registers!
By Donna from NEPA
For Christmas, I made a dear friend of mine a coupon organizer with a bag, what better gift with this economy! Anyhow, I started with a 5x7 photo album, included a mini notebook, calculator, a pen, and then a "green bag" or canvas bag to put it in.
Read More...