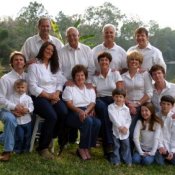 Several years ago, I planned a large family reunion at our state church camp. Camping season was over for the kids, but we had many beautiful days ahead, and they rented the cabins with cots only for a nominal cost. We planned on "roughing" it, but there were counselor cabins that were available for people who's health would not allow the hard cots. It allowed for people who could get there on Friday through Sunday. This is right on a cove of the beautiful Lake of the Ozarks.
I wanted to keep the budget as low as possible, not really knowing what everyone's budget would allow.
For invitations I wrote my own cute saying, using the core family name. For paper, I tore brown paper bags into uneven pieces just a little larger than I needed. Then I burned the edges just enough to look like camping. I made my own envelopes from the rest of the paper and all I had to buy were stamps. Plus, they were really cute.
I then bought everything in bulk for the number of people who responded. I made a variety of huge casseroles that could be cooked there, and salads that could be easily made. The time in the kitchen was short, but fun! It worked great and was cheap for everyone!
By Betty

Six months ago, a brother I never know I had found me. With Covid and being in different states, he and I along with another brother and a bunch of aunts, uncles and extended other family members have yet to meet face to face. But hoping to soon this summer. I'm looking for advice on what not to truly say or do in advance to meeting them all. After 56 years apart, I don't want to mess up a chance on true happiness in getting to know each other.
Thanks in advance, any help would be greatly appreciated
Answers

Pghgirl40
Bronze Feedback Medal for All Time! 196 Feedbacks
April 16, 2021
0

found this helpful
Best Answer
That is exciting to find new family! The best thing to do is say tell me more about (yourself, your childhood, your life today, your immediate family, your job, etc.) and let them talk!!
Once you feel more comfortable you can add to the conversation. Remember, they probably have the same anxiety of meeting you.
If they beat you to it and say tell me about you to you...then offer high level info and turn it back over to them. After a few volleys of conversation you should get into a natural flow!
If it starts to feel uncomfortable, try to steer them back to the positive. Even things like tell me about your favorite family vacation or birthday party, or a funny story about your mutual parent.
The keys are listening and learning, being empathetic and welcoming and keeping it light to start!!!
Blessings!!

Jess
Silver Post Medal for All Time! 267 Posts
April 17, 2021
0

found this helpful
Best Answer
I will tell you that we found a long lost brother just before I turned 40. He had been given up for adoption prior to my mother and father getting married. They tried to get him back after the wedding but parents' rights were different in the 60s and the adoption was allowed to stand. My mom tried to find him forever and managed just months before she passed away. When we met him, he fit right in immediately.
My brother had different life experiences than the rest of his siblings but shares a similar sense of humor and other connections. He works in computers and so do we. When Mom found him, his adopted parents had passed away and he grew up with no siblings so finding this large extended family must have been a shock, but it seems like it was a welcome one. His family now comes to Christmas and some birthdays. We all went camping once too, which was a lot of fun. He's the older brother that I never had but always wanted.
I would not worry too much about meeting your new brother. I'm sure you all will try your hardest to find common ground and it will work out for the best. Congratulations, I'm wishing you the best of luck.

April 18, 2021
0

found this helpful
Best Answer
This sounds like wonderful news and most likely both families are feeling the some of the same type anxieties about meeting a 'new' family. It's not clear if both families will have a large group but hopefully there will be about equal on each side.
If one group is a lot larger than the other it may seem overwhelming so keep that in mind and maybe move slowly at first.
If that is the case you may want to be sure each groups knows how many will be attending the first 'meeting'.
I know the one thing that seems to usually 'break the ice' and goes over well is pictures. When I'm going to see someone that I have not seen in a long time, I try to gather pictures that were taken during the years we were apart.
Of course, this can be overwhelming also so maybe only a few pictures of the closet relatives in the beginning.

DianaHM
Silver Answer Medal for All Time! 440 Answers
April 30, 2021
0

found this helpful
Best Answer
I can imagine what an exciting meeting you will have! It will really be a little difficult emotionally. I do not know why you had such a long separation, most likely one of your parents and his parents were not very good relations, therefore, you probably better avoid this topic very delicately. C'est la vie, as the French say (life is like that), we are all not ideal and everything happens in this life.
And you have a wonderful chance to acquire new relatives. Try to show your brother how happy you are to see him and enjoy your first meeting without thinking about anything bad. And prepare some gift for him! All the best to you and your brother.
Answer

this Question

I would like some ideas on making decorative ladies' fun hats for a family reunion. Everyone has to make one and I have no idea where to start. Please help.
Answers

poehere
Bronze Post Medal for All Time! 105 Posts
August 19, 2017
0

found this helpful
I have seen some inexpensive straw hats at Michael's from time to time. I would purchase these hats. Also take some flower, ribbon, and other cute decorations such as dried leaves and small plastic pieces of fruit or berries.

Judy
Gold Post Medal for All Time! 677 Posts
August 19, 2017
0

found this helpful
Go to the dollar store. Get a baseball cap or sunhat. Buy ribbons, buttons and glitter. Also get fabric paint and hot glue. Let everyone have fun creating a personalized hat.
Answer

this Question
Our 47th annual family reunion is coming to Minnesota in July and the Bloomington convention center has been a great help. However, we love to put some goodies in our bags, but I am already over budget. Do you have any suggestions where I can get goodies for my bags (donations).
By Mary H
Answers

June 15, 2014
0

found this helpful
Why not homemade favors. Perhaps cookies, homemade trail mix, decorative pens with duct tape flowers on them (uses the colored duct tape and cheap ink pens) Any small craft you can do, even home printed family photo sheets would be wonderful, and definitely unique and personal, no one would for get it was from you and, everyone would appreciate the time and energy you put into making the favors.

June 17, 2014
0

found this helpful
If there are out-of-town visitors who may be needing discounts on hotels or restaurants why not throw in some coupons? Also you could find some Dollar Tree books or toys. A family photograph is fun too, if you have old photos you could have several in each bag using them for a contest, such as getting signatures from each person in the photo, first person to get them all wins a prize!
Or the first person to guess the identity of each wins. If you're gardeners put in a coupon for a free plant from your garden.
Answer

this Question

We are planning a two day family reunion to be held in Sioux Falls, South Dakota in the summer of 2013. We would like to meet inside on either a Saturday or Sunday. (The other day, we'll meet in a park.) As a very rough estimate, we're expecting 75 people. We've checked meeting and party rooms at hotels and have found them to be fairly expensive. Do you have suggestions for inexpensive places to meet? The more specific, the better!
By Liz
Answers

Joan
Bronze Feedback Medal for All Time! 186 Feedbacks
April 11, 2012
0

found this helpful
I live in Sioux Falls, and everything is expensive here. Have you checked into your church fellowship hall? Or does somebody have a basement in their house that isn't divided up into several rooms, that could be used? It wouldn't have to be a finished basement, just a cement room would work.
If you wanted to you could paint the cement walls a cream color. You don't need a fancy place. If it was me I wouldn't hesitate to use an unfinished basement. From what I understand the parks charge a fee for gatherings too. I might be wrong on that, but it seems like I have heard that.

April 11, 2012
0

found this helpful
I live in Sioux Falls as well, and depending on where you're looking and what you want to spend will influence where you want to meet.
I know that Skelly's downtown doesn't charge anything, and all ages can be in the bar/pub. They have a great selection of food, and the staff is super nice. Plus, there's no more smoking in bars either, so you don't have to worry about smelling like smoke. I would call them to ask if you can use their space.
The Parks and Rec office charge a small fee of $25 to reserve a picnic shelter.
www.siouxfalls.org/.../shelter-reservations.aspx
Here's a link to help you find a park shelter with the accomodations you need for your outdoor day:
register.siouxfallsparks.org/.../wbsearch.html?wbsi=8f05ad1e-2c52...
I would also contact the parks and rec dept to see if you could rent out one of their rooms at their community centers. If renting out a shelter is $25, I'm sure renting a room at the community center is probably just as cheap.
Answer

this Question

I am looking for ideas for a family reunion. This will be the first reunion we have had in over twenty years. The age range will be mostly from twenty to seventy years old with a few younger ones attending. I am looking for some clever ideas on simple decorations and door prizes.
We are asking everyone to bring a covered dish for the food and a couple of us will furnish the meat and table service. But we don't want anyone to feel obligated to spend a bunch of money. We were thinking asking everyone who wants to participate to bring a small $1.00 item for door prizes. This isn't much, but just something we had been kicking around. This will be held in a community center with plenty of tables and chairs for everyone to be seated. Any suggestions will be appreciated.
By BSW
Answer

this Question