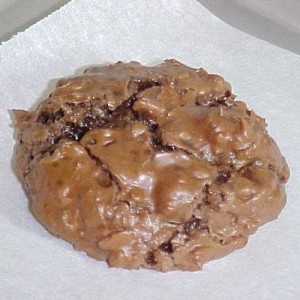 Makes 16 cookies (really easy!)
Ingredients:
2 tsp. cornstarch
1/4 tsp. salt
1/2 cup cocoa
1 and 3/4 cup powdered sugar
2 egg whites (no yolk)
1 cup chopped walnuts

Mix together cornstarch, salt, cocoa, and powdered sugar. Add egg whites and stir. You'll think there's not enough liquid, but I promise it'll suddenly start looking like fudge before long! As soon as it does, add walnuts and stir.
Cover two cookie sheets or pans with parchment paper. Using a cookie scoop (like an ice cream scoop, only much smaller) put 8 balls of dough onto each cookie sheet.
Bake at 300 degrees F for about 18 minutes, until they look a little shiny and cracked.
Cool for a bit if you can stand waiting. Go on, try, I dare you! When hot, they are moist and very fudgy inside, with a touch of crispiness on the outside. When fully cooled, they settle into a rich chewy cookie center.
Hint: I like to toast the walnuts before putting into cookies, if there's time. To hurry it along, I often chop the nuts, put them in a low microwave safe dish to zap for a minute, stir, and repeat this about 3 more times or until they start to dry a little. Don't microwave too long, it's fine if they're not fully toasted.
Source: I think this originally came from a newspaper recipe, but it's been changed over time to make it easier for me to do.
By Mary LaCaze from Mtn. Pine, AR
Read More

Comments

I am looking for a recipe for Fudge Fancies. I don't know if it is particular to the Northeast or not, but I cannot find anything like it on the internet or in my cookbooks. Does anybody out there have the secret recipe for these cookies?
Lynn from Albany, NY
Answers

April 15, 2008
0

found this helpful
I have never heard of them but they sound good.
This is the first one that came up on search:
www.cooks.com/.../0,1910,151186-254198,00.html
It would narrow it down more if you could describe it or name what you (thought) was in it. There also are a few online I saw called Fudge Fancifuls but it was a bar cookie.

April 16, 2008
0

found this helpful
It's a thick vanilla cookie with a slight amount of chew and always with a mound of dark chocolate frosting on top. Every bakery and supermarket here has them but how to make them!

April 16, 2008
0

found this helpful
More like this one then?
www.cooks.com/.../0,197,151187-255198,00.html
I don't think I have ever seen such a big batch for cookies!
EDIT: Or maybe this one and adapt it a little:
holidaylite.wlit.com/.../index.php?category=cookie&tstamp...

April 17, 2008
0

found this helpful
Oh I can't wait to try these! Thank you so much!

April 21, 2008
0

found this helpful
FUDGE FANCIES
1 c. butter
1 c. sugar
1 egg
1 tsp. vanilla
1/2 tsp. salt
1/2 tsp. soda
2 2/3 c. flour
1 c. nuts, chopped
Mix and chill. Roll into logs. Roll logs in nuts. Chill and slice. Bake 8 to 10 minutes at 350 degrees. Frost with chocolate frosting.

April 23, 2008
0

found this helpful
I was looking at the Karo site for a recipe to use up some dark corn syrup and saw this recipe that sounded in the same vein possibly with a little tweaking:
Chocolate Fudge Thumbprint Cookies:
www.karosyrup.com/recipeDetails.asp?id=1243
By Matt from Albany (Guest Post)
September 29, 2008
0

found this helpful
Lynn, Try FUDGE FANCY at cooks.com. It has a quantity recipe that seems like a bakery recipe. You'd have to cut it down. And yes, there is really nothing like them. I think it is more local than even a northeast thing.

November 20, 2009
0

found this helpful
I'm looking for it, too! I know exactly what you mean. Hard to believe that it can't be found on the internet, who woulda thunk it?
Brenda in Duanesburg

June 23, 2022
0

found this helpful
Did you ever find a recipe? Im looking as well.
Answer

this Question

While in Disneyland, I bought an awesome giant cookie with white chocolate chunks and chunks of soft white chocolate fudge baked into it. It was very rich and creamy, and absolutely delicious. Does anyone have a similar recipe please? The wrapper had Mickey Mouse on it.
Cathy from Townsville, Australia
Answers

metroplex
Bronze Request Medal for All Time! 65 Requests
September 9, 2007
0

found this helpful
Have you tried contacting Disney?
They might give you the recipe.
:)
Answer

this Question