Connie
Silver Post Medal for All Time! 361 Posts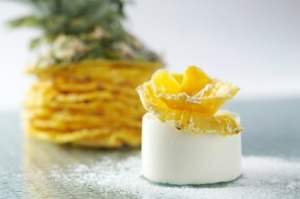 Ingredients
1 egg
3/4 cup sugar
1/2 tsp. vanilla extract
1 cup all-purpose flour
1 tsp. ground cinnamon
1/2 tsp. baking soda
1/4 tsp. ground nutmeg
1 (8 oz.) can crushed pineapple, undrained
Frosting:
1 (3 oz.) pkg. cream cheese, softened
3 Tbsp. butter, or margarine, softened
1/2 tsp. vanilla extract
2/3 cup confectioners' sugar
1/3 cup chopped walnuts
Directions
In a small mixing bowl, beat the egg, sugar and vanilla. Combine the flour, cinnamon, baking soda and nutmeg; add to egg mixture alternately with pineapple. Beat just until combined.
Pour into a 9x5x3-inch lightly greased loaf pan. Bake at 350 degrees F for 30 to 35 minutes, or until a toothpick inserted near the center comes out clean. Cool for 10 minutes before removing from pan to a wire rack to cool completely.
For Frosting: In a small mixing bowl, beat the cream cheese, butter and vanilla until fluffy. Gradually beat in the confectioners' sugar until smooth. Spread over top and sides of cake; sprinkle with the chopped walnuts.
Yields: 6 servings
By Connie from Cotter, AR

I am looking for a pineapple dessert recipe. It was a weight watcher's recipe years ago. Had plain gelatin, pineapple and I think powdered milk. I am diabetic and would love to have it again.
I appreciate any help.
Carlene from Oxford, ME
Answers

January 25, 2006
0

found this helpful
Here is another pineapple dessert that is fine for diabetic meals, or anyone on low fat, low calorie or low cholesterol diet.
PINEAPPLE DESSERT
1 box of ONE-STEP angelfood cake mix
1 20oz can crushed pineapple.
Mix the dry cake mix with the undrained pineapple.
Put in 9 X 13 pan that has been sprayed with PAM, Bake 30 mins at 350 degree.
Very good topped with thawed whipped topping or ice cream.
By Tedebear (Guest Post)
January 26, 2006
0

found this helpful
Hi, My husband has been a diabetic for over a decade. He is not allowed to have fruit (sugar content) or starches. Our daily check is only 100. I don't think fruit, sugar and starch recipes are the way to go for diabetics. They need salads, veggies and lean meats. We love them and need to support them by dieting with them. When out, we opt for conversation and pass on the lovely desserts offered. It may sound difficult, but it would be worse to live without by beloved husband.
By (Guest Post)
January 27, 2006
0

found this helpful
Check out allrecipes.com. They have a spot in there of nothing but weight watchers recipes.
By Teresa (Guest Post)
January 28, 2006
0

found this helpful
I have a recipe for Weight Watchers but I'm not sure if it is good for a diabetic. It uses Fat Free Cool Whip, Sugarless White Chocolate Pudding, 1 can of crushed pineapples and 1-2 small cans of Mandarian Oranges.
My kids love it and any time I make it for a special occasion, people always ask for the recipe. Good Luck.

January 29, 2006
2

found this helpful
Pudding and Pie
1 pkg. gelatin
1/4 cup cold water
1/2 cup boiling water
1/3 cup dry milk
3 or 4 pkgs. sweet & Low or Splenda
(to taste)
1 small cap vanilla
1 small can crushed pineapple
5 ice cubes
Blend gelatin and cold water to mix; add
boiling water and blend until frothy. Add
sweetner, dry milk, and vanilla. Blend. Add
crushed pineapple. Add ice cubes 1 at a time.
Blend on low for a few minutes. Eat anytime.
For cheese pie
Add 1/4 c. cottage cheese or Ricotta (Breakfast)
or 2/3 c. cottage cheese or Ricotta (Lunch)
I got this receipe back in the early 70's and use it all the time. If you need some old recipes let me know.
By Terri (Guest Post)
February 11, 2006
0

found this helpful
I'm diabetic as well. My dietician told me I can eat canned fruit, but only 1/2 a cup, as one serving. I'm to drain all juices off of them by pouring into a colander & rinsing the remaining juices off with water. Drain well & then I am able to use the fruit. Not all diabetics are alike. Some can eat foods that other diabetics can't. If a recipe sounds too good to be true, don't take any chances with it. Nothing is as important as your health. The dietician also stressed having a piece of small fresh fruit over canned fruits, if at all possible. You need the fiber of the fresh fruit more. A small portion (1/2 cup) of fresh fruit salad isn't all that bad. Everything in moderation.
Read More

Answers

I am looking for a dessert my mother used to make many years ago. I don't know the name, but it has a graham cracker crust and cream cheese, crushed pineapple and I believe it had eggs also. Does anyone have a recipe? Thanks so much!
Sandra from NV
Answers
By christi (Guest Post)
February 16, 2006
0

found this helpful
Pineapple Cheesecake
Submitted by: Mary Jagoe
Rated: 4 out of 5 by 6 members Prep Time: 10 Minutes
Ready In: 2 Hours 10 Minutes
Yields: 8 servings
"A delicious blend of pineapple and cream cheese in a graham cracker crust. When ready to serve, pull up a chair and enjoy!"
INGREDIENTS:
1 (8 ounce) package cream cheese, softened
1/2 cup white sugar
2 (15 ounce) cans crushed pineapple, drained 1 3/4 cups frozen whipped topping, thawed
1 (9 inch) prepared graham cracker crust
DIRECTIONS:
1. In a large bowl, mix cream cheese and sugar together. Stir in 1 can of pineapple and whipped topping to cream cheese mixture. Mix until smooth.
2. Pour mixture into crust and top with other can of pineapple. Cover and chill for 2 hours
By Deb (Guest Post)
February 16, 2006
0

found this helpful
Could this be what you are looking for?
Banana Split Dessert
2 cups graham cracker crumbs
1 stick oleo melted (butter or margarine)
1 cup confectioner's sugar (powdered sugar)
Mix and pour into 9 x 13 inch pan, pressing firmly to form first layer.
2 cups confectioner's sugar
2 egg whites beaten
1 stick oleo melted
Mix for 10 minutes on medium speed, pour onto first layer.
3rd Layer: Use 1 large can crushed pineapple (well drained)
4th Layer: Use 3 large bananas diced
5th Layer: Use 1 large container Cool Whip, spread over.
Decorate with pecan pieces and maraschino cherries.
By jobrwn55 (Guest Post)
February 17, 2006
0

found this helpful
could you type out the recipe instead of showing the card very hard reading
By Alma (Guest Post)
February 17, 2006
0

found this helpful
Pineapple Dessert
1 No.2 1/2 can pineapple
2 c. powdered sugar
1 stick butter
2 eggs
1/2 pint whipping cream
vanilla wafers
Drain pineapple thoroughly. Let butter soften until it can be mixed with a spoon. Combine with sugar and eggs. Crumble cookies and line bottom of 8x8 dish. Spread butter mixture over crumbs. Let set in fridge about 20 minutes. Spread drained pineapple aver butter mixture. Place in fridge for3-4 hours until set or leave overnight. Just before serving, whip cream and add on top. Sprinkle cookie crumbs over top and serve.
Sinful delicious!
By jobrwnw55 (Guest Post)
February 18, 2006
0

found this helpful
where did the recipe go that deb sent in it was written on recipe card now it does not appear.
Editor's Note: I typed it in from the picture and made sure it is showing.
Read More

Answers

I am looking for a Pineapple dessert with a soda cracker crust. It was in a Ramsey County MN 4 H cookbook about 30-35 years ago. I lost the book and miss the dessert. Thanks for any help.
Graycrab from Monticello, MN
Read More

Answers