In a bowl, combine sugar and flour. Add the corn syrup, coconut, pineapple, eggs and vanilla; mix well. Pour into pastry shell.
Drizzle with butter. Bake at 350 degrees F for 50-55 minutes or until a knife inserted near the center comes out clean.
Read More...

Kathy
Bronze Feedback Medal for All Time! 190 Feedbacks
I want to make a pineapple pie. However, I would prefer to use crushed canned pineapple, not pineapple pie filling as it is too expensive. I also do not want to make one that is frozen using Cool Whip. Any recipes out there for pineapple pie using canned crushed pineapple? Thank you.
By Kathy from Sylvania, OH
Answers

December 10, 2009
0

found this helpful
Easy and delicious. Enjoy. This recipe came from my cousin's wife's grandma. Enjoy
Pineapple Pie
1 pre-made graham cracker crust
1 16oz container of sour cream
2 boxes vanilla instant pudding
1 can crushed pineapple (do not drain)
mix together sour cream, pudding mix, and pineapple (with juice). spoon into crust. Chill for at least 2hrs

December 10, 2009
0

found this helpful
I make a coconut pineapple pie. The recipe is:
1 can crushed pineapple, drained
1 cup flaked coconut
1 cup sugar
1/2 cup flour
1/2 stick butter, melted
1/4 tsp. salt
2 tblsp. lemon juice
1 tblsp. vanilla
powdered sugar
pie crust for double crust pie
*Line pie pan with bottom crust. Sprinkle 1 cup flaked coconut over crust. In a separate bowl, mix drained pineapple, sugar, flour, butter, salt, and lemon juice. Pour over coconut layer. Cover with top crust. Flute edges and cut vents for steam to escape. Spread top crust with a very thin layer of mayonnaise and sprinkle with sugar...this gives a wonderful golden brown finish to the crust.
Cover edges of pie with aluminum foil. Place in a 350 degree oven for 1 hour. Remove aluminum foil and bake 15 minutes more. Remove to cool....allow to cool 1 hour. In a small bowl, mix together 2 tblsp. reserved pineapple juice with the vanilla, add enough powdered sugar to make a thick glaze. Drizzle glaze over the cooled pie in a back and forth motion. Makes a beautiful pie:)

December 10, 2009
0

found this helpful
I buy an upside down pineapple pie at a grocery store in their bakery. It's very good! It has pecans on top and a couple of maraschino cherries in it.

February 15, 2010
0

found this helpful
I posted this Pineapple pie recipe, see if this is what you were looking for. I hope you try it and enjoy it as much as my family and friends have enjoyed it and rave about it.
Pineapple Pie
Recipe: Pineapple Pie
Archived on 12/08/2009
This is a pie that everyone raves about when I make it.
Ingredients:
Pie crust for 2 crust pie*
2 cans crushed pineapple 20oz. or 1.4 lb. cans in natural juices
1/3 cup corn starch
1/2 cup granulated sugar
1/2 cup brown sugar
1/4 tsp. salt
1/4 tsp. almond extract (vanilla extract will work also if you prefer)
1- 9 inch Pie pan
*I use the pie crust recipe on the Crisco shortening can or you can use an refrigerated already made pie crust dough from the grocery store, like Pillsbury, etc.
Directions:
Pre-Heat oven to 450 degrees F.
Drain as much juice as you can from both cans of crushed pineapple and reserving juice.
Put sugars in stove top pot along with corn starch and salt, add 1/3 cup of the reserved pineapple juice and stir until blended. Stir on medium heat until heated through then add both cans of the crushed pineapple, bring to a boil over medium heat add 1/4 cup more of reserved pineapple juice. Continue cooking on medium heat for about 5 to 6 minutes or until pineapple filling has thickened. Add almond extract, stir in well.
Turn off heat.
Lay bottom pie crust in pan pressing down slightly around bottom of pie pan to seat crust, moisten slightly with water around edges of bottom crust add pineapple filling and cover with top crust. Trim around edges leaving about 1/8 inch past the edge of the pie pan. Crimp edges or seal with a fork to seal crust together.
You can cut top crust into strips and cover with lattice style top crust for more decorative pie. Brush top of crust with water or egg white and sprinkle lightly with granulated sugar.
Place in oven on center rack. Bake for 15 minutes at 450 degrees F. Reduce heat to 350 degrees F and continue baking for about 50 minutes or until top crust is golden brown. Let cool for about 45 minutes to an hour and serve.
I do put a cookie sheet covered with foil on one rack below the pie while it is baking just in case I have a slight boil over while it is baking, (this is normally not a problem). You might want to put foil around the edg of the crust for 20 minutes to keep it from gettng to brown.
You can top with ice cream or whipped cream, whichever you like, but everyone I have served this to wants no topping, just pie.
Servings: 8
Time: 15 to 20 Minutes Preparation Time
45 to 55 Minutes Cooking Time
By pattral from Houston, TX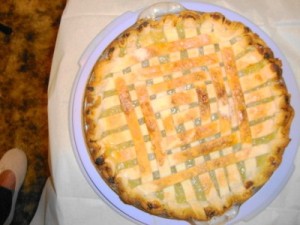 Answer

this Question