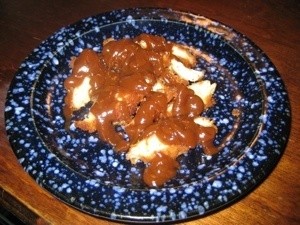 I tried to replicate the crispy-coated chicken served in peanut butter sauce that was on the buffet at a local Chinese restaurant. Most peanut butter chicken recipes I found online were not crispy, or just didn't sound like what I was craving, so I experimented. This may seem unusual at first, but I find it very tasty. And, it is pretty quick to throw together with on-hand ingredients for when the craving hits!
Ingredients:
1 lb. boneless chicken, cut into "fingers" (lengthwise strips)
1/2 cup milk
2 Tbsp. creamy peanut butter
1 egg
salt and pepper
plain dry breadcrumbs and/or cornflake crumbs
For Sauce:
1/2 cup peanut butter
3 Tbsp. soy sauce
3 Tbsp. brown sugar
1/4 cup water (or more if too thick)
1 tsp. or so of honey (optional)
Directions:
Mix milk, peanut butter, egg, salt and pepper until smooth. Add chicken "finger" pieces. Allow to soak for several minutes. Coat well with breadcrumbs and/or cornflake crumbs. Fry in shallow oil in heavy skillet until browned and chicken is done. Set aside until cooled enough to thinly slice, or leave chicken fingers whole for dipping.
For Sauce: Combine sauce ingredients in bowl or microwave safe measuring cup and heat in microwave for about 35 seconds. Stir, then heat additional 35 seconds. Add water a half teaspoon at a time if too thick, make thickness to your preference. Mix well and pour over sliced chicken, or dip chicken pieces in sauce.
Servings:
2 to 4
Time:
5-10 Minutes Preparation Time
about 7 Minutes Cooking Time
Source: Experimentation in an attempt to recreate Chinese buffet food!
By Shawna from Paris, TN
If you like the spicy peanut butter flavor of Chicken Satay, you'll love Thai Peanut Chicken. You can use chicken thighs for a richer flavor or boneless, skinless chicken breasts. And since this is a crock-pot meal, you can prep it in the morning, making it perfect for busy days, or hot summer days when you want to avoid using the oven.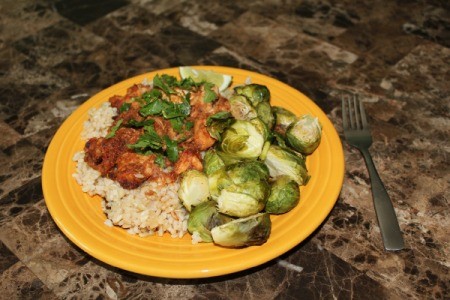 Total Time: 8 hours in the crock pot
Yield: 4 servings
Ingredients:
8 skinless chicken thighs (or 4 boneless, skinless chicken breasts)
fresh ground black pepper
3/4 cup mild salsa
1/3 cup smooth peanut butter
2 Tbsp lime juice
1 Tbsp reduced-sodium soy sauce or fish sauce
2 tsp grated fresh ginger
1/4 cup chopped fresh cilantro
lime wedges
Steps:
Season chicken with black pepper and place in crock-pot.
Combine salsa, peanut butter, lime juice, soy or fish sauce, and fresh ginger in a medium bowl and pour over chicken.
Cover and cook on low for 8 hours.
There are two chicken thighs or one chicken breast, plus sauce, in a serving. Garnish with chopped cilantro and a lime wedge. In the winter, I like to serve over rice with roasted brussels sprouts or steamed green beans on the side. A Thai salad made up of lettuce, cilantro, cucumber, and with a light lime dressing would be excellent and refreshing during the summer.