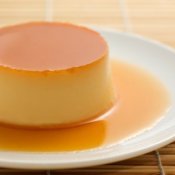 I'm looking for an easy, delicious flan recipe that I can make with ingredients I already have on-hand. I don't have sweetened condensed milk, and most of the recipes I have seen use that ingredient. I do have evaporated canned milk.
Tina from Ashland, OR
Read More

Comments
Sprinkle 1/4 cup sugar in a heavy saucepan; place over medium heat. Cook, stirring constantly until sugar melts and syrup is light golden brown. Pour syrup into 6 custard cups; let cool. Combine milks in a medium saucepan, and heat until bubbles form around edge of pan.
Read More...

I am looking for a recipe for something called "Flung". I think that is how you spell it. Anyone have it?
Thanks
By Dorie Crews from Algoma, WI

Answers

Marjorie
Silver Feedback Medal for All Time! 290 Feedbacks
June 17, 2009
0

found this helpful
Is this the recipe you are looking for?

June 17, 2009
0

found this helpful
No, it is a dessert not a drink..but thanks. It is called Flung.

June 19, 2009
0

found this helpful
What is in this recipe? I've searched the whole web and can't find anything remotely related to anything called "Flung." You've peeked my curiosity to say the least. lol

June 19, 2009
0

found this helpful
Are you sure that it's not Flan? I found a recipe for "Far Flung Flan." lol That is as close as I've gotten so far.

(Guest)
Gold Post Medal for All Time! 846 Posts
June 19, 2009
0

found this helpful
It simply must be Flan. Perhaps you think it's called Flung because someone came up with it as an inside joke name when a person didn't like it and Flung the Flan ;-) That's something I would do because I hate custards ;-) LOL!
Read this and then just Google flan recipes, caramel custard recipes or creme caramel recipes and there are oddles of them so just pick the one that suits you best:
en.wikipedia.org/.../Flan Let us know the outcome :-)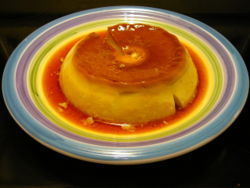 June 19, 2009
0

found this helpful
Yep that's it. My son swears by this and I am trying to find the recipe for Flan. I am still looking. Thanks.
Answer

this Question

I'm looking for a recipe I had found years ago, it was in a magazine I believe. It is called Country Leek Flan.

Carol from Yonkers, NY

Answers

February 8, 2008
0

found this helpful
Don't know if this is what you are looking for, but is the one I use.
Leek and Cheese Flan
1 pie crust (1/2 package)
2 large leeks, washed and sliced thin
1/2 cup butter
3 large eggs
3 ounces milk
3 ounces sour cream
6 ounces cheddar cheese, grated
1 pinch salt
1 pinch ground nutmeg
1. Set oven to 400 degrees
2. Line a 9 inch pie pan (or flan tin) with pie crust.
3. Saute leeks until soft, season with black pepper and cool.
4. Whisk together the eggs, milk and sour cream. Add salt and then half the cheese and leeks to this mixture.
5. Pour into pie pan and sprinkle with rest of cheese. Grate nutmeg over, place on a baking sheet and bake for 30 minutes until brown.
By Lynda (Guest Post)
February 10, 2008
0

found this helpful
Because our family is milk/cheese intolerant, any recipe with cheese might not work for us. However, at the natural foods market this week, their sample table included the best recipe you might also enjoy since you are searching for one with leeks:
Apple-sausage slices steamed with tomatoes and leeks galore. It was so very good that I plan to try this for us. I forget to BEGIN with onions, leeks, or garlic, which are SO good for us. I also forget that
cooked tomatoes might turn to mush if not watched, but that they, too, are VERY good for us and so easy to serve up. Good luck and God bless. : )
Answer

this Question