December 9, 2000
0

found this helpful
I like to give a young child a gold fish in a recycled container with a box of goldfish food. Just check with the hospital first to make sure that it is alright.
By paula (Guest Post)
July 1, 2004
0

found this helpful
I need ideas for a patient who is 21 an had a head trauma case and is now in rehab and needs things to make his stay better.
July 1, 2004
0

found this helpful
Hi Paula, we created a new request for you so that it will get noticed. You can find it here:
August 7, 2006
0

found this helpful
Depending on the severity of the injury, I would suggest a puzzle book, they come in all levels of difficulty, so surely one would fit his needs. another item would be a journal and encouragement to keep up with his thoughts and progress. A special snack bag or basket. Markers and drawing paper. CD's and player. Maybe some magazines with child safety sissors and a glue stick to create a mosaic or scrap book.
Hope this helps,
Tina
By Roger Bowers (Guest Post)
February 11, 2007
0

found this helpful
I had a triple bypass in 2003 and my family gave me a heart cushion. I could cushion my chest when I had to cough or move around, plus all my family could sign it with well-wishing comments! I still have it and will always treasure the love of my family.
Inquiries. bowersroger AT yahoo.com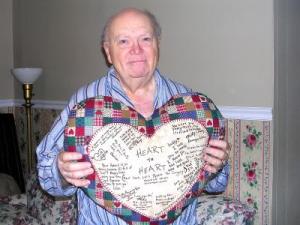 February 11, 2007
0

found this helpful
The ideas on here are GREAT, & I have a few more:
---> For those who are not to sick & can knit or crochet, This is a great way to wile away the hours.
---> For young kids & teenagers especially, some king of tiny radio with ear phones would be great. (Kids always LOVE their music) & you can buy these for under $10.
---> Maybe a gift basket with a few thank you cards in it, stamps & a pen.
---> waterless shampoo & barrettes to keep hair out of the face.
---> A TV guide.
---> The phone card is the VERY BEST IDEA!