By (Guest Post)
April 8, 2008
0

found this helpful
Who feeds the dogs, waters them, walk them, and such? Try talking them for walks when the hubby isn't home. make it as much as you can, that the dogs depend only on you. Other than that send hubby away for a 2 week vacation!
Good luck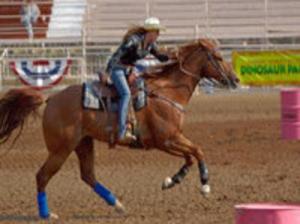 By Penny (Guest Post)
April 8, 2008
0

found this helpful
I am sorry to tell you this, but the first thing you need to do is to stop hitting your dog. Your dog won't ever respect you if you keep yelling and hitting it.
By (Guest Post)
April 8, 2008
0

found this helpful
Hi Lynn,
This dog feels she is above you in the family pack, and is working on establishing this fact.
Your husband, the alpha of the pack, needs to help you teach this dog that you are above it in the pack.
I teach puppies that the cats are above them by making puppy sit and watch while I repeatedly give the cats tiny treats one at a time, until the treats are almost gone. Puppy doesn't have a turn until the very end. (Dominant dogs eat first, then at the end, if there are any leftovers, the submissive ones eat.) NEVER feed this dog tidbits at the table. Humans eats first.
When you go to enter the house, you and hubby need to make the dog wait until both humans have entered the home before the dog may be permitted inside.
You go down the stairs first. If dog shoves past you, knock her aside with your knee with a "get back!". If she shoves against you for attention, don't give it to her, tell her "off!" in a stern voice; she is saying she is above you.
This dog should not be allowed on the bed, couch or any other furniture. Allowing the dog to do so teaches him that he is on the same level as all the humans in the home. Your husband needs to put him off. Crate training would help with this re-teaching process. (Read up on how to do this properly!)
Grabbing a dog by the cheeks when it tries to bite you and lifting it off its feet is a powerful deterrant. Accompany this action with a bellowed, "NO!!!" I did this to one adult female who attacked me, and she was peaches and cream ever after. (You may want to start lifting some weights if you aren't a strong type, so you can do this powerfully and seamlessly.
Also don't yank your hand out if dog manages to bite again. Grab her upper muzzle with your palm just above her nose, and wrap her lips over her canines (so she feels a bite herself). Squeeze her upper jaw hard, and force her upper teeth off. Ram your being-bitten hand forward and down, and dog will release. )
You should be the only one to feed this dog and give her treats. Your husband should not; you need this as a tool to gain her acceptance that you are dominant over her. This dog needs to learn that she doesn't just get food, YOU give her food. If she knows what "sit" means, make her sit for her food before you give it to her. If she won't sit, she doesn't get fed. Try again an hour later. No worries, she won't allow herself to starve. Depending on how willful she is, this could go on a long time. NEVER allow this dog to self-feed.
Take all her toys away, and make sure she gets them from you. Take and put them away where she can't access them when you're done. They are YOUR toys. (Don't play tug of war, ever!)
Are you good at staring contests? Don't do this if you can't outstare her. The submissive dog looks away.
This site is excellent: www.leerburg.com/dominac2.htm
from
Obedience training is a wonderful tool for teaching you what a dog's posture and subtle cues are saying. The people learn more than the dogs do at these courses.
If you work hard and establish yourself as dominant over her in the family pack, you might once again have an affectionate dog. Certainly you will have a respectful dog who will not dream of biting you.
Good luck,
Janet
By Angela (Guest Post)
April 8, 2008
0

found this helpful
I'm no dog psychologist but it seems to me you've almost answered your own question. You are doing everything you can to get your dog to like you, which puts you in a submissive position or mindset. No offense intended but like you said dogs want a pack leader not a submissive person who wants their approval. I would suggest not trying so hard to please your dog. Be the leader, continue the walks, try to teach your dog new tricks etc.
In regards to the "biting incident" : my dog has tried the same thing with me. Luckily he has not succeeded. I had to chang my behavior when I noticed him going into that aggressive or posessive mindset. Instead of yelling or trying to snatch the toy quickly from him. I try to remain calm and pay attention to his body language.
Remember to always remain calm b/c dogs can sense if you get anxious or scared.
Hope this is somewhat helpful. Good luck.
By BoiseSue (Guest Post)
April 8, 2008
0

found this helpful
I often sit on the floor with my (big) dogs at their level and pet them, gently play with them, and just shower them with attention. They love it! and even tho I take them to the vet, brush their teeth, take their toys away to clean, etc., they follow me everywhere.
By katklaw777 (Guest Post)
April 9, 2008
0

found this helpful
Get a wonderful, loving, purring cat from a shelter.
By donra (Guest Post)
April 9, 2008
0

found this helpful
The second poster covers things well. It's not about the dog "liking" you, they need to "respect" you. Once you have their respect, you are like a high ranking family member to them and they will love you and do anything they can to please you. If you can watch the dog whisperer where you are he does a great job of explaining the human pack leader philosophy. Just stick with it, don't take things personal with dogs, they don't think like that.
You didn't get bit because you weren't liked, it was because you had a lower rank a messed with the bone, and the dog has long since forgot about it. I really wish you well and you sound like you can do this because it will just take a little effort and consistency on your part and things can work out great. Don't give up!

Janice C.
Silver Feedback Medal for All Time! 418 Feedbacks
April 9, 2008
0

found this helpful
Sign up for a dog obedience course, just you and the dog, and then go to it, even if the dog already knows commands. He'll learn something new - to respect you.
Obedience instructors say they are training the owner as much as the dog. You sound so discouraged - an obedience class will restore your self-confidence. It will just take a few weeks.
By Deb (Guest Post)
April 11, 2008
0

found this helpful
Why on earth would you decide to clean the chewy when the dog is chewing on it? You don't want someone grabbing your fork while you are eating, do you? Spend quality time with the dog.

sandy
Bronze Request Medal for All Time! 87 Requests
April 11, 2008
0

found this helpful
I have learned a lot from "its me or the dog" on animal planet. You be the one to feed her, walk her and tend to her. When you come into the room give her a treat, and tell her what a good girl she is .
By Stngray (Guest Post)
April 19, 2008
0

found this helpful
Don't do things that you know will aggravate the dog when you're alone with it, like trying to snatch the chewy out of it's mouth to "clean" it. That makes no sense and it sounds a little strange. Maybe you're subconsiously sabotaging you're own relationship with these dogs because you're jealous of hubby's relationship with them. Something to think about.
By Artlady (Guest Post)
June 10, 2008
0

found this helpful
I know this post has been on here for a couple of months now. But, I still wanted to add something. Everyone has given very good information. It is very obvious that your dog does not see you as the alpha. I also had this problem with my dogs. I love the book, The Dog Listener, by Jan Fennell. It really gave me the information I needed to establish myself as the leader. Very good tips! I also had to learn how to be calm. I had become afraid of them biting me, even though, they never had. I had to learn to "act" my way to being confident around them. It didn't take very long, maybe two months, and they now respect me. I don't have to be mean, just firm. I love the respect they give me. It has made a wonderful, loving relationship between us. They are so anxious to please. Good luck. You can turn this around.

January 14, 2013
0

found this helpful
Never ever try to take any animals food when it's eating it. And remember your Dog should associate kindness with your hands. Your hands pat them brush them prepare and give their meals pick up the lead to walk them. Never, never use your hands to strike them and unless you can establish alpha status. Just love them for who they are and be kind to them.