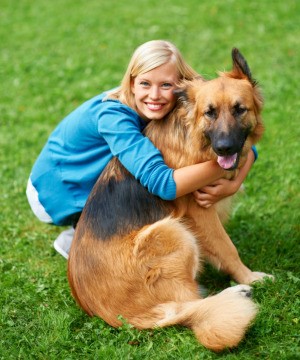 Can anyone out there tell me, or direct me to a website that can tell me, if there's a way to make a dog like you? Every dog my husband and I have had, the dogs all like him the best to the point of either ignoring me or even jealously growling at me if I get too near to my husband or the dog's toys. I've worked so hard on being nice to these dogs, playing with them, etc.
And the dog I had before my husband and I got married just adored me. But as soon as my husband moved in, my dog dropped me for my husband. I've been told it's because I'm usually the one who gives the dogs their meds, takes them to the vet and the groomer, all the unpleasant stuff and my hubby is their play buddy. Then I've been told that it's because dogs are pack animals and therefore very much into caring more for who's the alpha or the leader in the household and that's my hubby because I'm Type B and he's very much Type A, more charismatic, more forceful (without being mean) personality.
With our current dog, I thought I had kind of made peace with the fact that she's never going to love (or even like!) me like she does my husband but it really upset me when she bit me the other day. I was trying to take her chewy away from her so I could clean it and she chomped down on my finger and wouldn't let go no matter how I scolded and spanked her; I finally just had to yank my finger out of her mouth. Since then I've been afraid to get near her.
It really breaks my heart because I've always loved dogs; heck I even like a lot of dogs more than I do most people. And I've tried everything I can think of: try to play a lot with her, take her for walks, pet her and talk to her, but no dice: she'd rather I just go away and leave her with my hubby. It's weird I know to be so sad over this but my dad passed away last Nov. and this almost feels like another bereavement because I guess I'm never going to have another dog who likes me as long as my husband's in the picture. (Which of course I want him to be forever!) But does anybody out there have any suggestions?
Answers
By (Guest Post)
April 8, 2008
0

found this helpful
Who feeds the dogs, waters them, walk them, and such? Try talking them for walks when the hubby isn't home. make it as much as you can, that the dogs depend only on you. Other than that send hubby away for a 2 week vacation!
Good luck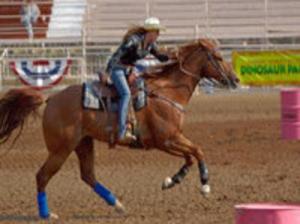 By Penny (Guest Post)
April 8, 2008
0

found this helpful
I am sorry to tell you this, but the first thing you need to do is to stop hitting your dog. Your dog won't ever respect you if you keep yelling and hitting it.
By (Guest Post)
April 8, 2008
0

found this helpful
Hi Lynn,
This dog feels she is above you in the family pack, and is working on establishing this fact.
Your husband, the alpha of the pack, needs to help you teach this dog that you are above it in the pack.
I teach puppies that the cats are above them by making puppy sit and watch while I repeatedly give the cats tiny treats one at a time, until the treats are almost gone. Puppy doesn't have a turn until the very end. (Dominant dogs eat first, then at the end, if there are any leftovers, the submissive ones eat.) NEVER feed this dog tidbits at the table. Humans eats first.
When you go to enter the house, you and hubby need to make the dog wait until both humans have entered the home before the dog may be permitted inside.
You go down the stairs first. If dog shoves past you, knock her aside with your knee with a "get back!". If she shoves against you for attention, don't give it to her, tell her "off!" in a stern voice; she is saying she is above you.
This dog should not be allowed on the bed, couch or any other furniture. Allowing the dog to do so teaches him that he is on the same level as all the humans in the home. Your husband needs to put him off. Crate training would help with this re-teaching process. (Read up on how to do this properly!)
Grabbing a dog by the cheeks when it tries to bite you and lifting it off its feet is a powerful deterrant. Accompany this action with a bellowed, "NO!!!" I did this to one adult female who attacked me, and she was peaches and cream ever after. (You may want to start lifting some weights if you aren't a strong type, so you can do this powerfully and seamlessly. Also don't yank your hand out if dog manages to bite again. Grab her upper muzzle with your palm just above her nose, and wrap her lips over her canines (so she feels a bite herself). Squeeze her upper jaw hard, and force her upper teeth off. Ram your being-bitten hand forward and down, and dog will release. )
You should be the only one to feed this dog and give her treats. Your husband should not; you need this as a tool to gain her acceptance that you are dominant over her. This dog needs to learn that she doesn't just get food, YOU give her food. If she knows what "sit" means, make her sit for her food before you give it to her. If she won't sit, she doesn't get fed. Try again an hour later. No worries, she won't allow herself to starve. Depending on how willful she is, this could go on a long time. NEVER allow this dog to self-feed.
Take all her toys away, and make sure she gets them from you. Take and put them away where she can't access them when you're done. They are YOUR toys. (Don't play tug of war, ever!)
Are you good at staring contests? Don't do this if you can't outstare her. The submissive dog looks away.
This site is excellent: www.leerburg.com/dominac2.htm
from
Obedience training is a wonderful tool for teaching you what a dog's posture and subtle cues are saying. The people learn more than the dogs do at these courses.
If you work hard and establish yourself as dominant over her in the family pack, you might once again have an affectionate dog. Certainly you will have a respectful dog who will not dream of biting you.
Good luck,
Janet
By Angela (Guest Post)
April 8, 2008
0

found this helpful
I'm no dog psychologist but it seems to me you've almost answered your own question. You are doing everything you can to get your dog to like you, which puts you in a submissive position or mindset. No offense intended but like you said dogs want a pack leader not a submissive person who wants their approval. I would suggest not trying so hard to please your dog. Be the leader, continue the walks, try to teach your dog new tricks etc.
In regards to the "biting incident" : my dog has tried the same thing with me. Luckily he has not succeeded. I had to chang my behavior when I noticed him going into that aggressive or posessive mindset. Instead of yelling or trying to snatch the toy quickly from him. I try to remain calm and pay attention to his body language.
Remember to always remain calm b/c dogs can sense if you get anxious or scared.
Hope this is somewhat helpful. Good luck.
Read More

Answers