August 5, 2011
0

found this helpful
Take her to a vet: Given her age, she probably has very bad teeth which not only cause the odor, but great discomfort too.
August 5, 2011
0

found this helpful
I agree that this calls for an appointment with the vet without delay. Not only could there be a problem with your cat's teeth, the bad breath could be a sign of other very serious things as well.
You certainly would not want your cat to be in discomfort.
August 8, 2011
0

found this helpful
Get her to the vet. My 18 year old Katie Kat had bad breath and I thought it was her teeth, too. It was Squamous Cell Carcinoma tumor in her tongue and untreatable. She was miserable and couldn't eat.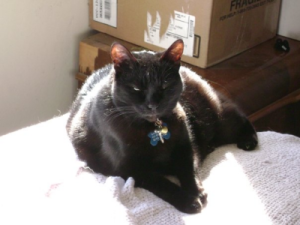 August 8, 2011
0

found this helpful
My Siamese cat Natasha has that same issue. I took her to the vet for her annual shots and had her look in her mouth, it was really bad gingivitis. Unfortunately we did not have the money to get the teeth and gums scraped because she would have to be put under to get it done and monitored.
The vet gave us antibiotic for her gums because they were infected and that worked while she was on it but as soon as the meds were gone the bad smell came back.
I say if you go to a vet and want to treat the problem, be prepared to spend about $500 to get it fixed...at least that is what was quoted to me.
Good luck, I hope it is not too serious.
August 8, 2011
0

found this helpful
Her teeth need some dental care.