April 23, 2009
0

found this helpful
I've never had one but his is MY opinion only. Labs are great family dogs and Shepards are too. Although with the Shepard, he will be a bit more protective of the family. I've never met a mean Shepard but they do protect. I think the balance would work well together. Is it a pup or an adult? It would be a loyal pet if raised properly as with all dogs. Labs and Shepards both shed a lot so think of your house. If left in the back yard. Labs can be diggers.
April 23, 2009
0

found this helpful
I love both breeds. Labs are goofy as pups and have very high energy and need to be ran a lot or they will be escape artists for sure. German Shepherds usually have a high prey drive and are very protective of their family. You have to obedience train them and let the dog know the pack structure in the family. I have a great site that I go to to learn about shepherds: leerburg.com
I have found that beagles and smaller breeds are less active, and easier to get their exercise needs met. But after all is said and done, it is which dog you fall in love with. I have heard that chow mixes require a lot of pack order training and such.
Greyhounds lay around all the time but they can run a mile before you can get started if they are ever out. People who have them seem to think they are the best dog that was ever put on the earth by God.
I couldn't live without my furbabies. Here is a pic of my dears, or at least some of them. Bless you for rescuing a life. Robyn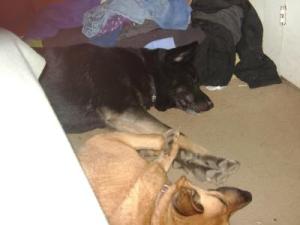 May 1, 2009
0

found this helpful
That's a nice mix. Labs love water, and German sheps are protective and intelligent. That dog would require a good exercise routine or it might look for things to do on it's own. They respond best to love and kindness and will do anything if affection (and a low fat treat) is the reward. Sheps like to follow you everywhere you go (I mean everywhere).
They will even wait outside the bathroom for you to come out. Sheps have a need to be with their owners. I don't know as much about the lab, but I know they are usually good natured. Bless you if you adopt a shelter dog. Please take it to the vet first thing. He can also answer any behavior questions for you.
May 1, 2009
0

found this helpful
Congratulations, that's a lovely mix. Labs are just big boofy creatures, and Shepherds are gentle, loving and protective. Just be careful that the Pup (if that's what it is) doesn't get teased at all. Not good for any dog, but Shepherds can become either timid or aggressive if they're teased. You are going to have a delightful dog from this mix. Prepare to be licked to the point of death.
May 1, 2009
0

found this helpful
Great Choice - great mix. We live on a farm and have had two of these adopted from a shelter. They are loyal and very playful; easily trained inside or out. Ours came and went within the house and the outside as they pleased.
They loved people but could be controlled from jumping and bothering visitors, and were protective, but not nasty or barking bothersome. Lucky pup, lucky family!
May 2, 2009
0

found this helpful
Wonderful choice! I had a Black Lab for 13 years and she was the kindest sweetest baby ever. She had 13 pups when she was very young and we kept one of them, The daddy was a German Shepherd. He lived until he was 12 yrs old. He was a very protective guy to my family but he was also very gently and loving. He loved the water and was forever swimming in the river. My opinion is don't worry. Its all about how you raise and care for your animals. Best of luck! They are beautiful
May 24, 2009
0

found this helpful
My family had a Shepard, Max, that looked like a purebred, but wasn't. His mom was pure Shep and the dad a good fence jumper. That is all we knew, ha ha. He was a wonderful dog, and very intelligent. We were not very good at training him, but he was still very well behaved, because he was so smart. We lived on a farm, and so he got all the exercise that he needed on his own. He still liked to go for walks with me or the kids, and seemed to understand the spoken word, although I am sure it really was body language and tone, as I talked to him the same way I talked to the kids.
He was a very happy and cheerful dog.
We owned a purebred Shep prior to Max, and she was very nice too, but not as gentle as Max. They both understood that our babies were "babies" and treated them gently. They were also tolerant of all the pet cats we had on the farm, although they would chase them if the cats would run. If they didn't, the dogs quit. I think you will be happy with this dog, but remember a big dog needs lots of exercise. Max could run a mile at top speed with the same amount of energy that you or I would use to walk a block.
May 24, 2009
0

found this helpful
Me again. Max lived mostly outside. He had a strawbale house in the winter, and also went into my husband's workshop when it was very cold. Here, very cold means -40 F in winter, so for the sort of weather you would have, your dog should be fine with a nice dog house in the yard.
However, I think that if you are going to have a dog, it needs to be with you for company. Our Max had two quarter sections of land to roam about on, but he certainly liked company. He was an outside dog, but he spent a lot of time hanging about the farm shop when there was anything going on. He wanted to be where the action was.
July 3, 2009
0

found this helpful
I'm guessing maybe you got the doggie already? Well I'm pretty sure your happy with him or her because I have one also (: even though at first when she was a puppy we had some issues with her i think she is the most wonderful, smartest girl ever & shes so beautiful & loving (:
January 21, 2010
0

found this helpful
I have a one year old yellow lab+german shepherd. I couldn't be happier. Although he can be quite hyper, house training and basic tricks were learned quickly. He does need a lot of exercise, fetch seems to be the easiest cure as well as daily walks. He is great with new people although he can be quite territorial with other animals. Socializing is a must, they need dog friends! This will make them quieter and more considerate to other dog owners passing by. I 100% guarantee satisfaction if you are seeking a friend.
Chewing can be a problem but again regular exercise and discipline will cure this. They also seem to get separation anxiety much like the shepherd, just make sure your mutt is use to your schedule. They do not like unpredictability! Just remember the tri-training; love, discipline and exercise and you will have the best friend you can ask for. I wish I had a picture lol, this is the best looking and behaved dog I've ever owned.
January 30, 2010
0

found this helpful
My shep/labrador is the most wonderful dog in the world. His name is romeo and sometimes he doesn't know if he should protect or play, but he is always full of love. Great choice.