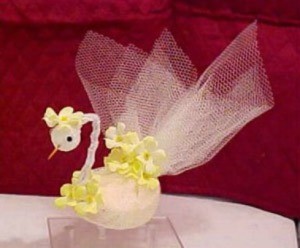 This is a vintage craft from the 60's made from nylon net and a bar of soap. The kids could help with this one. I think the shape of the Dove soap has changed so you may have to modify the pattern or the bar of soap to complete this project. I have used a bar of Dove from about 20 years ago. I had made it into a swan at that time, and just dismantled it and rebuilt it with fresh materials. I believe you could use any bath bar and, perhaps, carve the edges at the point that makes the tail.
Supplies:
1 bar of soap
2 pieces of white nylon net, 10x18 inches
1 white chenille stem, cut in half and twisted together
1 inch Styrofoam ball
2 wiggly eyes, 2MM size
white glue (Tacky)
yellow food coloring
round toothpick
twist tie or short piece of yarn
a few small silk flowers
3 bulletin board push pins
Optional: a few sequins in assorted colors
Instructions:
Stack the nylon net. Lay soap about in the middle and gather it, pulling upward at the end for the tail. Arrange it until you are pleased with the appearance; then fasten tightly with twist tie or yarn.
Using the photo as a guide, insert twisted chenille stem into front of soap and bend it into a curve.
Insert the other end into the Styrofoam ball.
Dip the toothpick into the yellow food coloring about 1/3 of the way. Cut that part, and dip in white glue and push into Styrofoam ball for the beak.
Glue the eyes in place, and add a few flowers at the base of the neck and one on top of the head.
Push the pins into the bottom of the soap in a triangular pattern.
White glue sequins to tail at random, if you like.
By Harlean from Hot Springs, Arkansas
The instructions are also in a PDF file for which you may need Acrobat Reader to view. Download Acrobat Reader
Click Here to download the Soap Swan Instructions in PDF format.
Read More

Comments

Who remembers how to put together a swan with vintage rubber swan necks and bar soap and I think yarn. This may have been a craft in the late 70s or early 80s.
Answers

Hello
Bronze Post Medal for All Time! 107 Posts
January 31, 2017
0

found this helpful
I've found a woman (I assume it's a woman) on etsy who is selling a very nice pattern for $3 here: www.etsy.com/.../pdf-pattern-vintage-retro-swan-soap...
but here's a free one :) www.thriftyfun.com/tf77773068.tip.html

February 1, 2017
0

found this helpful
www.thriftyfun.com/tf11614395.tip.html is this what you were tlaking about?

Judy
Gold Post Medal for All Time! 677 Posts
February 1, 2017
0

found this helpful
Thrifty Fun has a swan. It doesn't use the rubber neck, though. Here is the link: www.thriftyfun.com/tf11614395.tip.html

February 2, 2017
0

found this helpful
I do not know if you are looking for a crochet pattern to do yourself or if you are just interested in the item but here is one for sale (apparently any color): Take a look as it is beautiful and inexpensive:
Answer

this Question

I need directions for making a soap swan. I use to make these but its been a long time ago. I know you use a dove shape soap, netting with some bangles attached, but I can't remember how to make the swan's head or the final directions to put it together. Any help with this would be greatly appreciated.
Thank you,
Susan from Bremen, Georgia
Answers

November 17, 2006
0

found this helpful
I hadn't thought about the Soap Swan for years. But I made them with my kids in the 60's... You are right, you start with a Dove Beauty Bar which was a curved oval shape, and a square of nylon net pulled up to gather at the back for the tail. Glue on sequins for flash, and at the opposite end, you stick in a chenille stem about 4 inches long and curve it for the swan's neck, and stick a small stryofoam ball on the other end.
Use a couple black sequins for eyes, and half a round toothpick for a beak. Wish I had the materials on hand to make one and take a picture...perhaps I can add a picture later.
Harlean from Arkansas

November 17, 2006
0

found this helpful
Oh, and I forgot one other thing. If the swan doesn't want to sit up straight, put about 3 beads on the bottom. Just push a straight pin through them and space them as necessary.
Harlean from Arkansas

November 18, 2006
0

found this helpful
Thankyou Harlean, I am going to make a couple of these for a centerpiece. I can picture them now and know how the head was made, I honestly couldn't remember.One of those "senior moments" Thankyou again
By Shawn (Guest Post)
November 22, 2006
1

found this helpful
I found these instructions for you.
My Grand mother used to make these when I was a child.
She also made them into fish and other things simpler.
Hope this helps you.
Swan Soap Sachets
Make a soap sachet in the shape of a swan. Take a bar of Dove and wrap it in pale pink tulle or other pretty material. Use a pink pipe cleaner to secure the end and fan out the edge to make the swan's tail. Twist two more pink pipe cleaners together and bend them into the shape of a swan's neck. Glue that to the body of the swan. This is a great little bathroom decoration.
By Karencita (Guest Post)
June 8, 2008
0

found this helpful
Harlean from Arkansas, did you ever make up the soap swan? I would L-O-V-E to see it, as I used to make these, too, when I was a little "pioneer" girl and would like to make them again with my granddaughter someday. THANKS!

January 25, 2010
0

found this helpful
You don't know how long I have wanted to find someone else who could remember these! I collect ideas for nursing home activity directors. Thank you so much for the discussion. If someone has a picture of one please post it!
Answer

this Question