By Melanie (Guest Post)
February 25, 2008
0

found this helpful
He looks just like our dog Farley looked like as a puppy! He is a purebred Alaskan Malamute, and he hardly barks at all, he just likes to make a lot of noise! No one can come into our house with out giving him some love first. He thinks he's a person! Your puppy is gorgeous! If he has webbed paws and his tail curls, he could also be purebred.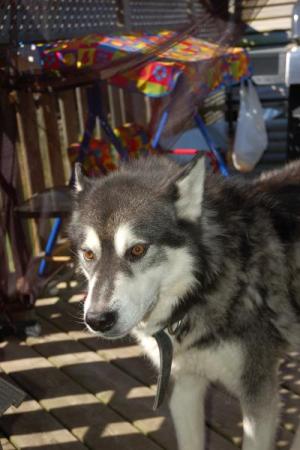 February 25, 2008
0

found this helpful
Husky Malamute possible with a little Akita in there. Probably not wolf, but it makes it more interesting to say one's dog has wolf in them =D
Enjoy your dog for who he is, not what he is. He's really cute!!!
February 26, 2008
0

found this helpful
I would guess he's got some Akita in him. Cute, cute, cute.
By Steve (Guest Post)
February 26, 2008
0

found this helpful
It has many features of my siberian husky.
By Lynette (Guest Post)
February 27, 2008
0

found this helpful
What difference does it make what breed he is? Do you love the breed, or the dog? He's going to be the same dog no matter what breed he is. Just enjoy and love him now, don't worry about his past. It's not ultimately important at all. He'll still be the same dog no matter what breed he is.
February 28, 2008
0

found this helpful
Here is a photo of a dog that the vet said is part malamute, part Alaskan husky, and part wolf. She is the sweetest girl ever. She never makes any noise except for a low growl once in a while. She plays with my german shepherd and she plays like a wolf and my german shep doesn't quite know what to make of her but she likes her very much.
We rescued her from a kill shelter and never could find her owner. Now she feels at home with us. We wouldn't trade her for a million now.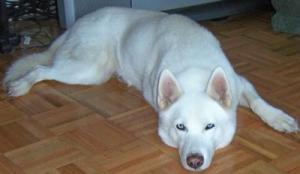 February 29, 2008
0

found this helpful
If you take your dog to a vet, he can help you to know what breed it is. By the way, please don't make that dog live outdoors in AZ. The heat would be too much for him. He's a beauty, but you need to take a better photo. He looks very much like the Malamute/husky type dog. The vet can tell if there is any wolf in him. People shouldn't breed dogs with wolves. It's not fair to the wolf or the dog. Malamutes tend to be very large. My dog sheds a whole lot. I use a furminator on her and it is amazing at getting off that massive coat of extra hair.
February 29, 2008
0

found this helpful
Your prize puppy looks like mine did when she was a puppy. Mine is part malamute and part golden retriever. They make wonderful dogs. Mine is now 12 years old.
By Tom Kirwan (Guest Post)
February 29, 2008
0

found this helpful
Well, I hate to be a voice in the wilderness, but I would guess a mix between a German Shepherd and a Chow. Only Chows or Akitas have mottled tongues. Is his tongue mottled?
- Tom K.
By Tiff (Guest Post)
March 11, 2008
0

found this helpful
He Looks Siberian Husky German Shepherd Mix. I seriously DOUBT he has wolf in him. Most dogs decinded from a common ancester that resembles the wolf. You can get him DNA tested and make sure of his breed. Either which way he is stunning. If you make him an outside dog make sure he has PLENTY of water and food. Make sure there is plenty of fiber in that food. and Let him inside sometimes or hose him down when you go out side. They make WONDERFUL inside dogs tho...
By Sandie (Guest Post)
July 10, 2008
0

found this helpful
I think your dog looks more like a husky tibetan mastiff mix.
By Amanda (Guest Post)
July 24, 2008
0

found this helpful
He looks alot like our dog Eddison He is Half Alaskan Malamute and half Golden Retriever. He weighs in at about 103ish he is about 4 months here but now he is 11 months and much fluffier!
Looks like yours has alot more of the malamute fur if that is what it is.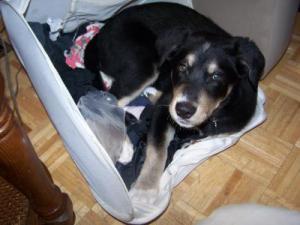 By Laura (Guest Post)
September 20, 2008
0

found this helpful
Her mother was Alaskan Malamute. I'm not sure what Zoe is though. That is her sister in the small box.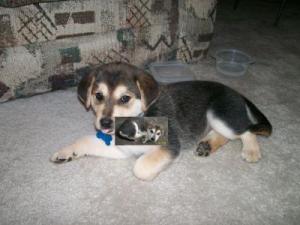 July 9, 2009
0

found this helpful
I was also wondering what breed of dog i have, The person we got her from before didnt seem to really know. she was guessing husky. if anyone can help me out it would be great!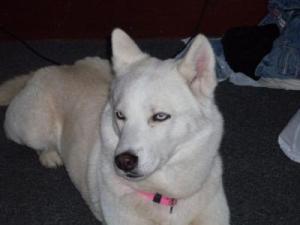 August 2, 2014
0

found this helpful
I have had malamutes, Siberian husky mixes, & wolf dogs. Your dog looks like an Alaskan Malamute. The thing to remember about Malamutes is that they have the greatest genetic potential of all the domesticated dogs (no breed family such as the Siberian husky with the spitz dog family from which the German Shepard come).
This means not every malamute is going to look exactly the same ( the standard for non show dogs, aka the dogs used for sledding, is more about performance than a show look.) Malamutes can vary in weight fully grown from about 60 lbs as a very small dog to 150 lbs as a very large dog (Two types of Malamutes, Giant & regular dog size.) All that trying to explain why each malamute looks a slight bit different when you look at online pics.
Based on the size & shape of the snout (Spitz dogs have more elongated snouts) he looks Malamute. The ears indicate Malamute as well vs wolf as wolves have smaller ears than the northern breeds. The haunch reminds me of the golden retriever malamute mix that I currently have, but that size of a haunch can be seen in a variety of breeds.
One thing to look for is if your dog is predominantly Malamute he should have darker marking on his haunch at or just above the base of the tail. (This is a sent gland.) If you really want to know for sure i suggest a DNA test.