January 31, 2008
0

found this helpful
Look for a used kick board or boogie board, cover it with cool fabric (wrap it like a present and use a glue gun) and display the ribbons with cute tacks (found at Borders, etc.)
Tell your daughter congratulations!!
January 31, 2008
0

found this helpful
I have seen them made into quilts- then either hung on the wall or used on a bed. I'm sure you can find patterns online. Good luck!
January 31, 2008
0

found this helpful
I just saw a flash of the picture on the tv screen recently but someone had purchased a grapevine wreath from a craft store and attached them all around the circle intermixing the colors. It was cool looking!
It was hung on the wall but you could also attach some string or ribbon and hang it from the ceiling laying flat to give it more of a look like a mobile with the ribbon tales dangling down.
January 31, 2008
0

found this helpful
I made a display board for my daughter for Christmas: I took 2 pieces of foam core board (dollar store) & taped them together (for extra thickness) then made a "pillow case" to cover them out of nice fabric (I'd use black or another very dark color if I were you) ... You don't have to sew it (like I did) if you don't want to... you can just pin, tape or glue the fabric to the back side... You hang the ribbons up with stick pins or clear push pins...
For a larger foam display board, instead of using foam core board, go to Home Depot & buy a piece of hard foam insulation (same thing as foam core board only bigger)... it cost about $4... & comes in several large sizes...(I'd buy the 2x4 foot size) It can be cut with an electric carving knife, a jig saw, or a hack saw, or just scored & broken....
Then cover it with fabric.... (Walmart has $1 a yard fabric)... To hang it on the wall, I just used a tack to hold in a piece of yarn, string or dental floss on the back, (& a tack on the wall) but for something stronger, poke a hole with a knife to run the string through BEFORE you cover it with fabric.....
* This display board is super light weight & with a bit of black velveteen will look "high end" & will hold many ribbons!
If you have someone you know who does wood-work... You could ask them to make her a fancy display case made from wood with a glass front,,, And make sure it's large enough to accommodate more ribbons... This would be heavy... so find several studs before hanging!
February 6, 2008
0

found this helpful
Hang several strips of leather or belts, from a decorative curtain rod and attach the ribbons going down the strip. You can always add it when you need to.
Hang above the headboard of the bed or just against the wall. You could take a horseshoe tie the strip of leather that has the ribbons attached to it and nail it to the wall.
By amanda. (Guest Post)
March 3, 2008
0

found this helpful
Yes. i have over 60. I have them around my room like a border and hanging off shelves and from my desk =)
By Pam (Guest Post)
May 8, 2008
0

found this helpful
Why not display the ribbons in shadow boxes at the end of each year or each season? We do that and buy the little engraveable stick on plaques that have the year engraved on it. Stick that to the bottom of the shadow box and there ya go! Ribbons on display and well protected from dust and sun fading.
By (Guest Post)
June 6, 2008
0

found this helpful
I have over 600, yes 600!! and I am not sure at all what to do with them. I am trying to figure out where to hang them all but I did get an idea to hang a piece of wire from corner to corner of the room and hang then on that.
The problem for me is I still have many more to come plus many trophies and flowers.
November 18, 2008
0

found this helpful
Check out www.truechampiondisplays.com We make great display racks for ribbons won at shows. New items just came in for Christmas!
www.truechampiondisplays.com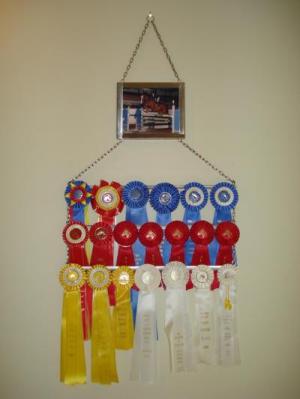 By Jessica (Guest Post)
December 23, 2008
0

found this helpful
Yeah my mom also hundreds of rewards for doing horse show stuff. She doesn't know what to do with them and we are running out of windows to hang them from. We tried hanging them around a room with a ribbon but they are too heavy to hang. Does anyone have any suggestions on how to hang them around the room like a border? How did you guys do it?