Dry Erase Boards: Make dry erase boards of any size out of cardboard covered with clear wrapping tape. I have heart that white contact paper works too but I like to stick with the clear wrapping tape.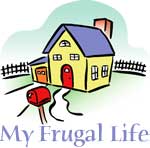 I have also covered margarine lids with the tape. A friend said that tiles make good dry erase boards too.
I use those little gel like pencil grips and cut them into little "O"s and then tie a ribbon or a yarn to them and then fit them over the dry erase marker. This makes is easy to change the marker out. I then use an ice pick to punch a hole in the board and place a ribbon in it and then I can hang it from an attached piece or ribbon possibly with beads.
On my calendars I always put a clear piece of this wrapping tape on my calendar up at the right hand side, it is a mini dry erase board. I have lot of things to do and I have to use them to keep organized.
Cell Phones on Sale: I found a cell phone at the Walmart for a little over eight dollars and bought it even if I never want to use it for minutes. It has voice memo and memos to type, a calendar and calculator, tip calculator, a game and some other features. I get lost easy so I use the voice memo feature to remind me of directions.
Also cell phones even if restricted are supposed to always connect to the local emergency three digit code. I like to keep it in the car for stray or injured people or animals...wrecks, etc.
And of course should I decide to put minutes on it, I would later. Mainly I bought it for emergency use in the car.
Cat Tower: Cats like to sleep in cozy things, and I had a tall laundry hamper from the Dollar General which was 6 dollars and then a regular laundry basket. So I took a toilet seat cover, a fuzzy one, and put it in the small laundry basket. This makes a neat place to hide for the cat and I can lift up the laundry basket inside the other one and store things.
Making a Bilevel Mouse Cage from a Bird Cage: I rescued a little mouse from the pet store that sells snakes...for my daughter. We refurbished a bird cage from freecycle.org. We put a frozen dinner tray in by tying it to the sides of the cage and then we hung a hammock, which was a little bandanna or rag on the cage. We tied toilet paper tubes around to climb in and then we covered a toilet paper tube with a sock which is their favorite place to go. I put the sock on the tube and then stretched it over the top and tucked it in. It makes a good ladder and mice like to climb.
I also washed a branch I found outside and placed it in the cage, and tied on each end. They like to chew wood too and they climb on it. I shred paper and paper towels and make it look all like a corner of a room. They like places to hide. Never use pine shavings, they hurt their respiration.
The bird cage is on the kitchen table. Mickey the Mouse turned into Minnie the Mouse and had 8 babies, four of them died. So she has really liked the toilet paper tubes with socks. I eat breakfast with her and share my oatmeal with her each morning or she gets a Coke lid full of Cheerios and milk. I try to give her balanced food but also buy mice food at the pet store.
Litter Boxes: I put a whole box of baking soda in the bottom of the litter box before I put the litter in there. It really helps.
Rehoming Animals: I have heard from reliable sources that putting animals on craigslist is a dangerous proposition due to undesirables getting them. I use freecycle.org and I screen them easier.
Puppy/Dog Training and Clickers: Get a clicker and give it away with each puppy and it will give the owner a chance to bond with the animal with clicker training, which is great fun. They are under two dollars at Petsmart.
Although I do have a nearsighted German Shepard that I cant find a way to get him to lay down so I can mark the behaviour with the clicker and then reward with a small piece of beggin' strips. A pea sized piece works good.
Baking Powder (not soda) should fizz in a little bit of water. If it doesn't, it is too old. It should be replaced every four months or maybe three. If Baking SODA doesn't fizz in vinegar, it is too old too.
Recycling Pickle Juice in the Jar: When the pickles are gone out of a pickle jar and there is just juice left in the jar, slice up cucumbers and place them in the fridge in the brine for a few days and then start eating them.
Cucumber Water: My favorite cucumber treat is Cucumber Water. A pitcher of water and a about 4 slices or more of cucumber in there, mix and sit for a couple of minutes and put ice in. I bet this would feel good on skin too. It is sooooo refreshing to drink, it beats even water.
Listerine For Sanitizing: I have been keeping a spray bottle of mint Listerine for hand sanitizing, hand washing, surface cleaning where the animals don't get, and for spraying the toothbrushes with and washing them. I sometimes put in in the dish water, it make it smell minty. I love mint.
I also have used it as a deodorant when I am out and it has healed a pimple and a little itchy spot. This is toxic to animals so don't spray them with it.
I like to keep a little bottle in the car and I have them all over the house. It cleans the toilet too, but I put more in there than would come out of a spray bottle. I have hard water and it makes a stain in the porcelain. I am going to pour a whole bottle of Listerine into the toilet after it is empty and leave it there. I read that this is what Listerine was actually made for in the first place. I noticed it started breaking up the hard water buildup around the house and it smells so good.
Uncluttering and Helping Others I am about to go through all my junk and place it into bags and freecycle.org it. IT is wonderful to know things I have and no longer need are going to someone in need and not the landfill.
Old Mattress Repair: A bad mattress can be made better by putting a futon mattress on top of it, and you can get them most of the time on freecycle.
Stepping Stones: I am going to dig a several circles where I want them outside and then pour concrete in them. I am tired of lugging the stepping stones home and I like to make things.
Car/ Bird Deterrent: Get ready to look for those colorful real looking snakes to put on the roof of your car and chimes and such during bird season. I also have a line out in front of the car port with little Halloween pumpkins blown up and they fly in the breeze. I will have to wrap them in Spring colored plastic wrap for the Spring. The snakes on the hood of the car have been working good! They are a dollar at the dollar store, buy a lot because a lot of times you will forge they are there and drive off. LOL.
The snakes need to be about one and a half to two inches thick and colorful, not the color of the car hood. Birds hate snakes.
Buy Kids Size Plastic Plates Instead of Paper Plates: I bought some small plates the size of paper round plates with Dora the Explorer on them and they take up less room in the sink. They are not going in the landfill like paper plates would.
Every Cent Counts for Groceries: I have been putting change into a pickle jar and going and buying grocery items one at a time with the money. It is great how it acts like a coupon. I found Food City is cheapest on milk around here. If I save a dollar in change when I go there, I can get a gallon of milk for under two dollars.
Tracing Fun for Kids or Adults: Pieces of plastic that come from packages that hold toys are great for giving the kids to put over a pic and trace the pic. I cut them down to little squares and, for some reason, tracing seems to be a favorite thing to do here. I am not sure but I think if this is done with a permanent marker, it can be photocopied in a copy machine. The thick kind of plastic used to put in front of windows works too. I always have pieces left over from weed control projects.
Keyboard Shortcuts: When you are typing a long letter, then make sure you save it every so often by depressing the "Ctrl" button and then the a button and then the "Ctrl" button and then the "c" button. This saves all the text. Don't hit the space bar while the text is highlighted. It will go bye bye. Click in the page to unselect.
When the computer loses your letter, all you have to do is click "Ctrl" and "v" and it gives it back to you like magic!
To make a heart sign on Facebook when you are commenting, click the button after the M button, and then the three and it will make a heart (<3).The heart will be filled in though, it is so cute.
Happy Spring Everyone. :)
By Robyn Fed from Hampton TN
Do you have a frugal story to share with the ThriftyFun community? Submit your essay here: http://www.thriftyfun.com/post_myfrugallife.ldml