Teeter is 3 years old and is an American Shorthair cat.
She was a kitten and was hiding in my grown son's yard from being chased by neighbors, He found her and brought her to Mom in the country. She was so afraid, at first, that she would climb the curtains. I petted, sang to her, fed her and gave her lots of loving care. Now she is my sweet baby.
She loves to go to the field for playtime with the dogs. She is happiest walking the fence and meowing for Mom to scratch her chin.
She is a little mother to my dogs. She especially likes one and always corrects her if she is naughty. Then she will wash her face. You have to be there, it is priceless.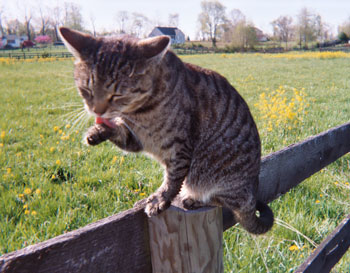 By NellieMary from West Virginia