Kathy
Bronze Feedback Medal for All Time! 190 Feedbacks
August 4, 2009
0

found this helpful
Why are your pets outside in that kind of heat? Please reconsider and bring them inside into the air conditioning. Even pups can get sunburn!

Ginnee
Bronze Feedback Medal for All Time! 135 Feedbacks
August 4, 2009
0

found this helpful
chef4u, you are a nice person! It hurts me too to see pets suffering in the heat, or the cold.
If you have pets, please treat them kindly.
If you don't have the time or patience or space for a pet, don't get one.

August 4, 2009
0

found this helpful
My dog has a pool and she loves it. When she comes home from a walk she runs in the house, out the dog door, and into the pool. I live in Florida, also, and it gets so hot. Don't forget to change the water often as the water gets hot also in a small pool. I only walk her in the early morning or after the sun goes down so her paws don't get too hot.

August 5, 2009
0

found this helpful
Our Aussie has a puppy pool too. Not only does he love it, but it keeps him and his muddy paws out of the kiddie pool!

August 5, 2009
0

found this helpful
We have several mineral buckets (large plastic containers that held solid mix that livestock lick), and made one for our outside dogs. Ours have individual pens that they stay in at nite, or when we aren't home, all in the shade, and each has their own box fan.
Not all dogs belong indoors.

August 5, 2009
0

found this helpful
We live in Florida, too--and while I can understand that a couple of posters seem angry that our dogs are out "in that kind of heat" you must try to remember something: for me, I have a large dog that requires a lot of exercise. We go for two 45-minute walks a day; this is what her high-energy breed requires. I take water for her, and for me. We time it very early in the morning, before the sun's too much; and again at dusk.
She loves to play ball in our large backyard. While she spends most of her day in our air-conditioned house, she runs in and out of it all day long in short, active spurts.
I fill her kiddie pool in the summer so she can take a dip when she is out there; she has inside water bowls and an outside water bowl. I work from home, and keep a close eye on her. ( She's smart enough to know that about fifteen minutes of full-bore romping in the yard is her limit--when she comes barreling into the house!)
Just because someone owns a dog in Florida in the summertime--one shouldn't assume that the dogs are left to languish, bake and go prostrate in the sun.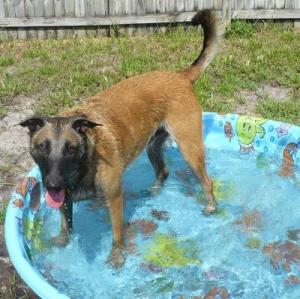 petlover
Bronze Feedback Medal for All Time! 128 Feedbacks
April 28, 2013
0

found this helpful
I too have a pool for my two babies - they need it in the Aussie heat - I let them dry out naturally in the sun - I encourage anyone with long haired dogs to do this - it helps so much with heat stress.