March 10, 2010
0

found this helpful
Nothing is impossible if you have imagination!
All you'd have to do is turn them sideways (so the slats no longer run horizontal, but now run vertically) so they can bend & move, open & close sideways. Then use wire or a matching color of yarn, or twine to attach them to drapery hooks or fancy shower curtain hooks.
The problem is where to attach the wire? You could either use the last row of stitching (which could easily be pulled out) or punch or drill holes into the bamboo. But I think it would work best to take a long, thick piece of fabric, or ribbon or webbing (like the size of a seat-belt only thinner) they make this for specially for making draperies. It's sold at the fabric store (it's made to sew to the fabric then slide a drapery hook into, OR they make one with tiny plastic rings attached to the fabric tape) then GLUE this to the top-back of the draperies (which would have been the side of the blinds) using X6000 glue.
Drapery Supplies: (don't let the high prices in the URL below fool you, you can get the same stuff by-the-yard at any fabric store, you don't have to purchase the WHOLE thing)
When you look at the URL below, You don't want the kind marked "drapery pleated tape", you want the "Drapery header tape". It cost half as much!
http://www.joan … equestid=1150980
* You'd use a large-eyed sewing needle (like for yarn) then you'd use this to thread the yarn through the Drapery Header tape after gluing the drapery header tape to the back of the side of the blinds... Or just push wire directly through the drapery tape.
* Or simply use the Drapery Tape with the RINGS attached then use any drapery hooks!
(see photo below)
* To keep the cost of this project down, you may even be able to use Bias Tape or Blanket Edging in a color that matches the blinds. It won't be as sturdy as the Drapery Header Tape, but it would cost about one-tenth as much!
---> Let us know how your project turns out!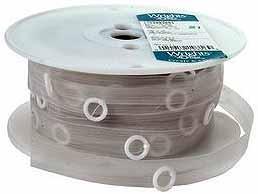 March 10, 2010
0

found this helpful
An idea for outside use: These bamboo-matchstick blinds make excellent privacy shades. You can hang them on your outdoor porch. Or simply attach them to fence poles or to your chain-link fence for added backyard privacy... Some people use them to hide their garbage cans.
Before hanging them outside, for extra protection from the weather you need to first spray them with a UV deck oil by using a cheap ($12) garden sprayer. Spray them front & back. Then after attaching them to your fence or to pole in the ground plant a flowering vine & let it grow up the bamboo blinds!
* They are usually hung facing sideways, so the bamboo sticks go up & down or vertical, but each situation is different.