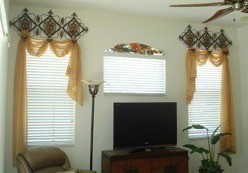 After I moved into my brand new house, the most important thing for me was to find curtain for all of those more than 40 windows. Because there are so many, it is hard for me to find the right curtains and have them installed in a short period of time. Here is what I did: use tape and paper towel to make temporary ones.
First, measure the height of the window, cut the paper towel with the appropriate length. Then use tape to stick it to the wall. For one window, we may need a few paper towel strips especially for wider window since the paper towel is only 1 foot wide. Because the color of paper towel is close to the color of wall, the curtain made from it blends in pretty well.
Also the paper towel is transparent enough to let the sun shine in while opaque enough to block the view from outside. After you buy the right curtains or blinds for your window, it is very easy to take those paper towel strips down and reuse them just like other paper towels. So it pretty must costs you nothing for the temporary curtain.
I would recommend you buy those thick ones with two layers for these temporary curtains.
By Andy from Bay area, CA
Read More

Comments
When I moved into my new place, the dark heavy curtains didn't afford much light, especially when my window faced the side of the shed. So, I took them down and put up a folded up lace tablecloth. It was perfect, except for the cat wanting to play with the center of it when he looked out.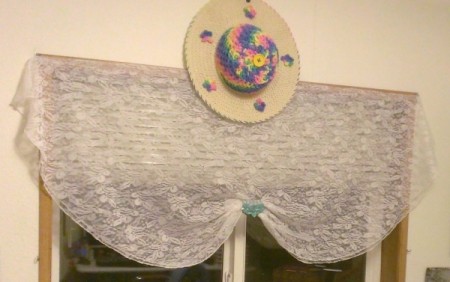 Unique curtain solutions. Post your ideas.

Answers
May 31, 2005
0

found this helpful
Use Indian saris for curtains.
By vibrantfun
By Claudia (Guest Post)
June 1, 2005
0

found this helpful
If you have access to a sewing machine, consider making your own. It can be as simple as a couple of straight seams, then attaching cllip-on hooks. Adding tabtops is a little more work but provides nice detail. For fabric, you can use sheets or look out for large remnants at the fabric store, thrift stores, or yard sales.
Another solution might be matchstick blinds which are inexpensive and let light in while providing some privacy.
By Jean (Guest Post)
June 1, 2005
0

found this helpful
If you have windows where only a valance is wanted, use cloth napkins placed diagonally over the curtain rod with the points hanging down, and the corners overlapping slightly. When you want a change, you have cloth napkins to use. I bought the ones that I used 2/$1.00 on sale. My windows needed 5 napkins each. Measure your window's width, and measure the napkins from corner to corner to estimate the number you will use.
By Julie (Guest Post)
June 1, 2005
0

found this helpful
You all might think this is a good idea for a kids room. My kids HATE the top sheet for their bed; they only like the fitted sheet and blanket. I took the top sheet, ran a rod thru the top seam of the flat sheet. Now everything matches. PS...I don't know how to sew, : ( , so I do ALOT of improvising!
June 2, 2005
0

found this helpful
I am searching for a nice basic copper firepit. Can anyone tell me where I can continue with my search. I have found interesting pits but, I am looking for a brass one with the stand.
By shirley (Guest Post)
June 14, 2005
0

found this helpful
I couldn't find the right color curtains for my powder room so I used a chenille type fringed throw that I pushed through curtain rod holders. Everyone loves it. I have also seen the cloth napkins used and they were held on by wooden clothes pins.
By mary (Guest Post)
August 10, 2005
0

found this helpful
I have used a silk sari as a drape and it was a very strong element. However, it will get sun damage, so you might not want to use fine silk.
March 17, 2008
0

found this helpful
For my "rustic"kitchen I screwed in(each side)cup hooks,for the"rod"I went in the woods and found a dead branch w/characture! and ragged some fabric Ialready had and draped it.My other way was using a cafe rod.and I bought"pinch rings"don't know what you call them today.Then I used hand towels that matched my bathrm.
By Astrid B (Guest Post)
April 16, 2008
0

found this helpful
As a teenager I had a smallish window in my bedroom which had boring curtains attached to curtain rings with clips. I took down the boring curtains and attached a beach sarong to it instead.
By jean (Guest Post)
April 16, 2008
0

found this helpful
Try clip on rings and a lace tablecloth. I have a room with a double and a single window, and I wanted sheer/lace curtains in dark green. Couldn't find any, but did find tablecloths the right color. Bought 2 different sizes of the same design, and now have the curtains I wanted.
Also, fabric shower curtains, especially those with the self covered rings, make great sheer curtains, alone or under solid covered drapes. For a long time, I had solid sheers under print drapes. Now I have a change, having found shower curtains withn a similar design to the area rug in the room. Love being coordinated like that.
By Clown (Guest Post)
June 19, 2008
0

found this helpful
I collect Coca Cola items. Over the years I had been given several aprons that were decorated with Coca Cola motifs. Of course, I didn't want to wear them. Eventually we moved to a house that had a large kitchen window looking in on 2 rooms when standing on the porch. I hung a piece of plain piece of fabric there to give us some privacy while I thought about curtains. Then it dawned on me! I attached the Coca Cola aprons onto the fabric - pinning them so the pins wouldn't show. I never ended up looking for curtains for that window. I get lots of compliments.
Our bedroom had huge windows. I went looking with only colors in mind. I found all 3 of the colors I loved and decided to use all 3. They were solid-color twin-sized sheets! At the top, where you could just run a rod right through, they had a little satin trim - very pretty. I placed the colored sheets in the order I wanted - I needed 9 panels in all. They look great, I think!
The last one used a real curtain - just an unusual holder. Our son's room is medieval (well, our version of it). I bought a black faus leather curtain with the tab top. Then a broadsword to slip through the tabs. Lastly I bought what looks like "dragon claws" coming through the wall. I hung the claws at the top of the window, then placed the sword and curtain on them. Our son loves it!
Read More

Answers
Any clever ideas on converting a raw edged bamboo blind into a "curtain"? Problem? I have 37 feet of bamboo slat and matchstick blinds the usual mounting brackets and would like to hang them like a curtain or drape. Impossible?
When it comes to thrifty yet creative window treatments I have crafter's block. Any ideas would be a start. Thank you, in advance.
By Leelynn from NC
Answers
March 10, 2010
0

found this helpful
You can make a small hole in each bamboo & use the hooks for pleated curtains to hang them or go to-bamboo blinds curtains, for picture & info, good luck.
March 10, 2010
0

found this helpful
Nothing is impossible if you have imagination!
All you'd have to do is turn them sideways (so the slats no longer run horizontal, but now run vertically) so they can bend & move, open & close sideways. Then use wire or a matching color of yarn, or twine to attach them to drapery hooks or fancy shower curtain hooks.
The problem is where to attach the wire? You could either use the last row of stitching (which could easily be pulled out) or punch or drill holes into the bamboo. But I think it would work best to take a long, thick piece of fabric, or ribbon or webbing (like the size of a seat-belt only thinner) they make this for specially for making draperies. It's sold at the fabric store (it's made to sew to the fabric then slide a drapery hook into, OR they make one with tiny plastic rings attached to the fabric tape) then GLUE this to the top-back of the draperies (which would have been the side of the blinds) using X6000 glue.
Drapery Supplies: (don't let the high prices in the URL below fool you, you can get the same stuff by-the-yard at any fabric store, you don't have to purchase the WHOLE thing)
When you look at the URL below, You don't want the kind marked "drapery pleated tape", you want the "Drapery header tape". It cost half as much!
www.joann.com/.../UserSearch1=drapery%20tape&_requestid...
* You'd use a large-eyed sewing needle (like for yarn) then you'd use this to thread the yarn through the Drapery Header tape after gluing the drapery header tape to the back of the side of the blinds... Or just push wire directly through the drapery tape.
* Or simply use the Drapery Tape with the RINGS attached then use any drapery hooks!
(see photo below)
* To keep the cost of this project down, you may even be able to use Bias Tape or Blanket Edging in a color that matches the blinds. It won't be as sturdy as the Drapery Header Tape, but it would cost about one-tenth as much!
---> Let us know how your project turns out!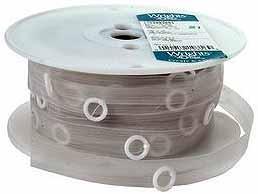 Read More

Answers
I am looking for some cute, unique homemade curtain ideas for kids' rooms.
By Sharon from Mansfield, OH

Answers
April 14, 2009
0

found this helpful
Depends on your theme. My daughter is very girly so I took some hand me down chiffon shower curtains (with a butterfly garden effect)and placed it over her venetian blinds. she loves it and i put it up with double stick tape (on the back of the valance....very cute.
In another house i purchased a very cute pink satin material with a very intricate bottom border and sewed a white blackout lining (very important for energy efficiency).
Have fun with it and look at magazines while you are in lines waiting to check out...great ideas and usually fairly cheap if you pick apart the design aspect.
FYI--model homes are notorious for beautiful designs made cheap and easy. Once there was a valance made of a folded piece of fabric and underneath it was a 2x4 piece of wood screwed to the wall! Beautiful and simple!
April 15, 2009
0

found this helpful
Have you considered a cd curtain for a teen or tweens room? Measure for the length of each string of CDs. Get large jump rings. You will need two per CD except for the bottom one in each string. Drill holes(small and carefully) in the top and bottom of each CD, except for the bottom one in each string, it only needs a top hole. Add a jumpring to each hole. Attach together by linking the jump rings, with single hole CD's at the bottom of each string, undrilled edge at the bottom. You may need quite a few, or u could mix small vinyl records with CD's. Get both at used item stores.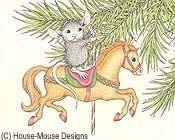 Answer

this Question