I grew up in a very practical family. However, although we were taught to carry our load and watch the cost of not being frugal, we did not do without.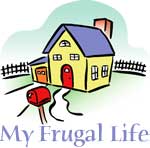 I was a young married woman when I realized how important it was to watch our limited money. Military wages were very low but we managed. In fact we didn't complain. We bought limited amounts of groceries but they lasted. I had learn to make bread in school and so that and cinnamon buns were staples. Our rent was paid twice monthly because we had wonderful landlords.
We owned a footstool and the rest of the furniture was provided. Our wedding gifts were lovely and decorated our duplex. When my hubby was away, we had to share the money. The soldiers went away a lot. We certainly stretched every dime! I was so proud any month when I saved some money, maybe ten or fifteen dollars.
After a couple of years, we were able to furnish our home on base for five hundred dollars as my husband received a raise in pay. Then we got a 57 Chev through my Dad for $400. So although we did not have much money, we really never felt poor. Life was great and we had a son, the first child of two...our little girl four years later. Life was good and we lived well.
Bev from Chilliwack BC
Do you have a frugal story to share with the ThriftyFun community? Submit your essay here: http://www.thriftyfun.com/post_myfrugallife.ldml