Gizmo is an 11 month old Moggy kitten. Gizmo was abandoned by her mother shortly after birth. A local lady found the litter in her son's car and posted for help on a local animal shelter page. I offered my services and helped in the hand raising of 3 kittens from the time they were 2 weeks of age. Once they were weaned, I'd already fallen in love with all three, but chose Gizmo.
I have fabric chairs and Gizmo likes to jump from one to the next chasing the dog around the table. She also has a little ball that she carts around the house and then drops to the floor and starts to attack. Our fingers are an endless source of entertainment for Miss Gizzy as well.
Gizmo has been with me since I was pregnant with my baby boy. When I'm up in the middle of the night feeding my son, Gizmo will often come in to say hello and sit with me for a cuddle or two as well.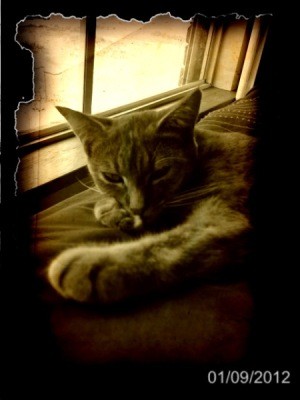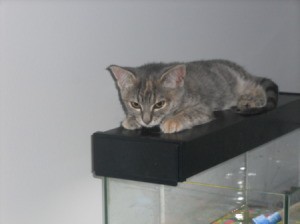 By Karri Skilton from Australia