It was about four and a half years ago, when DH and I found out that we were expecting our second child. It was quite a surprise, given that our first one was only 6 months old!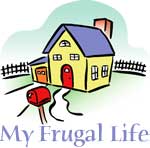 None-the-less, we were very happy and excited to be having another baby. But, with one child already in daycare and DH still in college, we knew we were going to have to make some lifestyle changes, in order for me to become a stay-at-home-mom.
As I started to research budgets, couponing, and "frugal" ideas, I happened upon this website, ThriftyFun. I thought it was such a great idea, to get frugal tips and ideals, e-mailed directly to me, that I signed-up to get their e-newsletters right away. It has helped me in just about every area, from cooking and cleaning, to growing a vegetable garden. But the best tip, that has worked the best for my family is to create a budget and stick to it.
Every month DH and I sit down and create a budget TOGETHER. It keeps us on track with our money, and honest with ourselves and each other. We track all of our expenses, so we know where every penny goes. After all, if you don't tell your money where to go, it will just get up and run away! The tips and frugal ideas from ThriftyFun help me stay with-in our budget every month. Thanks ThriftyFun! And, remember, some of the best things in life are free!
Jackie from Burlington, KY
Do you have a frugal story to share with the ThriftyFun community? Submit your essay here: http://www.thriftyfun.com/post_myfrugallife.ldml