January 27, 2005
0

found this helpful
I am afraid the only thing you can do is completely dig, dig, and dig until you've gotten it all.
By Kay Rose (Guest Post)
January 27, 2005
0

found this helpful
Melinda you are lucky I have tried to grow a passion fruit vine for yrs. with success I also live in W.A. Yours Kay.
By dallimom (Guest Post)
January 27, 2005
0

found this helpful
See if you can find Roundup, it will kill anything. Make sure you only touch the Passionfruit.
Check at a garden shop, or if you have a Wal Mart check there. Good Luck Sandi
February 18, 2017
0

found this helpful
It will also cause immense harm to the environment. The World Health Organisation has classified it as a probable carcinogen and it is being banned in towns and cities in Europe (In your own words - 'it will kill anything')
January 28, 2005
0

found this helpful
go on vacation for a week and let me take care of it! its always worked in the past!...of course just kidding!...good luck, i personally have the oposite problem, i cant seem to get anything to grow!...
January 28, 2005
0

found this helpful
Its probably not the passionfruit that's growing - it will be suckers from the rootstock the passionfruit was grafted onto. I would allow the suckers to get a bit bigger and then cut them one by one and paint the cut area - IMMEDIATELY - with neat glyphosate, (Roundup or any glyphosate will do). If you wait the plant will start to heal over the cut. What you are trying to do is get the weedkiller into the system of the plant. This is how I've killed wattles that kept shooting back so it may work. In theory it should work just painting the shoots but as its not you have nothing to lose by trying this. There must be some root left in the ground for the suckers to be reappearing.
Just keep at it - you'll win in the end!
If you prefer an organic solution sheet mulching the entire area with 8-12 sheets of wet newspaper and covering with straw and grass clippings will smother it. The area covered needs to be wide enough so it hasn't got the strength to grow out under the edge. Once deprived of light it will eventually die and your soil will be the better for being kept cooler and moister with the mulch.
You could also try the CSIRO, CALM or the Department of Agriculture for advice, (find them in the phone book government section), as it may be a declared noxious weed in your area if it is so prolific.
Regards
Jo (also in Oz)
By Melinda (Guest Post)
February 2, 2005
0

found this helpful
Thanks everybody for the feedback hubby has got a busy weekend set up for him thanks to you guys
By andrea (Guest Post)
February 5, 2005
0

found this helpful
one bit of advice...
roundup only works by killing the chlorophyll of the plant...in order for it to do that, there needs to be leaves! most people think that you should cut the plant and then hit it with roundup...this is not true. if anything, allow the plants to grow for a bit and shoot them with roundup...
By Santiago (Guest Post)
August 2, 2008
0

found this helpful
Please don't kill it!
By passionfruitlover (Guest Post)
February 25, 2009
0

found this helpful
Keep it cut back and eat the fruit. Don't kill it!
June 3, 2013
0

found this helpful
Anybody ever heard of Monsanto? Don't use round-up! Super bugs and genetically modified food. Monsanto makes round-up. Think of the kids.
June 25, 2013
0

found this helpful
Are the suckers good? I live in the desert and my plant is thriving. I love it. It makes my sandy area look so lush. Will the suckers become a big plant as well? I would so love to shade my whole carport with it to lower the 107 degree weather I get in the shade when it is 120 degrees out.
It's 6/25/2013 and it's 94 in the shade here in Salton City.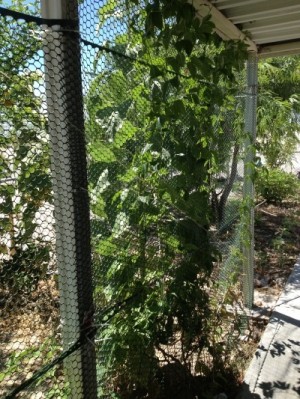 January 30, 2016
0

found this helpful
In order to maximise uptake of glyphosate/roundup better to scrape the stems for 10-20 cm up from the base and paint without cutting thru the stem. I use a shoe polish container with glyphosate and the sponge to apply to the scraped stem (within a few seconds of scraping).
June 25, 2016
0

found this helpful
My passion flower comes back every year larger than the year before! It completely took over my other flowers and is now coming up sporadically in my yard and now my neighbor's yard..i tried pulling all the root system out, but guess what?!? That sucker has totally come back! I don't know how to stop it! I want to try and grow in a small trough or something because they are beautiful and the bees love it and everyone comments on the wonderful scent that it provides!
May 20, 2017
0

found this helpful
I've read on other pages to use stump killer. I think it's something like this. Get a soda can or bottle and fill with stump killer. Find a thicker stalk, cut the end off. Make sure it's long enough to put into the soda can.
The plant should drink in the stump killer within in a few days. Might be a good idea to dig a hole and kind of bury the can so it doesn't get knocked over. Also probably a good idea to use chicken wire or something so wildlife/animals can't get to the can and get poisoned
June 29, 2017
0

found this helpful
Iam going to try roundup. I hope it works cause although I love passion fruit and my plant I never get to eat any because of the rotten possums who destroy the plant and I am left with a half dead, huge vine but no fruit. I live in Australia too and have had enough of possums fighting and a ugly plant that stops my lawn from growing. Fingers crossed.