Comfrey: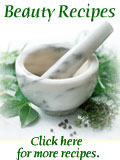 Comfrey is an herb that used to be known as a cure all for many ailments. Commonly known as knit-bone, because in medieval times the root would be moistened and applied to broken bones to set a plaster for healing. Its leaves and roots can also be applied to cuts and sprains and can also be applied to the skin abscesses and bee or wasp stings.
Knit-bone can also be used to cleanse the skin. By warming a high-quality oil (like almond oil) with the leaves, this herb produces a fine skin cleansing oil, which works particularly well for people with dry skin. To create a comfrey infusion, just place the herb in oil, bring to a low boil, cover and let steep for at least 20 minutes!
Sage:
Instead of purchasing rinses and special hair products designed for brunettes, why not try a bit of sage? Simply place sage leaves in the rinse water and let it sit overnight. After you wash your hair, rinse with the sage water to strengthen and highlight dark hair coloring!
Sage leaves can also be used as a skin astringent. Break the leaf to bring out the moistness of the leaf and gently rub on the skin.
Dried sage leaves are also an attractive and pleasant addition to potpourri.
Parsley:
Parsley has been used for years to dress up our dishes, and legend goes that a nibble will freshen your breath. However, few people know that parsley can be infused in boiling water to produce skin products. Place parsley leaves in a pot of boiling water, remove from heat and cover. Allow it to sit for one hour. After cooling, splash it on your face to lighten those freckles! Another use for the refreshing splash is to prevent those tiny thread veins!