July 17, 2009
0

found this helpful
One of the two items kills only replaceable trees, the other kills people by the air pollution during the toxic mfg. AND the disposal fumes.
Don't stress out over it. There are truly plenty of trees in the Amazon, NW US Territories, Alaska, and forests that don't have to live to be 2,000 and whose seedlings replace the original just in time unless forest fires or pests/chemicals destroy the trees.
Plastic items are all toxic, regardless, but necessary for odors, rodent/stray population mngmt. I recycle boxes and that works well. I place smelly things in recycled plastic bags only. Cleaning/carrying mega-totes doesn't work for me and the cheap ones don't last at the seams.
Answer is to buy the least in the simplest containers, only what you will use, so that there's less waste to worry about disposing of. If you have pets, shred all paper and use in place of expensive "bitter-glitter-litter"! lol
Recycle newsprint and junk mail in every way possible. Take cans, glass, thick plastic in a box to recycling centers receptacles. Don't let it clutter your home as I have far too long...a nightmare/trouble!
Don't let anyone, anything pressure you into a stroke over such things. Life has far more important things now to be concerned about. Your health/sanitation is more important than recycling at all, for instance, IF you live in a small already cluttered home like mine, full of repair items, recycled wood/paint/chemicals/ odd things I may never use constructively as I planned.
Life is way too short to spend it being worried or immaculate, so just do what seems right to and for you and your health. God bless and help you. : )
July 17, 2009
0

found this helpful
Reusing the grocery bags is penny wise, as you don't have to spend so much on can liners. When shopping, I always request that the larger items not be placed in bags. It just seems redundant to put a bag of potatoes, cat food, detergent, etc. in a bag. Warehouse stores like B.J.'s and Costco save HUGE bucks by not bagging their items.
Personally, I recycle my plastic grocery bags as trash can liners and to clean out my kitty litter. I recycle my paper grocery bags (yes, some stores still use them) by placing all my newspapers and cardboard in them for recycling. That way the papers/cardboard do not come untied or get messy and the entire package is recyclable.
July 17, 2009
0

found this helpful
I use reusable bags as often as possible, which is most of the time. But there is always going to be the time I run into the store for two things on my lunch hour and don't have a sack with me. I found that before I used the reusable green bags that I had WAY more plastic bags than I would ever use for can liners and kitty litter. I would bring them back for recycling, but found out that most of those bags get dumped, not recycled. I feel that now I have now struck a balance between what I need and what I have.
July 17, 2009
0

found this helpful
For us, it just makes sense to go ahead and bring the smaller items home in the plastic grocery bags, then reuse them in wastebaskets around the house, and in the kitchen for scraps while preparing food. We then can tie the tops of the smaller bags when they are filled up, and take them all to the trash can outside, preventing any invitations to mice, or roaches, etc. As one person commented, just don't have all the things bagged, if they are already in something that will carry all by itself. We are not necessarily "tree huggers" but do feel responsible for what we waste.
July 19, 2009
0

found this helpful
I reuse the grocery bags for inconitence disposal (otherwise I'd be buying more plastic) and cat litter disposal (otherwise I'd be putting it in the toilet and that's not good. I like to use them for daily garbage disposal so the can doesn't collect flies and bugs, but I don't have enough...sometimes I take the ones for recycling from the grocery...am I doing wrong? I'm recycling them again and am not buying bags that would increase the number of bags produced.
In the best of all possible worlds, I would compost all my organic waste except human, and be able to recycle everything else. See Berkeley, CA's recycling program. I loved it. In Tennessee, they collect, but throw in the landfill anyway.
July 20, 2009
0

found this helpful
I try to make sure I don't end up with more disposable plastic shopping bags than I can use, but I'd rather use them then buy trash can liners if I can. The trash can liners not only cost more, but they have more packaging and are generally made of more plastic, which makes them heavier and more costly - financially and environmentally - to transport.
I also don't like using my reusable bags to carry items like meat. The reusable bags end up with all kinds of mold and bacteria in them (which can make you sick). You can wash them, but then you not only greatly shorten their life span, but you use more water/detergent/energy.
July 22, 2009
0

found this helpful
I know plastic bags are a big problem as trash on the roadside, getting into the water streams and washing into the ocean yet, I think they are the best thing that was ever invented and I would hate to see them not in use. I love my free plastic bags. I have so many uses for them.
I remember when there were only big paper bags for bagging grocerys. Many times the bag split before I got it into the house and grocerys spilled all over the place. Like the plastic bags, I also saved the paper bags and used them for other purposes but they took up so much space.
I believe folks can be more careful when handling plastic bags and not let them become litter and recycling those that you do not use is a must.
July 25, 2009
0

found this helpful
The worst possible thing to do in this situation is to NOT recycle the plastic bags, or the paper ones. In the paper vs.plastic debate, I personally prefer paper bags, as they can be recycled curbside (and hold other paper recyclables at the same time), hold more, and come from a renewable resource. Then again, plastic bags serve more post-grocery purposes and are fashioned out of a byproduct of the petroleum refining process. The bottom line is: are you planning to reuse the bags(plastic) OR just recycle?(paper)
September 10, 2009
0

found this helpful
To me, recycling is very important and I recycle everything that our county convenient site will take which leaves the two of us with very little trash to dispose of.
To be able to take out the trash most every day, I use a couple of plastic grocery bags. I have a small waste basket lined with a plastic grocery bag sitting inside my tall kitchen trash can. To raise the level of the waste basket, I have it sitting on 2 large coffee cans. On top of that, I have a flattened cereal box and on top of that I have a folded newspaper. On top of that sits my waste basket. This is for dry trash. Any large items like cereal boxes and packaging are flattened and placed behind the waste basket until I can take it to the outside container.
Wet and smelly trash goes into a 1 gallon ice cream container that has a lid and a plastic grocery bag in it.
At the end of the day, I take the stinky trash, tie it up and put it in the bag with all the other trash that has been collected from the kitchen and other rooms in the house. I tie the hangles together and put the bundle of trash in the container outside.
Although I do use the tall kitchen trash bags occasionally when I have company, I have been using this method for collecting our daily household trash for over a year and have not had to purchase any more trash bags and still have an ample supply on hand.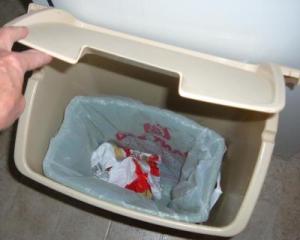 June 20, 2010
0

found this helpful
I lived in Tennessee a few years ago. They offered no recycling where I lived and didn't seem to be concerned about the environment at all. They weren't even too concerned about what you put in your trash. Now I live in a state where things are the opposite. It seems like some of the states are canceling each other out when it comes to our health. I use cloth grocery bags but put my meat in the plastic bags provided for it. Now after reading these comments I think I will reserve a bag or two for meat and produce and wash them and put the boxed items in the rest.