This was a huge hit at my son's Luau party. And it was super easy to make. You will need:
Ingredients:
1 box cake mix (yellow)
1 jar chocolate frosting
1 fork
1 bag of M&M's
fake candy coins / jewelry
1 Loaf pan
1 wire rack (optional but really helps)
1 bread knife
Directions:
Spray bottom of loaf pan with nonstick spray. Bake cake as directed on package for loaf (usually 50-60 minues). Let cake sit 10 minutes in pan, then remove and let it cool fully on wire rack.
When cake is cool. slice it with bread knife 1/3 of the way down from the top. Then cut this piece to a 45 degree angle on the front side. Keep remaining cake set aside you WILL need it later.
Frost entire cake with frosting. Place fake coins / jewelry on top of bottom cake piece. Lay the top piece over as "chest lid".
Decorate outside of chest with M&m's or other candy of your choosing to give it the look of straps holding it together. Use fork tines by dragging across frosting to give a wood grain look. Crumble set aside cake piece along bottom of chest as the sand it was buried in. Give to children and stand back.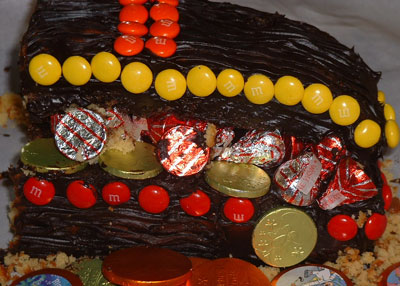 By Suzanne S.