August 1, 2011
0

found this helpful
I wouldn't use any of the packaging from meat, because of lingering bacteria or odors. I only save the styrofoam trays from vegetables.
August 3, 2011
0

found this helpful
Yes, one of my favorite crafts projects was to get different colored styrofoam trays and get a paper punch that punches holes in paper and punch as many holes in the styrofoam as you can. Then get a needle and thread or clear fishing line and thread the little circles on the thread.
It comes out looking like a very expensive "stone" necklace or bracelet in either turquoise or coral or obsidian depending on the color of styrofoam. White looks like the popular puka shell necklaces. Makes great earrings too! Mix the colors for more interesting combinations. Wish I had a picture but you get the idea.
August 3, 2011
0

found this helpful
I only use the white meat trays that are fairly clean to begin with--it's impossible to have no meat juices on them, so I wash well w/ soap and hot water.
Then my grandkids and I use them for home-made shrinky dink material. I usually end up experimenting w/ size of item to be "shrunk" and oven temp. before we get it just right. But that's part of the magic. And some trays work better than others.
Here's a photo of a charm that's just out of the oven. Sides need to be smoothed and clasp fitted on back to become a necklace. Button for size perspective.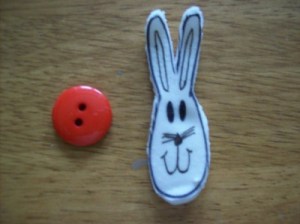 August 3, 2011
0

found this helpful
To Arentwetho,
Neat idea. My grandsons are into friendship bracelets right now and your idea would be great. We use the stretchy cord so they are easy to get on and off the wrist. I bet the punching process is part of the fun.
radioflyer (aka ~gloria)
August 3, 2011
0

found this helpful
I use meat trays but I wash and dry them thoroughly and put them in the sun for no less than tree days. My grandma used the sun to erase yellow stains on fabric and to "sterilize" underwear so I figure It will help with whatever bacteria is still there.
August 3, 2011
0

found this helpful
I found this the other day and thought it was awesome. Looks like something I would see in a boutique somewhere.
August 3, 2011
0

found this helpful
I use the trays to hold all the elements of whatever project I am working on at the time - papers, glue, scissors, embellishments, etc. I can stack the trays for the different projects (never able to do just one thing at a time) and have everything on hand when I grab a tray and sit down to work on the project.