A nifty storage container made from an empty drink mix container. A great way for kids to carry or store pencils, pens or markers. Also a neat idea for storing craft supplies, small toys, sewing accessories, crochet hooks, etc.
Approximate Time: 25 minutes
Supplies:
round plastic or paper container
glue
paper or fabric
cording (string, narrow rope, ribbon)
scissors
ruler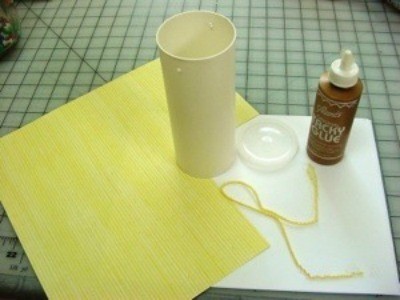 Instructions:
Remove label from plastic drink mix container. You can also use an empty Pringles chip container for this project. The chip container will obviously hold more items as well as taller items!
Punch 2 holes on each side of the container approximately 1/2 inch down from the top edge. Use a paper punch if the container is paper or pierce the side of the container with the point of a nail or sharp scissors.
Measure the length of the container as well as the circumference. Cut a piece of paper or fabric according to these measurements. Apply glue to the outside of the container and attach the paper/fabric covering. Be careful to smooth out any wrinkles before the glue dries.
The paper will have covered the punched out holes so you will need to re-punch the holes by sticking a nail back through the opening. Once the holes are open again, insert the string, cording or ribbon through the hole. Best to insert the cording from the outside in. Tie a knot to secure, the knot will be on the inside of the container. Thread the loose end of the cording through the remaining hole, again from outside in and tie another knot.
Place items inside the container and place the lid on top. The outside of the container can be labeled as to content or a child's name can be put on the outside to personalize.
These containers also can be used for the giving of small gifts. Cover with holiday gift wrap and place a bow on top! An inexpensive yet charming way to give a gift.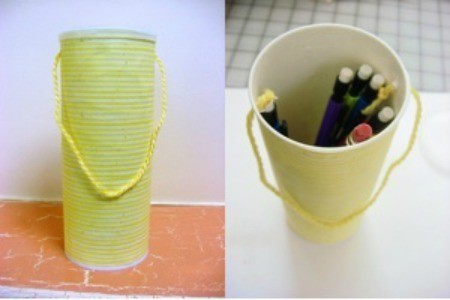 By Pam from McMinnville, TN