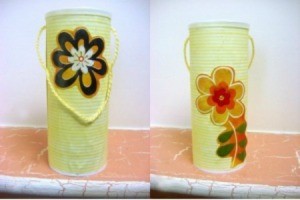 A nifty storage container made from an empty drink mix container. A great way for kids to carry or store pencils, pens or markers. Also a neat idea for storing craft supplies, small toys, sewing accessories, crochet hooks, etc.
Approximate Time: 25 minutes
Supplies:
round plastic or paper container
glue
paper or fabric
cording (string, narrow rope, ribbon)
scissors
ruler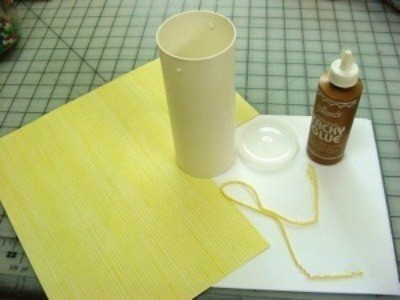 Instructions:
Remove label from plastic drink mix container. You can also use an empty Pringles chip container for this project. The chip container will obviously hold more items as well as taller items!
Punch 2 holes on each side of the container approximately 1/2 inch down from the top edge. Use a paper punch if the container is paper or pierce the side of the container with the point of a nail or sharp scissors.
Measure the length of the container as well as the circumference. Cut a piece of paper or fabric according to these measurements. Apply glue to the outside of the container and attach the paper/fabric covering. Be careful to smooth out any wrinkles before the glue dries.
The paper will have covered the punched out holes so you will need to re-punch the holes by sticking a nail back through the opening. Once the holes are open again, insert the string, cording or ribbon through the hole. Best to insert the cording from the outside in. Tie a knot to secure, the knot will be on the inside of the container. Thread the loose end of the cording through the remaining hole, again from outside in and tie another knot.
Place items inside the container and place the lid on top. The outside of the container can be labeled as to content or a child's name can be put on the outside to personalize.
These containers also can be used for the giving of small gifts. Cover with holiday gift wrap and place a bow on top! An inexpensive yet charming way to give a gift.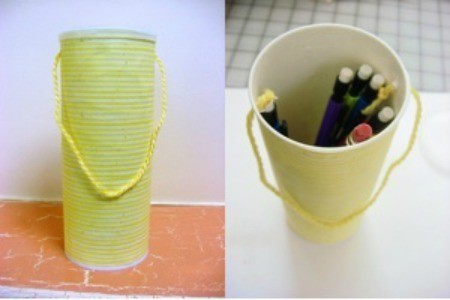 By Pam from McMinnville, TN

I have been making straw holders/dispensers from empty Pringles containers (or the cheaper version of Pringles). I wanted to make them look like ice-cream sodas.
My inspiration came for a 50s wedding that I was helping with. This is what I came up with.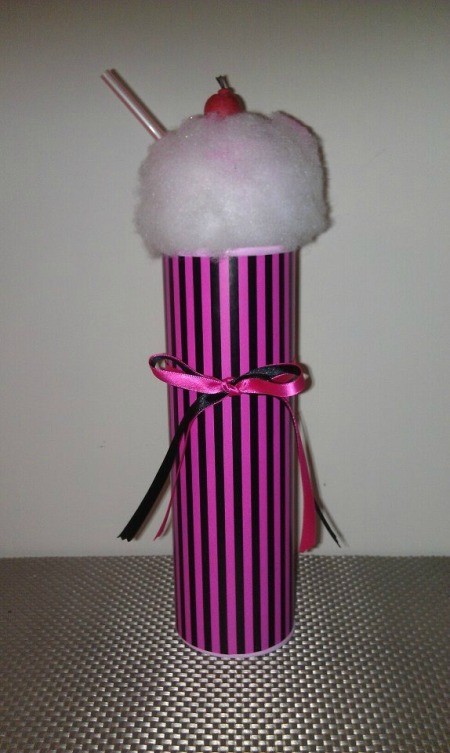 Read More...

I have some tall Pringles cans. I saved them for a specific purpose, but the church is not able to use them. I hate to toss them in the trash. Any ideas as to craft uses would be wonderful. I will be using 3 for bird seed feeders, but that leaves over 50! Please help.
Thanks a bunch!
Answers

Donna
Gold Post Medal for All Time! 555 Posts
June 18, 2015
0

found this helpful
I know I like to transfer any good I buy that comes in a bag into a firm container: beans, rice, pasta, etc.
You could also punch a few holes in the top and add some live herbs sprigs, hanging into the container to dry them safely.

Marty Dick
Bronze Post Medal for All Time! 169 Posts
August 8, 2015
0

found this helpful
How about storing craft supplies in them? Crochet hooks, etc.... Crayons and colored pencils always need a good home when the box tears apart. Take the lid off and put it on the bottom and you'll have a place for knitting needles.
If you knit or crochet you can make a hole in the plastic lid, pull your yarn through and put the lid back on the container. This will keep the yarn ball clean and knot free and out of Kitty's reach.
Answer

this Question

I am looking for suggestions on how to use 2 dozen Pringle cans and a couple hundred assorted sizes of prescription medicine bottles. This collection is added to constantly so I have an unlimited supply and I've run out of ideas. Please send me lots of suggestions; I don't want to just recycle them, that seems wasteful. I'd like to use them somehow.
By LittleNana-3 from Sun City, CA
Answers

September 1, 2011
0

found this helpful
Cover a Pringles can with construction paper, and color it to look like an animal, real or imaginary, or an alien creature. Use markers to draw a face on the lid. Glue 4 prescription bottles horizontally to make legs for the creature.
Cover a Pringles can with fabric or paper. Decorate the paper before gluing on. Glue as many prescription vials without tops as will fit in the bottom of the decorated can. Put the Pringles top on the bottom of the can. Use the can as a vase for silk flowers. Or put water in the vials and use real flowers.

September 7, 2011
0

found this helpful
I painted a santa face on the top side of the can. then covered the can with a piece of old quilt. Put the doll hair or you can tear strips of fabric to make the hair and beard. Make a hat if you want and slip down over the top of the can Then you have and old country Santa. Turned out real cute.

September 8, 2011
0

found this helpful
I use the pringle boxes to store my paint brushes. I decorate the box and it stores the brushes nicely. The bottles from the meds are used to store beads and other craft items.
I also wash the little bottles and put condiments into them when making my daughters lunch..the perfect size.

DeBushe
Bronze Feedback Medal for All Time! 179 Feedbacks
September 8, 2011
0

found this helpful
Check this out for something to do with the bottles. bottlesofhope.org/

September 8, 2011
0

found this helpful
My Mother covered a couple with contact paper from the dollar store, and stored her knitting needles in them. I just thought about this one. We save pop tabs for Ronald McDonald house, so the Pringles cans could be covered with paper and make a tag with a cute design, to tape on it with the wide shipping tape. Cut a hole in lid large enough to slip tabs through. Would be a good craft for kids to do.
Where my Husband works the guys would see him pop the tabs off his cans every day. So finally one of them asked why he did that. He told them and the next day they all tossed their tabs in his lunch bucket. They started saving them at home and bringing them into him. I am getting me some Pringle's tomorrow.
Answer

this Question

Does anyone out there know about any craft activities for Pringles cans? I thought that someone once told me about a kaleidoscope that could be made with a Pringles can. Any suggestions or websites? Anything? My son would love to recycle them. Thanks.
By val from OH
Answers

October 26, 2009
0

found this helpful
Cover the pringle box with tapestry paper . Use as a crochet hook or small knitting needle container.

christi
Bronze Recipe Medal for All Time! 52 Recipes
October 28, 2009
0

found this helpful
Pringle Can Backpack Organizer
How many times has your child come home with precious art work smashed or torn from being stuffed inside a backpack? Let your child make a backpack organizer out of a used Pringle can. Clean the can out very carefully. Wrap the can with pretty scrapbook paper or construction paper. Let your child decorate using stickers, glitter glue or foam shapes. When you child goes to school, she can roll the artwork up and place it inside the can for easy and safe transportation.
Read more: kidscrafts.suite101.com/.../trash_to_treasure_crafts_for_kids...
also try here
familycrafts.about.com/.../Potato_Chip_and_Peanut_Container_Crafts...

October 28, 2009
0

found this helpful
Cover Pringles can with contact paper or wrapping paper that would match your bedroom or bathroom. We use one as a hair scrunchy holder (slip the hair scrunchies over the top on the outside) and store hair clips, etc. inside.
We also use one to store dog "poop" bags for cleaning up the backyard.

October 29, 2009
0

found this helpful
There are numerous ideas on this webiste using Pringles cans. Here's the link and have fun making things: www.makingfriends.com/readers_pringles.htm
Answer

this Question