January 20, 2009
0

found this helpful
I would just go by whether or not the vet feels she is gaining weight at a good rate. As long as you are feeding her properly (which I am sure you are), and the vet has ruled out health problems (like heart issues)--which I would assume the vet did; I would relax and watch her grow. I have seen German Shepherds of all different sizes--from around 40 lbs. to huge--well over 100.
Hopefully someone who knows will clue you in with specifics re: age and weight. But if she is perky and has a good activity level, is eating well....sounds like she is just right!
January 21, 2009
0

found this helpful
I have a female German Shepherd.. at 10 months she was 40 lbs. Now she is 8 years old and 80 lbs. You will love your new pup! Shepherds are wonderful dogs and some of the smartest. Make sure you take her to the Vet for her follow up appointments. She will be easy to train if you use the same words with her over and over.
Shepherds herd so she will want to be right where you are. Socialize her as early as you can and she will be fine with children later. Puppies are alot of work at first but keep in mind that one day she will be your dearest companion and protector. Good luck! Here's a picture of my Kendra attached.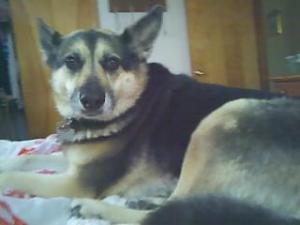 By Stngray (Guest Post)
January 21, 2009
0

found this helpful
Let the vet advise you. My German Shep female is 20 mo. old and she weighs 86 lbs, but she is a big female, not overweight, but tall and bigger than most female German Shep's I've had. Be sure to train your dog immediately or she will train you. Use positive reinforcement training. They thrive on pleasing you and they don't respond well to unkind or harsh training.
When I want my girl to do something I say, Good girl, Angel, come! Then I give her praise for coming, etc. With a new puppy, you might need praise and tiny treats at first. Don't let your dog get overweight and give her lots of exercise (couple hours a day is good). She's a working dog and likes to be active. Good luck! You have a wonderful dog!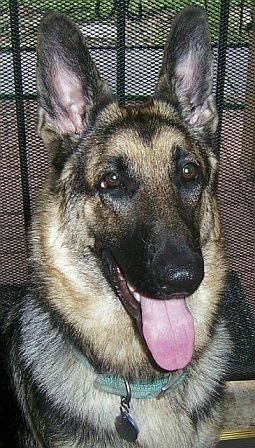 January 21, 2009
0

found this helpful
Yes, I took her to get her shots and they said that she looked very healthy, that she may have been the runt, or because she was abused she had just had a real bad start. Or she could be mixed with another breed. Here are some latest pics of my girl!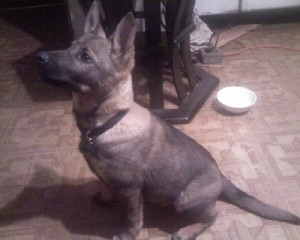 January 21, 2009
0

found this helpful
She's precious. The vet should be able to give you good advice on her breed, etc. She certainly looks like a German Shep, and I have had many. Mine now is a female, age 22 months. She's a big girl, 86 lbs., not fat, but big for a female. Train your puppy with low fat treats (positive reinforcement). My dog will do most anything I ask if I say "Good girl, Angel, come" then praise her for doing it.
Don't train her harshly or she will become shy and sensitive and possibly dangerous. It's good to socialize her while she's young with kids, people and other dogs. She will need lots of exercise because she is a working breed. Good luck! Treasure her. You have a great dog.
January 22, 2009
0

found this helpful
She looks healthy and she looks like she is a good size also. she is very beautiful.Spend as much time with her as you can, take her everywhere with you, and socialize alot, and some training and she will be a great dog and your best friend. my german "SHEDDER" is 13 yrs now and he has been my best friend and the love of my life since i was 16, he even use to sneak out my bedroom window with me at night, and now i have 2 kids and a family and he is wonderful with them and a great protector.getting a ghd is a wonderful gift, Love them as much as your own kids and they wont ever let you down!!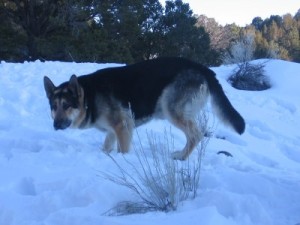 October 11, 2010
0

found this helpful
I love my dog. He is always with me everywhere I walk. If someone comes to the house and we don't know them, Payton will be right there to make sure I am alright. I have had him since he was 6 months old, when my nephew was going to take him to the pound, I said I wanted him.
He is a big-boned shepherd. What I love the most is when people ask what type of dog is mixed with him. I say a poodle. I mean, what does he look like? Lol. Mine is over 100 lbs.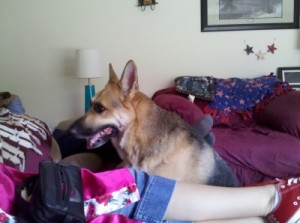 April 25, 2011
0

found this helpful
You have a beautiful puppy and a pedigree is not worth the paper it's written on unless you intend to show any breed (you have sound advise from all posts) love her for who she is and she certainly (fell on her paws) when she became a member of your family. This is my boy Eigenschaft Heartbreaker pet name Hindu.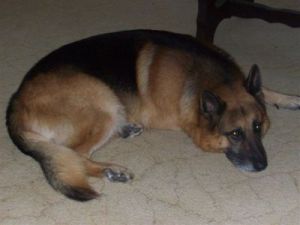 July 21, 2013
0

found this helpful
She is just beautiful! She will be fine, watch what you feed her, some have tummys that most stuff dont agree with them, Also if your on facebood, look up The German Shephard Dog Community page, they are just wonderful group of people and will answer any questions you have. I adopted a shep from a shelter out in LA, Calif.
A rescue put a hold on him for me in the last hour before he would of been ut down the nexr day.. He is beautiful and it is taking time to learn from each other but he is one beautiful boy. He is 8 years old, had him to are vet to be checked out and he is 100 % healthy. He is learning to play with his toy, won't bring to me yet but he will keep it close to him even when he is eatting his dry food. We give both our boys grain free and we have had no poblems and tes they do get their treats from time to time. He is my rescue as he was leaving the shelter with the lady who pulled him for me.
I have only had him for 2 months, but he is a sweet heart but has his moments at times too. He is 8 years old. he travel acros country with 3 others anf we took the 10 to a lady that was keeping him for down time as he was 10 years old and blind and was adopted by a family in VA.. anywho here is my boy making his get away from the shelter.