Tyson is a three year old rescue dog. His original owners tried to train him to fight, but he refused. They let their other, much bigger dogs attack Tyson, and they left him for dead. He was rescued by Animal Control, who then fostered him out to be nursed back to health. We adopted him from his foster family.
We had him for about 3 months, when our landlord decided to change the pet policy for the house we were living in. We went from being able to have any pet we wanted, to having to pay a $250 deposit for a dog we already had as well as $75 extra on our rent each month. We just couldn't afford it. We ended up giving Tyson to a family we knew would take care of him.
Fast forward an entire year. We had moved to a different house, pets were allowed with no fees. I was looking on Craigslist one day and happened to come across MY Tyson! The family we gave him to was moving and couldn't take him with. Instead of contacting me first, they put him on Craigslist. I called immediately and got my baby boy back!
We've had him back for about 9 months now, we are all so happy :) Tyson loves to chase birds, play fetch, and tug-of-war. He's a big dog, with that "guard-dog" look, but he's such a softie. He will lick you to death. Anyone that comes to the door, he is right there to greet them with a smile and a friendly lick. Tyson thinks he's a lap dog, too. His favorite place to sleep is curled up on the couch with his head in my lap.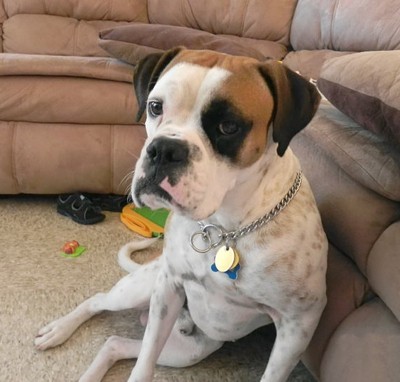 By Kelsey