March 21, 2006
0

found this helpful
I don't know if there is one serving your area, but Yahoo has groups called "Freecycle". You can post requests for the items your looking for, and people post offers of things they just want to get rid of.
Of course, everything is FREE. Might be worth a shot, esp if you're in an area where people might have what you want (you'd probably have to go get it).
By Danielle (Guest Post)
March 29, 2006
0

found this helpful
I have collected some of what you are looking for over the years and most of what I have came from thrift shops and the like. However, I did get some beautiful pictures at Hobby Lobby. I had a riding helmet, english stirups, other pictures, horsehead bookends, and books in my bedroom when it was done that way. I used the traditional colors of a Hunters Green and a Deep blue based Red called Raspberry Truffle. Old popstcards have some wonderful scenes of fox hunting and could give you lots of ides, not to mention look good if framed. If I find anything else I will get the info to you. Good Luck, Danielle
By Stephanie (Guest Post)
April 11, 2006
0

found this helpful
Hi Ladybugv2,
I own a consignment tack shop in PA. We sometimes that items that com in our shop that are good for decor only. Let me know what you are looking for.
I am looking to do the same type of decor in my living room. I am VERY fortunate to have several large hunt scenes to hang up. I purchsed those at a carriage sale that is in my area.
I would love to hear what some of your ideas are. My only concern with my space is that the ceilings are low.
Please let me know if I can help. www.crossroadtack.com (you can get the e-mail address from there)
THANKS!
Stephanie
By newbear57 (Guest Post)
May 28, 2007
0

found this helpful
Lady bug I have a house full of English and hunt decore. If your interested email me and I will send you pics and ideas. Mike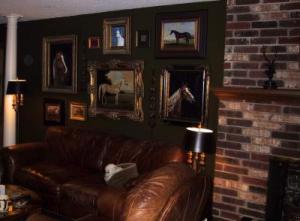 By denise day (Guest Post)
July 24, 2007
0

found this helpful
Hi there,
for edwardian bathroom stuff see the following link www.thomas-crapper.com/.../edwardian-bathroom.html
no the name is not a joke! he invented the flushing toilet.
edwardian colours are formal - bathrooms were usually tiled to dado rail, and blue or white tiles were usual. they had very complicated shower systems, roll top baths and high level cisterns on the toilets.
Steeplechase jumps are not made from brick they are made from hedge or brush as shown here

By pat (Guest Post)
September 10, 2007
0

found this helpful
Will you share newbear pictures? Would love to see them prh9100 AT yahoo.com
By Lynda Lara (Guest Post)
November 21, 2007
0

found this helpful
Check out Gail Claridge's website--her decor is exactly what you're looking for I think. Good luck!