October 4, 2009
0

found this helpful
I have learned that for the large green chili's you can tell the heat by looking at the tip of the chili. If it is pointed then it is hot, a blunt tip will be mild. These chili's in the picture are mild. Also if you want the best chili's do your best to find "Hatch" chili from Hatch New Mexico.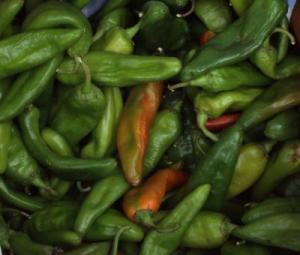 October 4, 2009
0

found this helpful
I grew my first peppers this year, jalepeno (small ones, the largest are no more than 2 inches long) a curly unnamed pepper, (anyone know?) and habeneros. it's just days away from our annual October freeze, and all the peppers will ripen just in the nick of time-but the habeneros took the longest, not fruiting until late July or early September, and then dragging their feet about coming to color.
I'm harvesting them when they're tri-colored, green at the bottom, yellow in the middle and orange or red at the top, and throwing them in a baggy in the freezer for flavor in the winter. I have abt 10 habenero left on the bush, most of which have some color but are not quite ready. there's around 6 of the curly pepper and 5 jalepeno left.
Question, can I save these plants over winter in a freeze prone area? or will they die? how do I save them? they are nice plants, I hate for them to die, but we have nothing to generate warmth for them. digging them up and potting them is tempting, but I have nowhere to store them over winter, and it is kind of hard on a plant to be pulled up once it's set in the ground.