August 31, 2010
0

found this helpful
Great idea, thanks!
February 4, 2011
0

found this helpful
If you have anything more complicated that the OP here, I strongly recommend the Medic-Alert tags - they have a computer file with all your info, including dosages of meds, telephone numbers of doctors, next of kin, etc. that can be a truly lifesaving thing. I am allergic to half a dozen antibiotics and one of the standard pain meds, so I wear the M-A bracelet 24/7/365.
MooseMom is right. If you're one of the very few lucky ones that only has one medical problem, this is a great idea. But most of us, especially those of us with some decades under our belts, have more than one medical problem, plus allergies that must be listed too. And a dog tag, as cute as they are, just isn't' big enough.
MooseMom says she wears a Medic-Alert tag. Extremely good idea. I've also seen where they have come out with "flash drive" type things that you can also keep on your key ring or wear on a bracelet or necklace. Both of these holds a lot more information than a dog tag ever could.
I have a flash drive that I keep on my key ring that has all my important medical information along with my name the name and phone number to call in case of an emergency.
By the way, to protect the flash drive from getting wet or dirty, I laminated it using the type of laminate plastic that does not need heat, it just sticks on. Then I covered each edge as I did it and used my iron to seal the edges even more. I applied triple layers of the lamination to the top, ironed it to secure, and poked a hole through this to attach it to my key ring.
If it's ever needed it can be cut open easily with a knife and I can re-laminate it after the emergency is over. This way I don't have to worry about the rain, or dust, or anything else damaging it.
September 25, 2011
0

found this helpful
Also, whether you are wearing a medic-alert tag, or one such as this. I strongly suggest that you wear it on your person. Emergency responders are trained to look for medic alert bracelets and necklaces. They may not know to check your key chain, or you may have dropped it when you became ill, and the information is not useful if the responders do not have access to it. There is some very attractive medical information jewelry available, if you worry about looks.
Jilson, you're so right. And I'm going to get a sturdy chain and wear mine as a necklace (I don't do good with bracelets otherwise I'd wear one of those). And you're also right that there's some really pretty jewelry out there that would work.
For that matter I just had an "Ah ha!" moment. How about a charm bracelet, where each charm had another piece of info? Charm bracelets can hold a lot of charms. I'm going to wait and see if anybody responds to this idea before I buy one. But I think it'd be a good idea (I might even go that route if nobody gives me a good reason not to).
What does everybody think?
August 1, 2012
0

found this helpful
I did the same thing but did it in the machines at Walmart. Great Minds!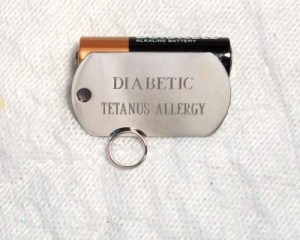 August 23, 2012
0

found this helpful
What a great idea! Thanks.
August 24, 2012
0

found this helpful
It's not a good idea to put your name & address on your key chain. If you loose your keys and the wrong person finds them they can easily find and enter your house or car using your keys.
September 30, 2016
0

found this helpful
I have a medic alert bracelet, but I will use this for extra protection. Thank you - a great idea.