By lucicddream (Guest Post)
February 21, 2009
0

found this helpful
Hi! I just cut all mine off, LOL. but before that, it was super long. I had long layers about halfway down my back, it was layered (maybe 4 layers) to just below my shoulders. That style is good if you want to be able to pull it back, or you can straighten it or just let it dry and be wavy. I guess it depends on what kind of texture your hair is.
I'm Italian and my hair is very thick, halfway between course and soft. I can straighten it or it is really wavy, almost curly, if I don't. I always find some good hair ideas in "Allure" magazine. Good luck! Hope this gives you some ideas!
By (Guest Post)
February 21, 2009
0

found this helpful

February 23, 2009
0

found this helpful
Thank you for the pictures! They really helped.
My hair is about halfway down my back and it is a chocolate brown color with natural honey and deep reddish-brown highlights. I am part American Indian (mainly Cheerokee and a little bit Chickasaw) and my hair is naturally wavy, although it tends to be moderately frizzy at times (especially in the Texas summer humidity!). Therefore I usually straighten it, although sometimes I let it air dry with its natural wave and then curl parts with my hair straightener.
Anyhow I said all that so you can understand my "texture" and possibly help me with some cute styles and maybe a cute cut too...
Any help is greatly appriciated! I am just sooo tired of the way it has been for so long, and I kindof want to look older too...
Thank you again!!

February 23, 2009
0

found this helpful
BTW I have it in about 3 or 4 layers too; it is too thick for me to be able to cut it straight across because I tried it once and it just doesnt look right....now you can see my dilemma-- I have tried just about everything!!!
By Patricia (Guest Post)
February 23, 2009
0

found this helpful
Get on the Web and find "Vermont Country Catalog" They carry such old fashioned items as hair nets (snoods), and things to make putting long hair into a bun or chignon, like women used to wear every day, much easier. And if you hear of something for long hair, that they don't have, write and ask if they can find it.
I love this catalog. At 62 I no longer attempt to keep my hair long, but in my "hippy" days way back when, my mother gave me some of these things and it sure did make it easier when I went to interview for a job or when I needed to keep hair and machinery far apart - way far apart.

Dena Roberts
Bronze Feedback Medal for All Time! 102 Feedbacks
February 24, 2009
0

found this helpful
My son's girlfriend is Metis and has long dark brown hair. She puts it into a ponytail in the center of the back of her head at about level with her ears. Then twists it tightly and forms it into a figure 8 and uses long pins to pin it to her head.
She only uses 4 pins as she has had lots of practice. It looks great. She went to a hairdressing school and got the students (for about $20) to show her several ways to put her hair up...money well spent! Her hair always looks really pretty.
By Gail (Guest Post)
February 25, 2009
0

found this helpful
This is really cute, my granddaughter just got it.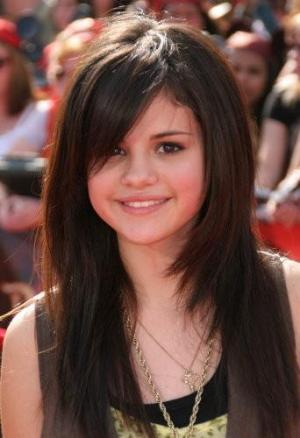 February 25, 2009
0

found this helpful
When I was younger and wanted to be a little fancy, I would sometimes sweep my hair to one side and fasten it with a series of big bobby pins, or a clip or barette.
Or, to keep it off my neck in the summer heat, I'd pull it all up and again fasten it with a clip or barette.
Now I'm older and don't get out much, but don't want to cut off all my hair. I just keep it in a long braid down my back. If I want it up, I fold the braid over itself a couple of times and fasten it with a barette.

December 7, 2009
0

found this helpful
I prefer long hair because there is soooo much more you can do with it, including the fact that I don't have to wash it everyday like I did when I had short hair. I wear my hair always parted on the side. its straight with a bit of wave, and I have a lot of it. Sometimes I put it up in the 'claw', and I usually have it cut with 2 layers and go a bit shorter around the face like Gail's granddaughter's picture shows.
I use Caruso steam curlers to put some curl in it and use Mousse to hold the curl in better.