January 17, 2005
0

found this helpful
You can also use the disposable pie tins that come with store bought crusts for the bottom layer of foil. I also add bell pepper and mushrooms on mine and jalapeno peppers on my husbands.
My grandmother called this "Coffee Can Casserole" for some reason.
By Kathy in Illinois (Guest Post)
May 11, 2006
0

found this helpful
This sounds easy and good. One question- Is the hamburger raw or browned when you put it in the pan? And if raw,
do you pat it in or crumble it? Thanks, Kathy in Illinois
By Joan (Guest Post)
May 11, 2006
0

found this helpful
Happy Mother's Day to all mothers.
The Boy Scouts make a similiar dish. Many years ago (about 30) when we camped out in the woods, I dug a hole about 6 inches deep and so big around (diameter of your item). Placed wood chips or small sticks on bottom, start fire with paper. Place your food items (meat raw) on tin foil large enough to hold ALL items, bring cut edges together at the top and wrap opening tight so food and juices will not escape.
Cover with dirt or cast iron lid from a large skillet. Let cook about 90 minutes or uncover and test with eating fork.
You can add other vegtables. Enjoy
By sara (Guest Post)
May 11, 2006
0

found this helpful
i do it with raw hamburger,just patted in the bottom of the pan

August 11, 2008
0

found this helpful
I make these alot too...the combinations are Endless! You can also do rice this way...double layers of foil, rice, butter, spices and 2-3 ice cubes.
If you use Kielbasa or Sausage in the hobo dinners, the flavor goes all thru the veggies and I discovered that even picky eaters love them. I put out the ingredients when we have family over and let everyone build their own meal too sometimes.

Jana
Bronze Feedback Medal for All Time! 116 Feedbacks
August 12, 2008
0

found this helpful
I never heard of using cabbage, we always used version 2 when I was growing up; my mom had gotten the recipe either from Cub Scouts with my brothers or CampFire girls with my sisters, not sure which.
But, when my daughter went to Girls Camp, they did "foil dinners", in these they used different meats and different veggies. My daughter used marinated chicken, onions, green peppers and mushrooms. You could use any meat that you want with any veggies, just watch your cooking times! Yummy!!!

HerkDia
Bronze Feedback Medal for All Time! 140 Feedbacks
June 18, 2012
0

found this helpful
We make this for one of our camping trip dinners. We use beef cubes, potatoes, carrots, onions and mushrooms. I add beef bouillon and cook them in the foil pans, the loaf cake pan works the best. We make them up according to everyone's taste and mark their name on the foil that covers the foil pan.
Stick it on the campfire and let it cook for at least and hour to make sure everything is cooked. Nothing like it after a busy day camping! This year we are going to try it with a chicken version and can't wait to try it.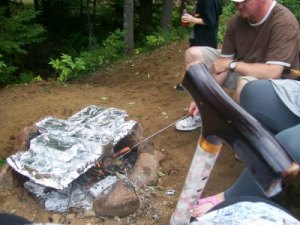 Michawn
Bronze Feedback Medal for All Time! 188 Feedbacks
June 19, 2012
0

found this helpful
We used to do this in Girl Scouts, except we used some cream of mushroom soup, straight from the can. Hamburger patty (not cooked), sliced carrots, onions, mushrooms, salt and pepper and a spoonful of the soup, awesome!
If my hubby liked cream soups, I'd make them at home in the oven!