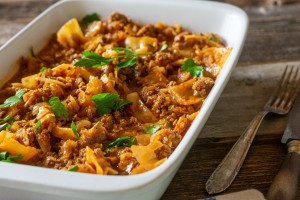 Hobo Dinner I
Ingredients
1 pound hamburger
1 medium onion, sliced
1 medium green pepper, sliced
2 medium potatoes, sliced
2 carrots, sliced
Worcestershire sauce (Sprinkle on liberally)
Directions
Layer all ingredients in order given in 9x13 inch pan. Bake at 375 degrees F for 60-70 minutes.
By IMAQT1962 from Illinois
---
Hobo Dinner II
Ingredients
4 hamburger patties
3 medium sliced potatoes
2 medium sliced carrots
1 small sliced onion
Directions
Put one patty on tin foil and add some sliced potatoes and carrots on top with a little onion and salt and pepper. Fold the tin foil to seal and put on the grill or in a 350 degree F oven for 1 hour.
By Robin
---
Hobo Dinner III
Ingredients
Cabbage (a lot because it shrinks)
Potatoes (sliced thin)
Carrots (thin)
Onions
Anything else you would like
Directions
Layer ingredients on large sheet of Aluminum Foil. Sprinkle garlic powder on vegetables (optional) or whatever seasoning you prefer. Add a pat of butter. Top with a medium hamburger patty. Sprinkle with salt and pepper. Fold in aluminum foil and close up. Bake at 350 degrees F for 45 minutes. Could check after a half hour.
Another option is to make these up and take them with you camping. Cook individual dinners over the camp fire.
Source: This is a recipe my mom used to make at home when I was growing up. I also have made these on camping trips with the Girl Scouts.
By Jayme from Harrisonburg, VA