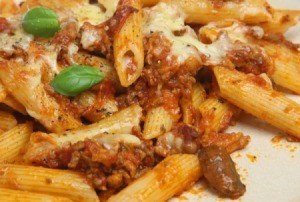 Ingredients:
lb. ground beef
1 can chopped mushrooms, drained
1 tsp. salt
1/2 tsp. pepper
2 tsp. sugar
1 can tomato sauce (15oz.)
4 oz. noodles, uncooked
4 green onions, finely chopped
1 cup sour cream, plain or with chives
1 pkg. cream cheese (8oz.)
1/2 cup grated cheese
Directions:
Brown ground beef in skillet. Drain off any grease. Add mushrooms, salt, pepper, sugar and tomato sauce. Cover and simmer for 15 minutes.
Cook noodles according to package directions; drain.
Combine onions, using some of the green tops, with cream cheese and sour cream; blend well. In a greased 2 qt. casserole, spread 1/4 of the noodles, then 1/4 of the ground beef mixture, then spread with 1/4 sour cream mixture on top. Repeat 3 times. Top with cheddar cheese.
Bake at 350 degrees F until it bubbles in the center, about 50 minutes if chilled and 35 minutes if unchilled. Makes 6-8 servings.
By Robin from Washington, IA