These cookies are made from a recipe found in Laurel's Kitchen Recipes. This is a healthy eating vegetarian cookbook. I like these cookies because they are made with honey, rather than sugar so are not as sweet as the typical peanut butter cookie. The use of the honey also results in a softer rather than crisp cookie. They are a healthier alternative because they contain more natural ingredients.
Ingredients:
1 cup natural peanut butter, crunchy is recommended
1 cup honey
1 egg, beaten
1 1/2 tsp. vanilla
1/2 tsp. salt
1/2 tsp. baking soda
2 cups whole wheat flour, preferably pastry flour
Directions:
Preheat oven to 350 degrees F.
Cream peanut butter and honey together.
Stir in egg and vanilla.
Sift together salt, soda, and flour, and stir into peanut butter mixture.
Drop by teaspoonfuls onto greased cookie sheets. Mash each cookie slightly with the back of a fork. Wet the fork frequently to keep dough from sticking.
Bake for 10 to 12 minutes, or until they just start to turn golden brown on the edges. Watch them closely. Using honey can cause them to burn quickly. (I baked them for 10 minutes, your oven may vary the time needed.)
Makes 3 - 4 dozen cookies. According to the authors they are very good keepers.
Source: Laurel's Kitchen Recipes, Laurel Robertson, Carol Flinders, and Brian Ruppenthal, 1993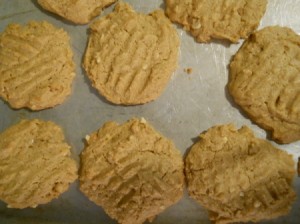 By R Barbara from Bremerton, WA