August 5, 2006
0

found this helpful
Oh, I agree. When I leave for work I turn on the classical music station for my pets.
It also works on a 12 hour car trip to Atlanta which we make twice a year. They will settle down and sleep most of the way ... soft music playing :-)
Jennifer
Northern Virginia

August 7, 2006
0

found this helpful
First step is to make sure they are treated for fleas. I use Advantage, it's been so hot here this last month. I give my dogs a bath in the evening, add soothing balm on their feet and massage it in.
The nights I do this, they sleep like little angels. I also keep chews on hand as a way to keep them busy, I buy them from sitstay.com.
I believe the best thing to help a dog sleep is exercise. A tired dog is a happy dog!!!
It's been so hot here in Florida though that I don't dare take my dogs out. Even with water available, it's just too risky to walk them. As soon as the weather cools down a bit we will start walking again.

February 7, 2011
0

found this helpful
Exercise is the best to calm down a puppy /dog. If your unable to go outside, find a favorite toy and play catch or make up a fun thinking toys such as using a Cookie and 3 pieces of paper or even small boxes work and make your dog try to find it, hide a piece under the paper or box and ask him/her to "FIND IT" just like a puzzle toy which can be purchased at pet stores. Dogs love to use their minds.
Even cutting a slit a Tennis ball and putting a cookie inside or dog food is a fun game.
I do this with all my 4 Lhasa Apso and being a breeder I also do these games with the puppy's. Discovery games are really fun for Dogs/Pups as then being rewarded with lots of love, they aim to please.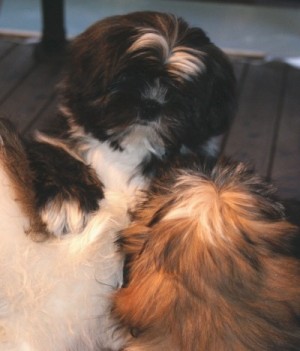 September 20, 2014
0

found this helpful
I have a 4 month old puppy she is now peeing in her bed at night. I crate her have taken her to vet to be sure not a infection all came out negative. Please any ideas.